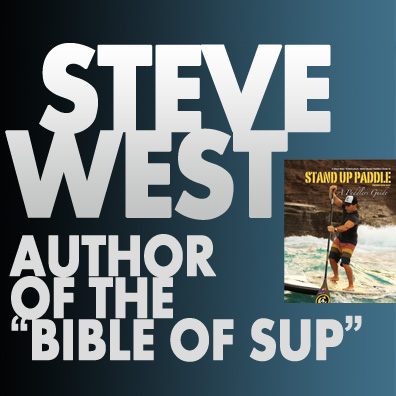 January 28, 2013
by Steve West
Prone Paddleboarding's Historical Influence on Stand Up Paddling: From Waikiki 1929 To SUP 2013
Boss Man's note: This is another great post by Steve West, author of Stand Up Paddle: A Paddler's Guide. Steve will be sharing his unique insight into paddleboarding here on SUPracer.com each week, so check out his latest entry below to find out what Waikiki in 1929 has to do with Stand Up Paddling in 2013.
(oh and go grab a copy of the "Bible of SUP" if you haven't already, it's brilliant)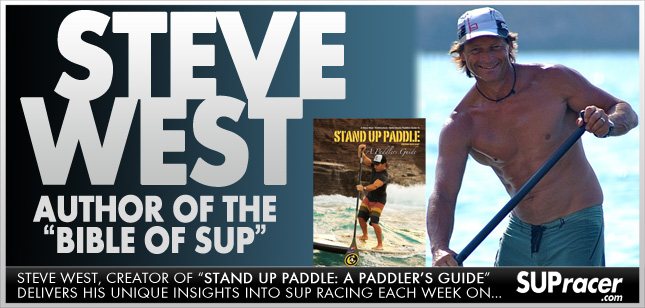 Last weeks snippet from Stand Up Paddle – A Paddlers Guide, focused upon the notion, the sport has not been driven by us the end-users, as so called pioneers of its emergence, but more significantly by that of the manufacturers. In addition the significance and synergy it shares with outrigger canoeing within the Pacific and Pacific Rim regions was touched upon, as was the blinding reality, this is a paddle sport by lineage. Following on from this, we should also not overlook the significance of the purest of all paddle sports – prone paddle boarding and also that of surfing.
Prone paddling has had its evolutionary ups and downs, especially in terms of participation numbers. With Jamie Mitchell bringing recent attention and renewed appeal to the sport through his dominance, the take-off of stand up paddling has coincided with his retirement. How these factors will impact prone paddle racing numbers, remains to be seen.
In 1928, Tom Blake arrived at the annual Surfboard Paddling Championships in Waikiki and using his purpose made hollow, prone paddle board . . . he won and caused a stir and again in 1929 he won with an improved design . . . orders flooded in despite many locals wanting the new design banned, being as it was not a surfboard. In 1930, he smashed the race record paddling his 16′, 60lb cigar shaped board. Following the race, a meeting was held, the outcome of which . . . it was conceded that this was the start of a new era in board design, specific to paddling prone using the hands.
Tom had stirred up a backlash of confused viewpoints concerning the concept of surfboard paddling, which led to discussion of limits of designs being set as a result of the Hawaiian surfing communities wake up call. A subsequent meeting in 1930 of the Outrigger, Queens and Hui Nalu Clubs concluded, there would be no future limits whatsoever on the design of prone paddle boards. Blake never competed again at this event out of choice.
In 2002 when Jamie Mitchell won his first Moloka`i world title, he noted that most Hawaiians and Californians paddled prone, whereas in Australia, paddle boarding was performed mostly kneeling as taught at a young age through surf clubs – a skill which gave the Australians a bio-mechanical advantage over all-comers. When I interviewed Jamie in 2005 he commented;
'When I had a go at outrigger canoeing, I naturally had good reach, leverage and endurance gained from prone paddle boarding. I have never been a super strong guy, but found that outrigger canoeing improved my strength, which goes to show how paddle sports cross-platform as training mediums for each other. Canoeing and paddle boarding have worked well for me as a combination.'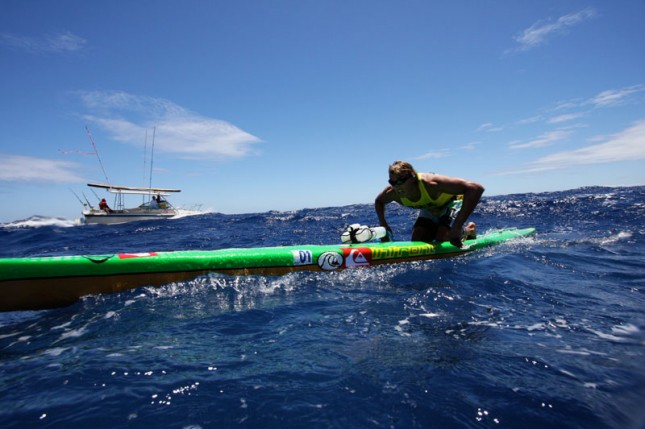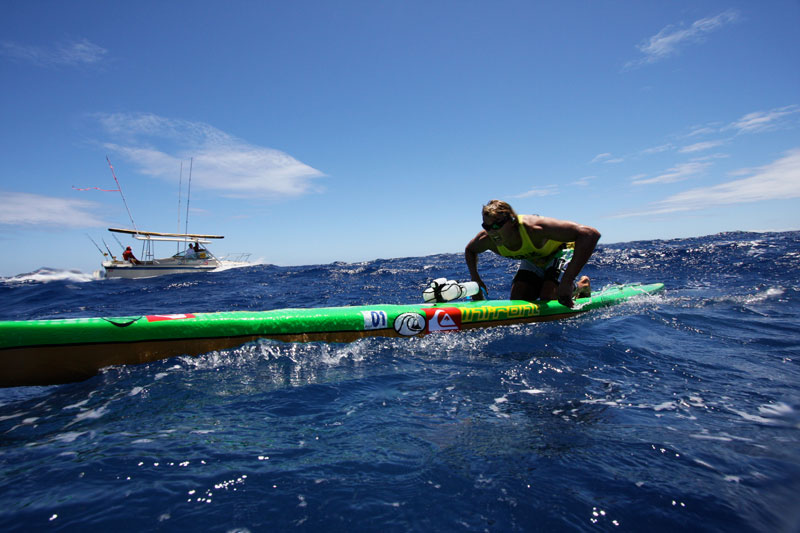 It is perfectly plausible to conclude, that paddling while standing on a board, employing the use of an extended canoe paddle, using single blade paddling skills, is an advancement (variant) of prone paddle boarding . . . an advancement of the sport, bringing with it mechanical and bio-mechanical advantages, together with the addition of some changes of board dimension and deck layout.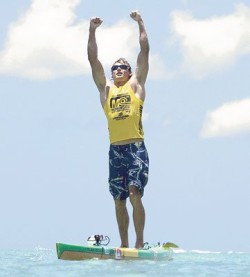 If you're looking for a genetic lineage, it would not be unreasonable to consider some of today's modern race and downwind boards with the addition of foot operated tiller arm extensions and draw clear and distinct parallels. Add to this the involvement of prone paddle board designers such as Joe Bark, Brian Szymanski and the single most accomplished best ever prone paddle boarder in the history of the sport, Jamie 'Mitcho' Mitchell and the associations grow ever stronger.
In contrast, the addition of a paddle to the sport of surfing, slaps in the face of purity, being that the surfer is essentially a minimalist creature, where less is more and therefore the addition of a paddle one has to ask, must surely add an element of inpurity and a pox on a sport which has been written about since the 60s with divine reverence and spiritual undertones ad-infinitum, praised for its minimalistic virtues. It's little wonder, many surfers are so incandescently anti its inclusion and emergence.
However, when you read through the contest rules of stand up paddle (surfing) the addition of a paddle has seemingly raised this new variant of surfing to something akin to an item of divine intervention and reverence, elevating what was already considered the perfect expression of man's harnessing of nature, for that ultimate free ride, to something greater, or in simple terms, 'performance-centred surfing'.