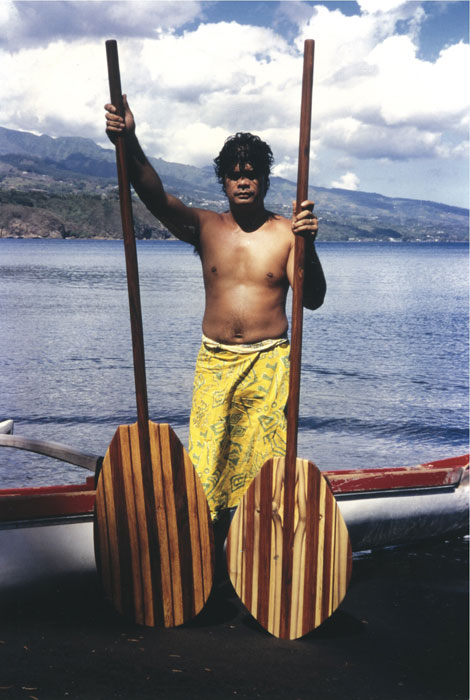 February 16, 2013
by Steve West
Steve West On The History And Evolution Of SUP Paddles
Boss Man's note: This is another excellent guest post from Steve West, author of Stand Up Paddle: A Paddler's Guide. Steve is one of the most experienced writers in the paddling world, so we're stoked that he's sharing his unique insights here on SUPracer.com each week.
Check out the latest instalment below then pick up a copy of the "Bible of SUP" if you haven't already. You'll love it. I also recommend you read all the previous guest posts by Steve West. Each of Steve's guest posts is based on a section from A Paddler's Guide, so if you're enjoying these, you'll love the book.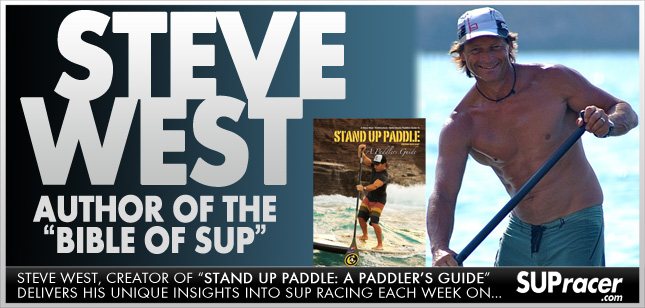 The Evolution of the SUP Paddle
John Zapotocky, originally from Pennsylvania, having moved to Hawai`i, participated in stand up paddling for some fifty five years as a result of encouragement from 'The Duke' (Duke Kahanamoku) after having seen him out paddling on his surfboard . . . he took to the water using a paddle having already been surfing for ten years prior. He went on to import river canoe paddles from Calhoun City, Mississippi from the Caviness Woodworking Co., which still operates today, specifically the 'Featherbrand'. He had them make a dozen at a time and sent to Hawai`i – the company had no idea what they were being used for.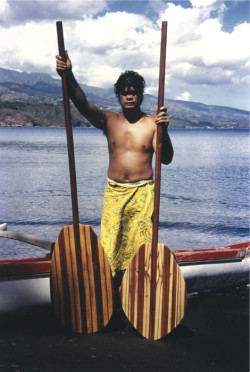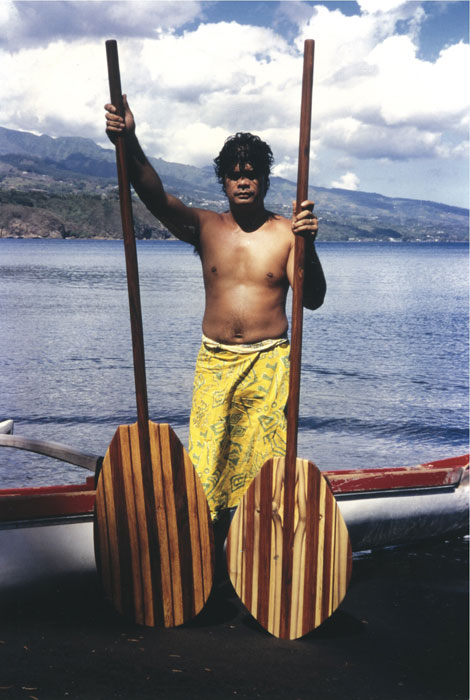 Despite John Zapotocky's half century commitment to the sport, he had no interest in advancing or promoting the sport, just simple pleasure through participation in his bubble of eccentricity, yet today, he's an accidental legend, a 'hall of famer' and rightly so, not for his achievements per se, but through his own personal vision and commitment to a concept few embraced or took seriously.
When Laird Hamilton and Dave Kalama improvised outrigger canoe paddles for their long boards in the mid 90s and Laird finally turned to Dave and said, 'I'm going to get a proper paddle made for this,' that became an epiphany in elevating what was essentially a novelty, to serious intent, in standing up on a board and paddling . . . to which end the notion of simply extending an outrigger canoe paddle, omnipresent throughout the Hawaiian islands, presented as the obvious solution.
Though this was the catalyst for outrigger canoe paddle manufacturers to tap into a new market, there was now to be a period of time in testing and experimentation. Indeed even the end-user was not sure about the exact dimensions or properties the paddle should take. How tall, how big should the blade be, how much flex? All these questions would need to evolve over time and continue to evolve . . . in conjunction with techniques and the search for bio-mechanical optimization between paddlers.
Outrigger canoe paddles had undergone a great deal of evolution through the 80s and into the 90s as the sport evolved into something more hi-tech rather than hung up on notions of traditions. Many of the design ideas were feeding in from the influx of user innovators from the East Coast of America and Canada in particular, where canoe river racing paddles (C1s, C2s) had been evolving without restriction for years.
Designers and makers such as Bob Zaveral (ZRE) and his super lightweight carbon paddles, Black Bart, Brad Gillespie, Sawyer, Jim Terrell (QuickBlade) and Kialoa through Meg and Dave Chun were all significant players in paddle evolution, responding to the demands of users who were bringing in new paddling techniques and ideas from other paddle sports in particular, in the quest to go faster and further.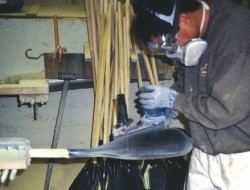 Many paddle makers servicing the outrigger canoeing market and indeed the river paddling fraternity, have moved towards the making of stand up paddles, some by chance, some by association, either asked directly by users . . . the stand up paddle board industry owes a debt of gratitude to these outrigger canoe paddle designers and manufacturers in particular.
The shame of it is, that for all of their intellectual wisdom and pioneering initiatives they have carved out over time and to all of those end-user pioneers who worked in conjunction with them, they are rarely afforded the respect they deserve, manifested today in the form of large companies often churning out ill-conceived after-thoughts masquerading as poor excuses for a means of propulsion and even worse, producing unintelligible marketing babble-speak, alluding to having us believe they know what they are talking about, after investing but a mere nano-second in consideration into all that a paddle should be.
The function, importance and significance of the paddle has rarely been so misunderstood in the context of a paddle sport on account of the rush to produce and sell . . . hindered by the simple confusion of determination of the sports essence.
It seems incredulous that the design and performance merits of the paddle in the context of many paddle sports, are considered secondary to those of the craft you are paddling; regrettably no more so has this been true of stand up paddling. From a paddler's perspective, a good paddle should be an essential, not an after thought, which is often how retailers approach customer sales to the extent of making it often the last consideration, not the primary.