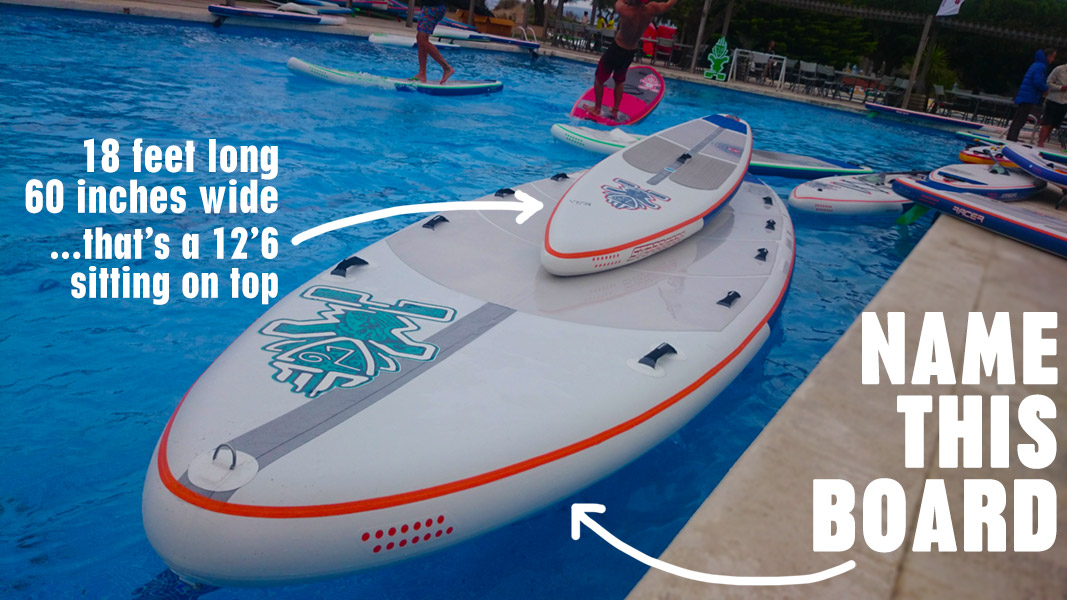 September 29, 2014
by Christopher Parker (@wheresbossman)
Help Name This Crazy, Giant, Oversized New Inflatable From Starboard (And Win Some Cool Stuff)

Starboard Battle Week isn't all about serious racing and painful carnage. It's also about having fun. And right now nothing says fun like a giant, oversized, ridiculously-large inflatable stand up paddleboard.
This beast is Starboard's new inflatable SUP board. It's 18 and a half feet long. It's 60 inches wide. It comfortably fits 8 paddlers at once. It even has proper fins for surfing.
I played around with this thing at Starboard's annual meeting in Spain last week (that's me standing on top of the SUP jenga in the pic below). And I love it. It's certainly not the first giant inflatable SUP ever made, however it's gotta be one of the best: The shape, the construction, the tri-valve system, the fins, the variable rocker.
In short: It's bloody awesome.
There's just one problem: It doesn't have a name yet… This inflatable board is so new and so crazy that it's still waiting to be christened. And that's where you come in.
If you can think of a cool nickname for this behemoth, you get not only the honour of naming one of the world's most stand-out stand ups, you can also win some cool Starboard gear. As part of Starboard Battle Week, we've teamed up with TotalSUP.com to run a fun little contest and help Starboard name their new creation.
Go to TotalSUP.com right now and throw down your best suggestion (or suggestions… there's no limit on entries). Starboard's head honchos, including founder Svein Rasmussen and the mad designer that created this thing, Mat Rauzier, will pick the winner, which we'll announce during our Battle of the Paddle LIVE BLOG on Sunday afternoon.
Rumour has it this crazy thing may even make an appearance in one of the races this weekend: 18'6 x 60″ + 6′ waves… I can only imagine how awesome that would look.
To give you some inspiration, here are a few more images of the board in action. Once you've come up with something catchy, head on over to TotalSUP.com and leave a comment with your suggestion.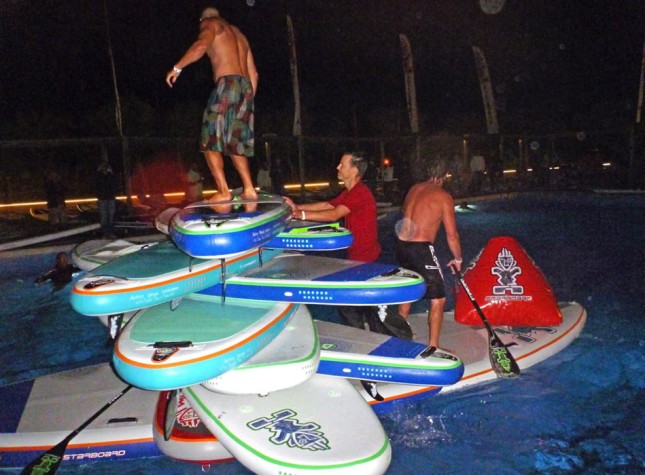 http://instagram.com/p/tUncIYsUnr/
http://instagram.com/p/tfYz81sUhE/