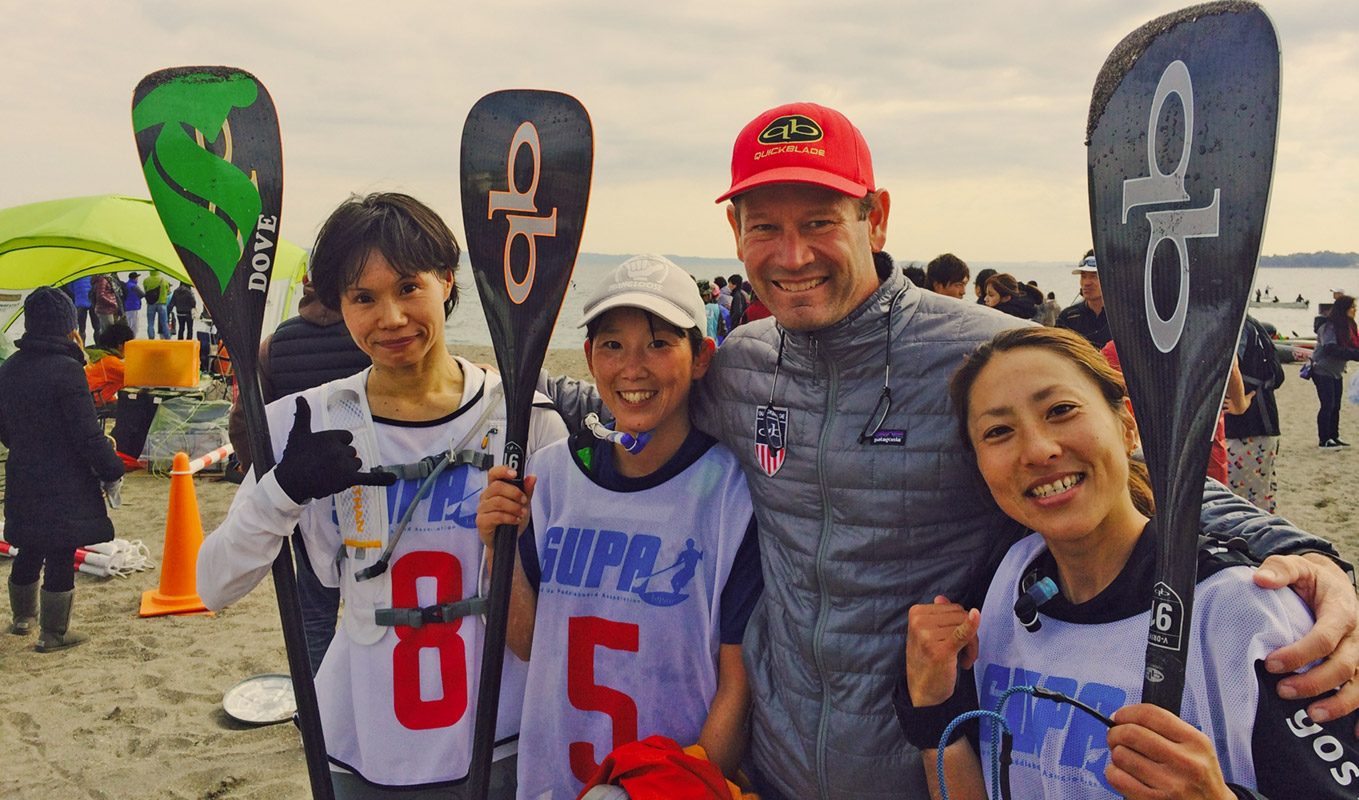 November 17, 2014
by Jim Terrell
Jim Terrell Visits The Land Of The Rising Sun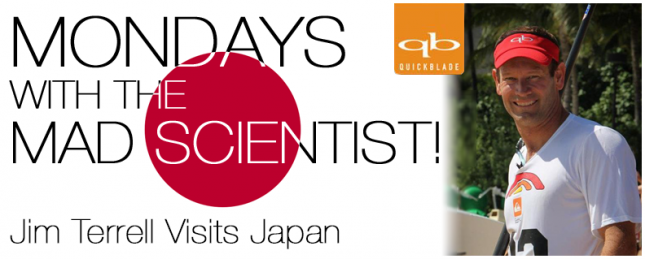 I've just finished a great few days in Japan, which included a stop at the All Japan SUP Championships. What an incredible trip… Japan has definitely discovered SUP racing and is taking full advantage of their vast amounts of water to explore and have fun.
From LA I had a direct flight to Tokyo leaving Wednesday but arriving Thursday evening after crossing the date line. I made an easy transfer from Tokyo's Narita airport to the Prince Park Tower Hotel right in the city. From there I met with long time friend Jake Mizuno, who's from Oahu but knows this city very well.
I was able to get a little taste of Japanese culture on Friday – visited a local temple, saw some of the sights and enjoyed some incredible sushi. Even had time for a spot of ice cream…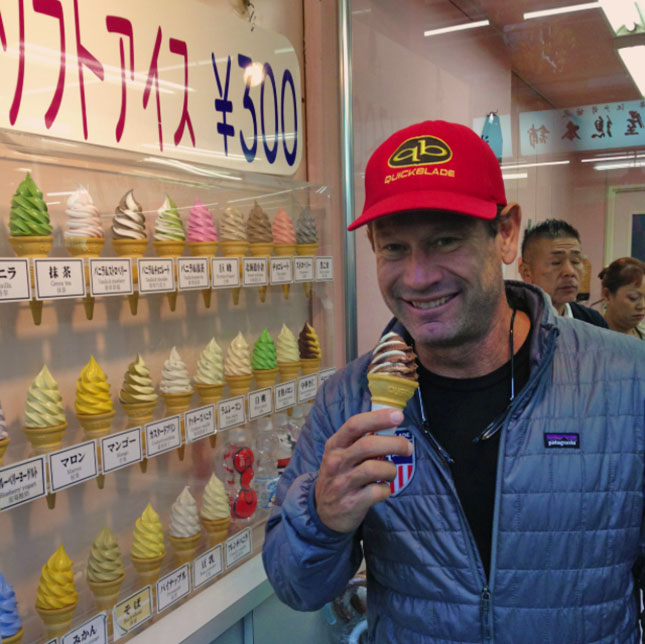 On Saturday morning we were greeted at the hotel by Takuji Araki ('Taku'), who gave us a ride to the race that was about an hour south of Tokyo.
We arrived on the eve of the race and got there just in time for the registration and "board control" – yes that's right, they actually check the length, width and weight of boards to be sure they meet the rules of the Stand Up Paddleboard Association of Japan.
We were met by several friendly Japanese paddlers that all seemed to appreciate that I was here to attend their event. This race was the Japanese National Titles and everyone here had to qualify in their respective divisions in order to compete. The organizers were not only nice enough to allow me to enter unofficially, they even gave me a chance to share my story about the early days of SUP racing in Southern California. I also offered a few pointers that hopefully could help some of the locals in their next big race.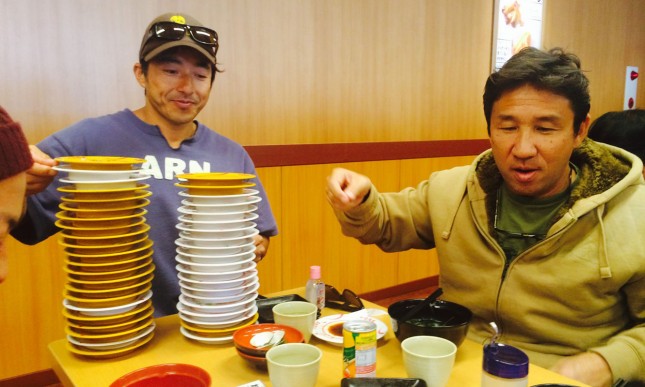 The weather was ideal for paddling as it was sunny, slighty windy and mild conditions on Tokyo bay. We went for an easy paddle, then came in and checked into a nice hotel within 500 meters walking distance of the race site.
On race morning we woke up to a beautiful view of Tokyo Bay that seemed to already have a fair bit of wind chop on it, as the wind had picked up quite a bit overnight. I knew this would create some slightly challenging conditions on the course while also offering a few nice little downwind bumps as well.
After a great Japanese buffet style breakfast (photo above) we walked down the hill to the race site where I was pleasantly surprised to see well over 20 sponsor branded tents showing their presence here in Japan. This was definitely a sign that everyone knows SUP racing is taking off in this country.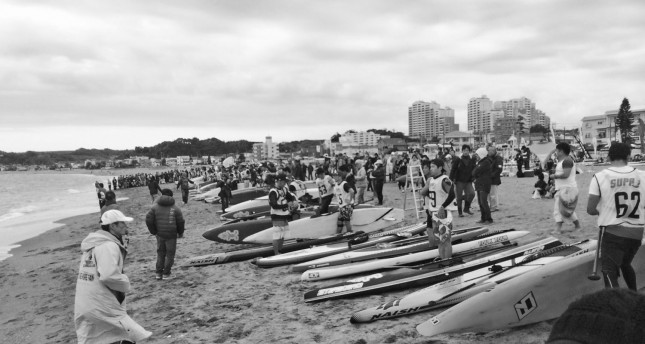 The Elite race was off first with 70 men and about 10 women battling around two laps of the course for a total of 10 kilometres. The course was an out-and-back L shape, followed by a few buoys close to shore to allow spectators good viewing of the paddlers in between laps.
A decent amount of wind chop made for some challenging conditions and I saw a few paddlers take a quick dip in the Tokyo Bay here and there. At the end of the first lap, it was Taku in the lead followed by Kenny Kaneko and them Tomoyasu Murabayashi ('Tomo').
Taku is a 40-year-old Waterman from Okinawa Japan that has done everything from prone to outrigger to canoe sailing (kind of like a Japanese version of Jamie Mitchell). So this guy is no novice.
Meanwhile Kenny is a very talented youngster and outrigger canoe specialist. Kenny grew up in Irvine, California, but only as a surfer – it was after moving "home" to Japan that he discovered outrigger racing as an avenue for avoiding the crowded surf line-ups of Japan.
Meanwhile Tomo is a well-known and very likeable guy on the international race circuit – he's a regular at the Battle of the Paddle in California and the Hawaiian downwind races. These three guys – Taku, Kenny and Tomo – were definitely the strong favourites.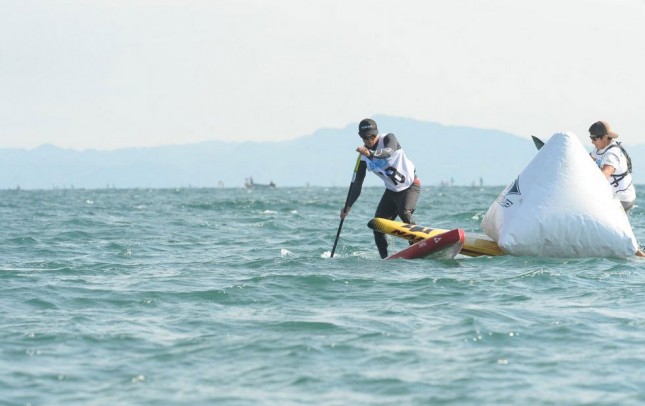 On the second lap, Kenny capitalised on a slight error from Taku and closed the gap. Heading into the final turns he managed to take the lead and make one final push to the line, claiming the Japanese National Title by just seven seconds.
On the women's side it was Takayo Yokoyama claiming the elite race. Takayo won the SUP surfing national two weeks ago and was too good again today, finishing over a minute clear.
(Get the full results/photos/official recap of the 2014 All Japan SUP Championships Race)
After the Elite Race the open class competitors took to the line. About 90 paddlers strong, each was wearing a different colored bib that represented their class, such as 12'6, inflatable (which is a huge division here I might add) and recreational. The open race covered 5km – one lap of the elite course instead of two.
I was most impressed with the diversity and talent of the ages: There was a 73-year-old gentleman that finished quite well, all the way down to a 12-year-old named Hano (Taku's daughter) who also finished the race strong. This just shows how SUP is such a great sport (a life sport) for any age.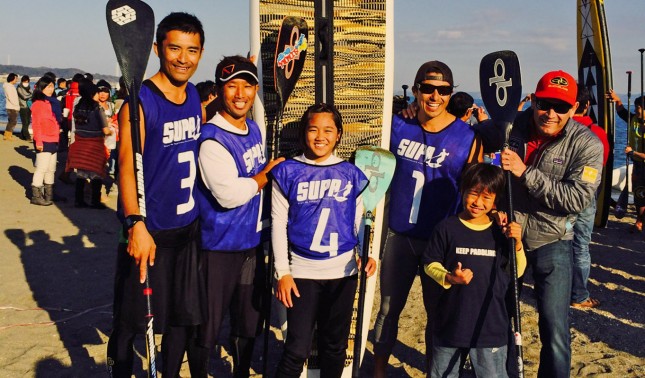 That wasn't all though – the racing ended with a relay event that featured seven teams representing the seven different regions of Japan. They battled hard in a quick, exciting, in-and-out course race, with the Okinawa team crossing first after 12-year-old Hano anchored her team to victory.
There was a great awards presentation with a stage and podium, which honored each and every class for their efforts on the day. I was so moved and excited to see all the smiling faces of so many people who have all recently discovered this great sport of ours.
I want to sincerely thank everyone who went out of their way to make me feel welcome in Japan. All I can say is keep "training hard, going fast and having fun!"
And I really look forward to coming back again soon.
– Jim