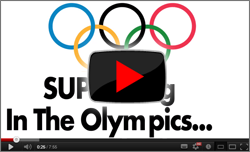 November 5, 2012
by Jim Terrell
Mondays With The Mad Scientist: SUP Racing @ The Olympics…?! [Part 1]
Find out what Quickblade's Jim Terrell thinks about Stand Up Paddling in the Olympics.
Jim is in a better position to answer these questions than probably anyone else out there; he represented the U.S.A. at 4x Olympic Games for Sprint Canoeing, plus not many people have been racing and working in the Stand Up Paddle industry as long as the Mad Scientist.
So watch the video above as this week's "Mondays With The Mad Scientist!" tackles the big question:
Should SUP racing ever be in the Olympic Games?
If so, what would it look like? And when would it get there?!
If you wanna join the debate, feel free to leave a comment below
(oh and stay tuned for Part 2 next Monday, it's going to be a good one…)