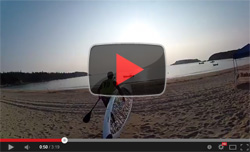 December 27, 2013
by Christopher Parker (@wheresbossman)
Could Japan Be A New Frontier For SUP?
Slick little recap of the SIC crew's recent trip to Japan, which acted as a scouting mission to find out the potential for stand up paddle racing in the land of the rising sun.
Company founder and head designer Mark Raaphorst was joined by brand manager Braly Joy for the trip, which included a race on the island of Okinawa and trips to Tokyo and Osaka. The guys were pretty stoked with the possibilities for the sport in Japan and even threw up the possibility of hosting a race there in the next year or so. The local SUP community is still fairly small by U.S. standards, however the enthusiasm is off the charts and the potential is almost limitless.
One cool little video and a few stoked paddlers is hardly enough to warrant calling Japan "the next frontier," however there are a few arguments that could be made in the country's favour. Consider this:
– Japan has a LOT of surfers. We could argue endlessly about whether SUP has its roots in surfing or paddling (or both), but that's a moot point: fact is countries that have a lot of surfers have a lot of stand up paddlers, period. Although surfing data is extremely unreliable, various reports peg Japan's surfing population at upwards of one million (by comparison: the U.S. is estimated to have between 2 and 3 million).
– Japan was a major destination for windsurfing in the heydays of the 80s. Again, that's another reliable barometer of SUP popularity. Throw in the fact that the country has an established outrigger paddling community, another sport where crossover into SUP is extremely common, and we're starting to get somewhere.
– Team Japan competed in the 2013 ISA Worlds.
– Japan is a rich nation. Stand Up Paddling is a relatively expensive sport that has a greater chance of flourishing in wealthier regions.
So while we probably won't ever see a Japanese paddler win the Battle of the Paddle, that doesn't mean the country can't play an important role in the global expansion of the sport. We'll see what happens in the next year or two, but as SUP racing expands further and further beyond the traditional waters of the "Big Three" (Hawaii, US, Australia) I'd keep half an eye on what's happening in Japan along with the other new wave nations such as France and Brazil.
In the meantime if you wanna see more Stand Up Paddleboarding videos head over to the Showreel: