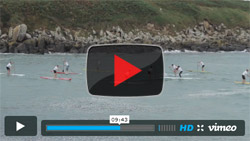 [VIDEO] The Latest SUP Racing Action From France (This Video Will Get You Motivated To Paddle)
Watch this awesome highlights reel from last weekend's Swell Beach Race Series finale in France, where Arthur Daniel beat a stellar local field to win not only the race but also the overall series and a free trip to the Battle of the Paddle in California.
There's just something about this video… Not exactly sure what it is, but when you're done watching it you suddenly feel very motivated to go out for a paddle. It's just one of those clips. A little bit longer than most Stand Up Paddle videos but well worth it.