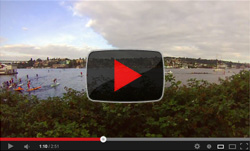 [VIDEO] SUP Race Time Lapse
Watch this great little video from the local SUP crew in Seattle. Instead of doing a standard old highlights reel for their latest weekly race, the locals setup a time lapse video of the event – the whole race is over in three minutes.
Pretty cool. Would love to see this done at somewhere like the Battle of the Paddle Open Race, where there are 400 paddlers on the course at once.
(oh and you can check out more great footage on our new Stand Up Paddleboarding Videos mini-site)