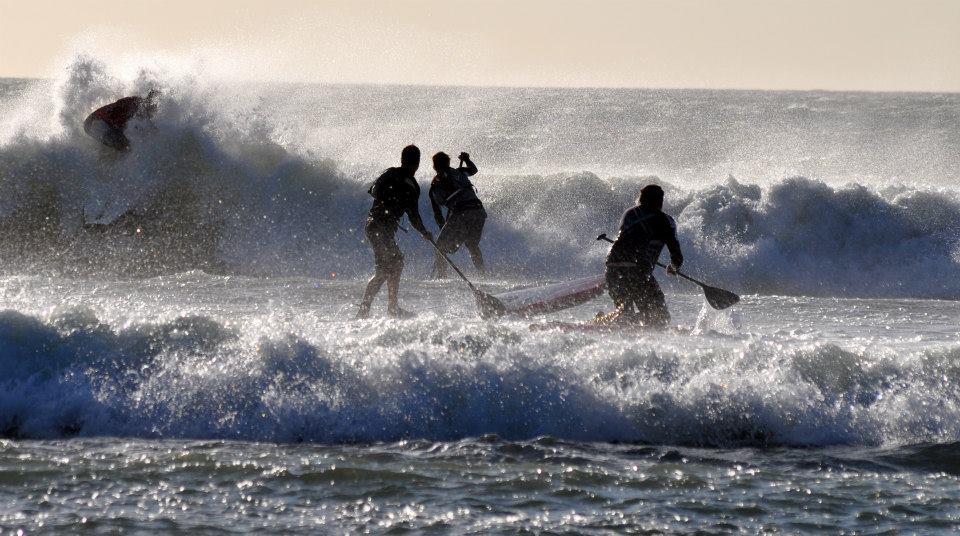 November 21, 2012
by Peter Petersen
[RESULTS] Solid Swell And Plenty Of Wind In South Africa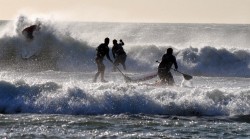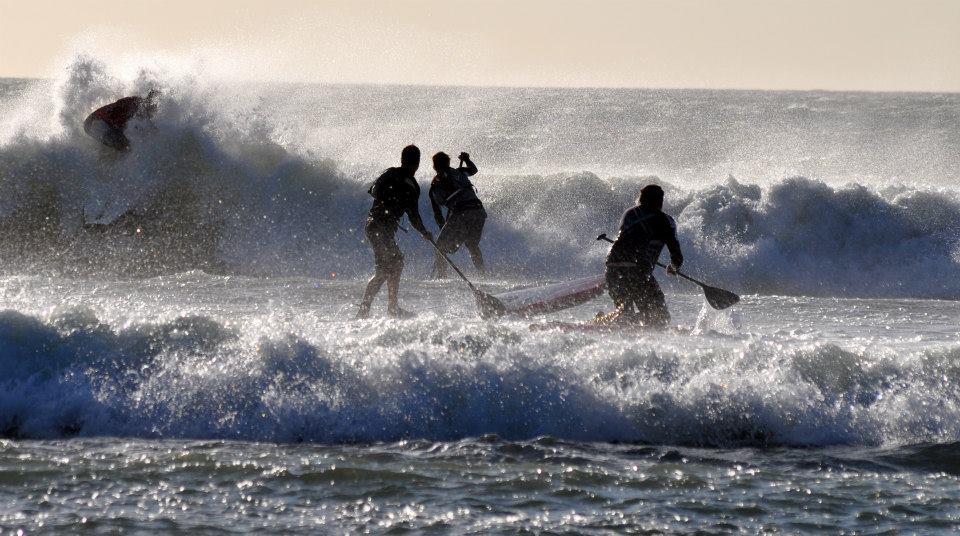 Awesome conditions for race #6 of the PRIMI Naish Downwind Dash Series in South Africa today.
Winds gusting to 35 knots and solid 6-8ft (2-3meter) waves made for another epic Cape Town downwinder. Due to the high swells, the surfski field was whittled down to 12 boats – while 31 SUP's lined up for the challenge.
The first group of starters got off without a hitch – a lull in the sets allowed everyone safe passage and off they went. However the second start coincided with a solid 6 wave set, which had everyone pausing mid-break. Francois Frick stormed out and brilliantly succeeded in duck-diving through one of the set waves to get a clear head start. The Bertish Brothers, Chris and Greg, snuck upwind seconds before the start and found a gap, while others were not so lucky (or smart) and took 5 to 10 wave drubbings…
Eventually everyone got through and the ocean was offering some of the best runs of the season. Chris and Greg took control of the lead with Dylan Frick, Colin Heckroodt and Francois Frick trying to hang on. Chris managed to drop Greg coming through Small Bay to take another great win and cement his lead in the series. Small Bay did not live up to it's name today – virtually everyone that chose this route got cleaned up, though Colin Heckroodt somehow managed to sneak past Greg to snatch a fine 2nd place. Dylan followed suit to take 4th and Ivan van Vuuren, who was one of the victims of the carnage at the start, worked his way up to take a fine 5th place.
Young Mishka Steyn was giving Brigette van Aswegen a good run for her money this week, but eventually Brigette pulled out another win with Monika Wohlgemuth coming in third just behind Mishka. Only 2 juniors with Ethan Koopmans again taking a few minutes out of Joshua Robertson.
Cape Town once again delivered the goods, meaning 6 out of 7 Wednesday night SUP races have now been completed. Despite Chris Bertish pulling away at the front of the Leaderboard, the rest of the field is getting increasingly closer and we look forward to the last 3 races of this season!
– Peter
PRIMI Naish Downwind Dash Series – LEADERBOARD

PRIMI Naish Downwind Dash Series – Race #6 RESULTS
Date: 21st November, 2012
Wind: SE 23-35 knots
Swell: Big
Course: 10.1km
Sponsors: PRIMI, Naish, SUPHQ, Vitaminwater, Coreban/Xpression, SWOX, BulkSMS, Buchulife, Watersports Warehouse

| # | Name | Time | Class | Division | % of 1st | Grade | km/h | min/km | Board |
| --- | --- | --- | --- | --- | --- | --- | --- | --- | --- |
| 1 | Chris Bertish | 0:48:54 | 14' | Open | 100.00 | Elite | 12.39 | 0:04:50 | Naish 14 Glide |
| 2 | Colin Heckroodt | 0:49:24 | 14' | Open | 98.99 | Elite | 12.27 | 0:04:53 | Starboard 14' OO |
| 3 | Greg Bertish | 0:49:47 | 14' | Open | 98.23 | Elite | 12.17 | 0:04:56 | Coreban 14' Dart |
| 4 | Dylan Frick | 0:51:20 | 14' | Open | 95.26 | Elite | 11.81 | 0:05:05 | Starboard 14' Ace Pro |
| 5 | Ivan van Vuuren | 0:51:24 | 14' | Masters | 95.14 | Elite | 11.79 | 0:05:05 | Coreban 14' Dart |
| 6 | Andrew Cillie | 0:51:27 | 14' | Masters | 95.04 | Elite | 11.78 | 0:05:06 | Starboard 14 'OO |
| 7 | Peter Petersen | 0:51:44 | 14' | Masters | 94.52 | A | 11.71 | 0:05:07 | Naish 14 Glide |
| 8 | Francois Frick | 0:52:04 | 14' | Open | 93.92 | A | 11.64 | 0:05:09 | Starboard 14' Ace Pro |
| 9 | Matthew van der Linden | 0:52:27 | 14' | Open | 93.23 | A | 11.55 | 0:05:12 | Naish 14 Glide AST |
| 10 | Nicky Carstens | 0:53:50 | 14' | Masters | 90.84 | A | 11.26 | 0:05:20 | Carstens Custom 14' |
| 11 | Ethan Koopman | 0:54:41 | 14' | Junior | 89.42 | B | 11.08 | 0:05:25 | Naish 14 Glide |
| 12 | Nicky Venter | 0:55:17 | 14' | Open | 88.45 | B | 10.96 | 0:05:28 | Starboard 14' OO |
| 13 | Joshua Robertson | 0:56:18 | 14' | Junior | 86.86 | B | 10.76 | 0:05:34 | Fanatic 14 Falcon |
| 14 | James Taylor | 0:56:33 | 14' | Open | 86.47 | B | 10.72 | 0:05:36 | Naish 14 Glide AST |
| 15 | Nick Muhl | 0:57:19 | 14' | Open | 85.32 | B | 10.57 | 0:05:40 | Naish 14 Glide AST |
| 16 | Glen Thompson | 0:57:55 | 14' | Open | 84.43 | C | 10.46 | 0:05:44 | Naish 14 Glide AST |
| 17 | Brigette van Aswegen | 0:58:25 | 14' | Lady | 83.71 | C | 10.37 | 0:05:47 | Starboard 14' Ace Pro |
| 18 | Michael Fiet | 0:58:46 | 14' | Open | 83.21 | C | 10.31 | 0:05:49 | Coreban 14' Dart |
| 19 | Dave Maxwell | 0:59:38 | 14' | Masters | 82.00 | C | 10.16 | 0:05:54 | Naish 14 Glide AST |
| 20 | Tyran Cooper | 0:59:51 | 14' | Open | 81.70 | C | 10.13 | 0:05:56 | Coreban 14 Dart |
| 21 | Craig Ginsberg | 1:01:18 | 14' | Masters | 79.77 | C | 9.89 | 0:06:04 | Naish 14 Glide |
| 22 | Trevor Minny | 1:02:24 | 14' | Lady | 78.37 | D | 9.71 | 0:06:11 | Coreban 14 Dart |
| 23 | Rob Munro | 1:02:53 | 14' | Masters | 77.76 | D | 9.64 | 0:06:14 | Fanatic 14 OO |
| 24 | Mishka Steyn | 1:03:24 | 14' | Lady junior | 77.13 | D | 9.56 | 0:06:17 | Starboard 14' OO |
| 25 | Steve Tripney | 1:05:27 | 14' | Masters | 74.71 | D | 9.26 | 0:06:29 | Coreban 14 Dart |
| 26 | Monika Wohlgemuth | 1:05:54 | 14' | Lady | 74.20 | D | 9.20 | 0:06:31 | Naish 14 Glide |
| 27 | Neal Esterhuyse | 1:06:08 | 14' | Open | 73.94 | D | 9.16 | 0:06:33 | Halo Custom 14' |
| 28 | Wayne Robertson | 1:06:12 | 14' | Open | 73.87 | D | 9.15 | 0:06:33 | Coreban 14 Dart |
| 29 | Patricia Kohrs | 1:09:46 | 14' | Lady | 70.09 | D | 8.69 | 0:06:54 | Naish 14 Glide AST |
| 30 | Justin Trent | 1:19:43 | 14' | Open | 61.34 | D | 7.60 | 0:07:54 | Naish 14 Glide AST |
| 31 | Oliver Potgieter | 1:26:34 | 14' | Open | 56.49 | D | 7.00 | 0:08:34 | Naish 14 Glide AST |