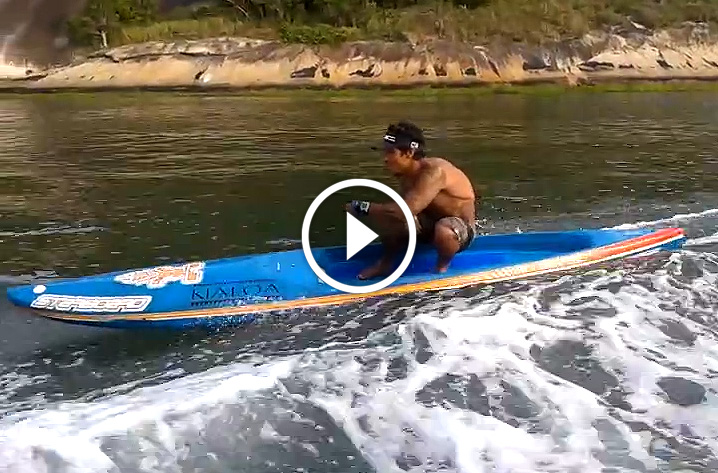 December 20, 2014
by Christopher Parker (@wheresbossman)
This Is How You Surf A Race Board…

This rad little clip has been doing the rounds of Facebook today. Watch above and you'll see why.
It shows Brazilian paddler Marinho Cavaco using his Starboard Ace to put on a masterclass in wash riding (or wake riding) behind a boat. This clip was filmed somewhere in Brazil, most likely Marinho's home town of Sao Paulo.
Though he's not actually behind the boat, Marinho is surfing beside it.
That's the "V Wake" as some people call it, the riding of which is a rarely mentioned but very, very useful skill to learn. And not just to cruise along next to a boat without even paddling, but also to use in an actual SUP race.
I remember seeing Peter Bartl and Bart de Zwart "draft" each other for much of the 200 kms in Holland a few months back. However they were very rarely in front or behind, they were almost always side by side a metre or two apart, getting a free ride off of each other's V Wake.
Obviously Peter and Bart were doing it on a slightly smaller scale than Marinho's epic boat ride, but these pics should still give you the general idea:
This v-wake-riding thing is a particularly useful skill if you want to overtake your rivals or at least put yourself in a better position to make a move. If you get the skill down pat, it can be just as much of a free ride as sitting directly behind someone.
Or you could just use it to look like a pro and entertain a boatload of people. Probably more fun.
---
Want more cool Stand Up Paddling videos? Check out the SIC Showreel. There's like 300 of em.