Stand Up Paddle Race Schedule Updated: 466 Races And Counting…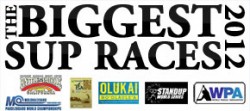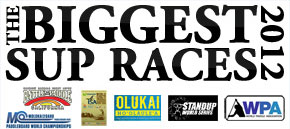 We just finished off another big update to our calendar of Stand Up Paddle board races. There are now over 400 races happening this year, and that'll probably rise to over 500 by December (not to mention the hundreds of smaller, local races that have probably slipped through our net).
So we're now sitting on an average of well over "a-race-a-day" this year. The lineup is also getting crowded in the 2013 SUP race schedule; we've already got three dozen races on the list and that should jump to 150-200 in the next month or so, as we start prepping our Race Calendar for next year.
Click to view the complete Stand Up Paddle board racing schedule or take a look at the main numbers below…
SUP Racing By The Numbers:
466: Number of events on our Stand Up Paddleboard race guide (including the races that have already been held earlier in 2012)
36: Number of SUP races already marked down for 2013
430: Number of Stand Up Paddle board races that will be held during 2012 (and we're probably missing a couple of hundred smaller races off our list)