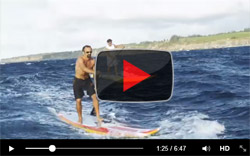 November 23, 2013
by Christopher Parker (@wheresbossman)
WATCH: A Brief SUP History Lesson (The Origins Of SIC)
Cool little clip showing some history behind the iconic SIC brand and it's founder Mark Raaphorst.
Anyone that's ever paddled on Maui knows how popular these boards are over there, with pretty much every Hawaiian downwind race podium full of their riders. And anyone that's done a Maliko run on one of these things knows exactly why they're in such high demand.
Well now you can get a brief SUP history lesson, with a look back at how it all started for SIC…
The video shows some history behind the brand, but those who follow the industry will know that last year SIC was acquired by San Clemente-based Flow Sports, who have global ambitions for the beloved Maui boards. I've worked pretty closely with the SIC/Flow crew lately and can happily report they haven't screwed with the image of SIC since taking over (something that unfortunately happens a lot when a bigger company takes over a boutique little brand).
SIC is a unique brand in the industry that's beloved by paddling fans and has a near-cult following in the hardcore community, something that can hopefully be replicated as the company expands into new areas (such as flat water) and new markets.
But enough about business, just watch the clip above and enjoy the story of how it all started for SIC…