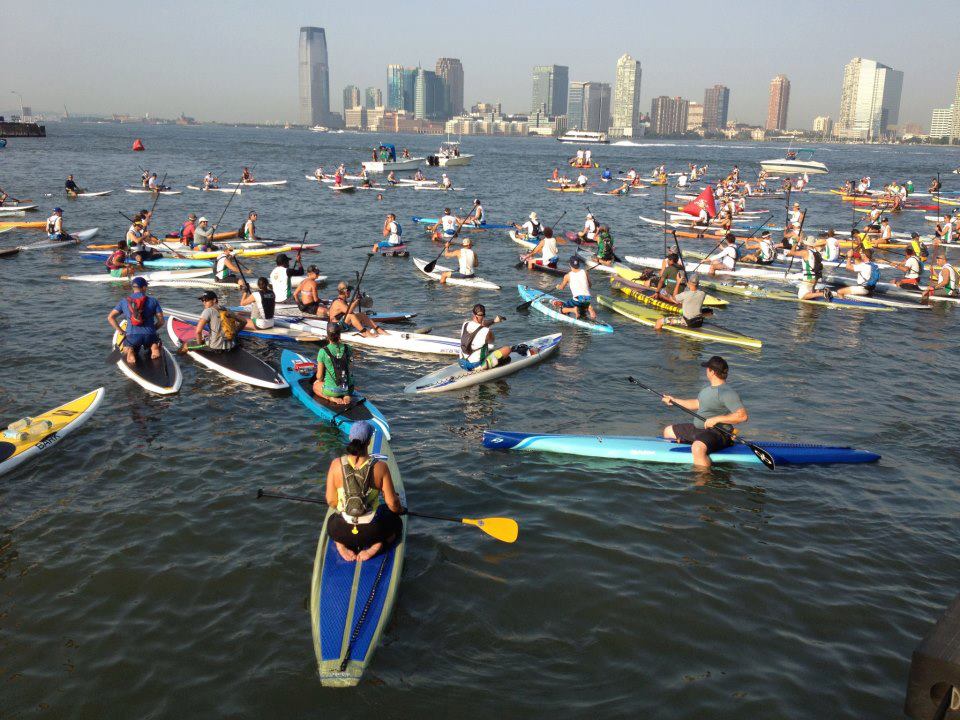 August 17, 2012
by Christopher Parker (@wheresbossman)
[RESULTS] Rojas, Anderson Win The 2012 SEA Paddle NYC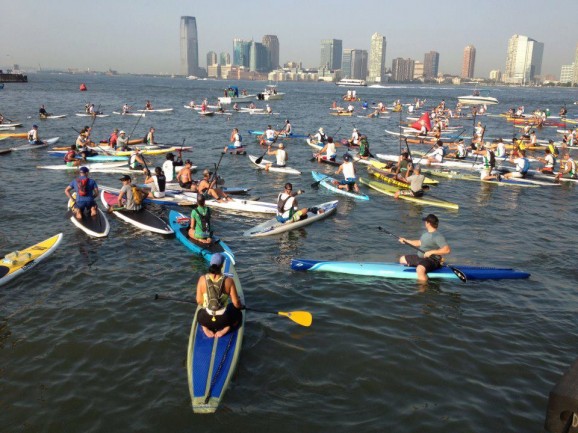 Annabel Anderson (New Zealand) and Rob Rojas (California) have just won the 2012 SEA Paddle NYC Elite Race. That's two wins in two years for both Rob and Annabel.
The race is a 26.5 mile SUP marathon around the island of Manhattan, New York. Paddlers raise money through donations to pay for their entry, with the proceeds going to the Surfers' Environmental Alliance (SEA).
The SEA Paddle NYC, now in it's 5th year, has attracted just about every top name in SUP racing at one point or another. For the past two years though, it's been Rojas and Anderson who've dominated.
Scroll past the pics for the complete 2012 SEA Paddle NYC SUP Race Results.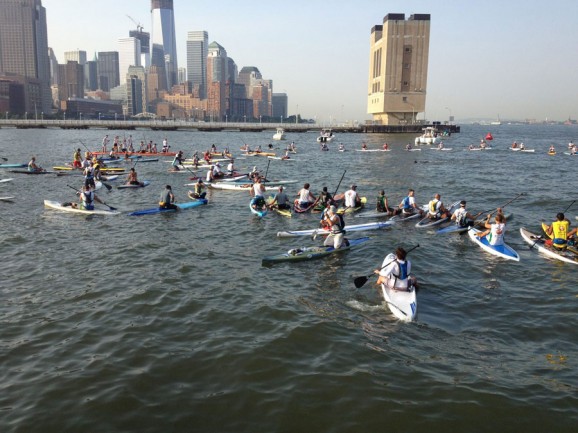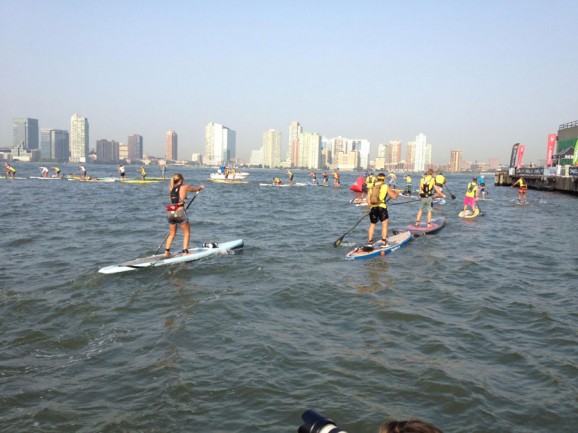 More pics on the official Facebook site.
*****
Results update: Seems a handful of paddlers were missing from the official results that we received. We've asked the organisers for an updated list of finishers, but in the meantime if you want to send us your name/time/division, then we'll add you manually.
2012 SEA Paddle NYC SUP Race RESULTS
Elite SUP Race (26.5 miles)
Click "M/F" to switch between Men's and Women's Results
Click "Time" to reset the results

| Overall # | M/F | M/F # | Name | Time |
| --- | --- | --- | --- | --- |
| 1 | M | 1 | Rob Rojas | 4:17:57 |
| 2 | F | 1 | Annabel Anderson | 4:22:02 |
| 3 | M | 2 | Billy Mehl | 4:27:15 |
| 4 | M | 3 | Mark Temme | 4:29:08 |
| 5 | M | 4 | Thomas Gallagher | 4:34:54 |
| 6 | M | 5 | Kevin Rhodes | 4:38:00 |
| 7 | M | 6 | James Rothwell | 4:40:42 |
| 8 | M | 7 | Shane Boyle | 4:49:34 |
| 9 | M | 8 | Ross Stevens | 4:49:41 |
| 10 | M | 9 | Eric Stiller | 4:49:41 |
| 11 | M | 10 | Bryan Gleason | 4:51:49 |
| 12 | M | 11 | Steve Dullack | 4:52:38 |
| 13 | M | 12 | Mark Colino | 4:52:44 |
| 14 | M | 13 | Ryan Oliver | 4:53:15 |
| 15 | M | 14 | Terry Kent | 4:58:31 |
| 16 | M | 15 | Carl Tripician | 4:59:37 |
| 17 | M | 16 | Neil Schumejda | 5:00:33 |
| 18 | M | 17 | Justin Dirico | 5:02:30 |
| 19 | M | 18 | Joe De Stefano | 5:03:31 |
| 20 | M | 19 | Matthew White | 5:03:48 |
| 21 | M | 20 | Phillip McDonald | 5:10:46 |
| 22 | M | 21 | Sean Duffey | 5:16:11 |
| 23 | M | 22 | Taylor Jones | 5:18:36 |
| 24 | F | 2 | Stephanie Shideler | 5:19:54 |
| 25 | M | 23 | Sean Gleason | 5:25:28 |
| 26 | M | 24 | Basil Tydings | 5:26:02 |
| 27 | M | 25 | Paul Giunta | 5:28:00 |
| 28 | M | 26 | J.M. Kostallas | 5:31:06 |
| 29 | M | 27 | Terry Deakyne | 5:31:59 |
| 30 | M | 28 | Matt Caines | 5:35:00 |
| 31 | M | 29 | Taylor Resnick | 5:35:06 |
| 32 | M | 30 | Name unknown (#199) | 5:36:49 |
| 33 | M | 31 | Thomas Gallagher | 5:36:52 |
| 34 | M | 3 | Dhani Jones | 5:37:21 |
| 35 | F | 3 | Patricia Miller | 5:42:27 |
| 36 | M | 33 | Brian Talma | 5:53:33 |
| 37 | M | 34 | Bobby Alverio | 6:25:38 |
| 38 | F | 4 | Josette Lata | 6:34:50 |
| 39 | M | 35 | Scott Lewis | 6:43:35 |
| 40 | M | 36 | Thomas Blackwell | 6:48:45 |
| 41 | M | 37 | Connor Beaumont | 6:49:57 |
| 42 | M | 38 | Peter Barlin | 7:06:03 |
| 43 | M | 39 | Robert Cancro | 7:14:30 |
| 44 | F | 5 | Terri Plunkett | 7:22:23 |
| 45 | M | 40 | Victor Myers | 7:25:30 |
Open Paddle Race (26.5 miles)
(SUP and prone results got mixed in together…)
Click "M/F" to switch between Men's and Women's Results
Click "Time" to reset the results

| Overall # | M/F | M/F # | Name | Time |
| --- | --- | --- | --- | --- |
| 1 | M | 1 | Christopher Atlee | 5:00:16 |
| 2 | M | 2 | John Mahoney | 5:00:22 |
| 3 | M | 3 | David Cooker | 5:08:11 |
| 4 | M | 4 | Sven Peltonen | 5:08:24 |
| 5 | M | 5 | Adam Glasgow | 5:18:00 |
| 6 | M | 6 | Andrew Van Essendelft | 5:20:33 |
| 7 | M | 7 | Aaron Bickford | 5:25:35 |
| 8 | M | 8 | Raymond Dente | 5:33:45 |
| 9 | M | 9 | Grant Morrow | 5:33:56 |
| 10 | M | 10 | Marty Marcinczyk | 5:34:43 |
| 11 | M | 11 | Fred Neinast | 5:37:04 |
| 12 | M | 12 | Michael Williams | 5:42:09 |
| 13 | M | 13 | Andrew Youmans | 5:43:22 |
| 14 | M | 14 | Jack Rajca | 5:45:55 |
| 15 | M | 15 | Nick Strong | 5:47:09 |
| 16 | M | 16 | Christopher Mosier | 5:47:37 |
| 17 | M | 17 | Jeffrey Deron | 5:49:06 |
| 18 | M | 18 | Darryl Heale | 5:50:22 |
| 19 | M | 19 | J.p. Foschi | 5:55:28 |
| 20 | M | 20 | Gavin Davis | 5:55:38 |
| 21 | M | 21 | Andrew Siben | 5:56:44 |
| 22 | M | 22 | Kevin Del Mauro | 5:58:04 |
| 23 | M | 23 | Cromwell Coulson | 5:59:28 |
| 24 | M | 24 | Steven Sikorski | 6:05:20 |
| 25 | M | 25 | Chris Cole | 6:10:44 |
| 26 | M | 26 | Andrew Harnett | 6:11:31 |
| 27 | F | 1 | Jennifer Fratzke | 6:11:44 |
| 28 | M | 27 | Harris Davis | 6:15:29 |
| 29 | M | 28 | Carl Groth | 6:16:03 |
| 30 | M | 29 | Vincent Gubin | 6:16:08 |
| 31 | M | 30 | Mark Cregle | 6:18:11 |
| 32 | M | 31 | Peter Kusion | 6:21:38 |
| 33 | M | 32 | Christian Thorn | 6:21:55 |
| 34 | M | 33 | W. Spencer Dinnean | 6:23:45 |
| 35 | M | 34 | Joseph Laundrie | 6:26:18 |
| 36 | M | 35 | Chris Stellatella | 6:27:10 |
| 37 | F | 2 | Courtney Urciuoli | 6:27:22 |
| 38 | M | 36 | Patrick Elliott | 6:27:28 |
| 39 | M | 37 | Kevin McCarty | 6:28:00 |
| 40 | M | 38 | James Gregorio | 6:28:13 |
| 41 | M | 39 | George Stemetzki | 6:30:24 |
| 42 | M | 40 | Mike Grande | 6:32:40 |
| 43 | M | 41 | Todd Kramer | 6:33:14 |
| 44 | M | 42 | Jonathan Shlafer | 6:33:27 |
| 45 | M | 43 | Frank Desilva | 6:33:30 |
| 46 | M | 44 | Jeffrey Mangold | 6:34:06 |
| 47 | M | 45 | Glenn Schneider | 6:34:54 |
| 48 | M | 46 | Guilherme Valle | 6:36:10 |
| 49 | M | 47 | Jesse Itzler | 6:36:41 |
| 50 | M | 48 | Demetrios Hadgis | 6:37:24 |
| 51 | M | 49 | Michael Kirsh | 6:38:00 |
| 52 | M | 50 | Max Nuti | 6:42:36 |
| 53 | M | 51 | Frank Forbes | 6:50:44 |
| 54 | M | 52 | Sean Sullivan | 6:50:45 |
| 55 | M | 53 | Austin Grippo | 6:55:10 |
| 56 | F | 3 | Samantha Carey | 6:55:35 |
| 57 | M | 54 | Timothy Kelly | 6:56:53 |
| 58 | M | 55 | Nicolas Oudin | 6:57:06 |
| 59 | M | 56 | Stephen Taylor | 6:57:10 |
| 60 | M | 57 | Tye Conklin | 6:57:32 |
| 61 | M | 58 | Chris MacIoch | 6:58:18 |
| 62 | F | 4 | Audrey Meyer | 6:59:57 |
| 63 | M | 59 | Brian Bigos | 7:01:25 |
| 64 | M | 60 | Michael Feeks | 7:12:38 |
| 65 | M | 61 | Larry McCann | 7:15:47 |
| 66 | M | 62 | Edgar Lituma | 7:15:50 |
| 67 | M | 63 | Joseph Pellegrini | 7:16:39 |
| 68 | M | 64 | Rob Breault | 7:24:49 |
| 69 | M | 65 | Trent Johnson | 7:27:19 |
| 70 | M | 66 | Richard Nussey | 7:33:11 |
| 71 | F | 5 | Heidi Henry | 7:36:45 |
| 72 | M | 67 | Leo Imperial | 7:36:50 |
| 73 | M | 68 | Marcus Cree | 7:40:14 |
| 74 | M | 69 | Reid Zachofsky | 7:40:56 |
| 75 | M | 70 | Scott Watson-Brown | 7:41:31 |
| 76 | M | 71 | Mike Piluso | 7:41:40 |
| 77 | M | 72 | Matthew Bourgeois | 7:42:02 |
| 78 | M | 73 | Gary Clayton | 7:43:12 |
| 79 | M | 74 | Glenn Pashley | 7:43:46 |
| 80 | M | 75 | Justin Brown | 7:45:23 |
| 81 | M | 76 | David McInnis | 7:47:44 |
| 82 | M | 77 | Steven Kassin | 7:49:35 |
| 83 | F | 6 | Karen Jarvis | 7:50:00 |
| 84 | M | 78 | Douglas Rittermann | 7:53:54 |
| 85 | M | 79 | Richard Bubnowski | 7:53:58 |
| 86 | M | 80 | Ken Liss | 7:54:11 |