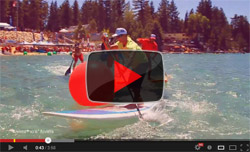 Riviera's End Of Year Wrap: Watch 12 Months Of SUP In Less Than 4 Minutes
Check out this great "2012 Year End Wrap" from the crew at Riviera Paddlesurf. Twelve months of Stand Up Paddle action has been packed into a neat little four minute clip, featuring highlights from Tahoe to the Battle and everywhere in between.
My personal favourite is watching Danny Ching fly out of the gates in the SUP cross race (skip to the 0:40 mark for that part).