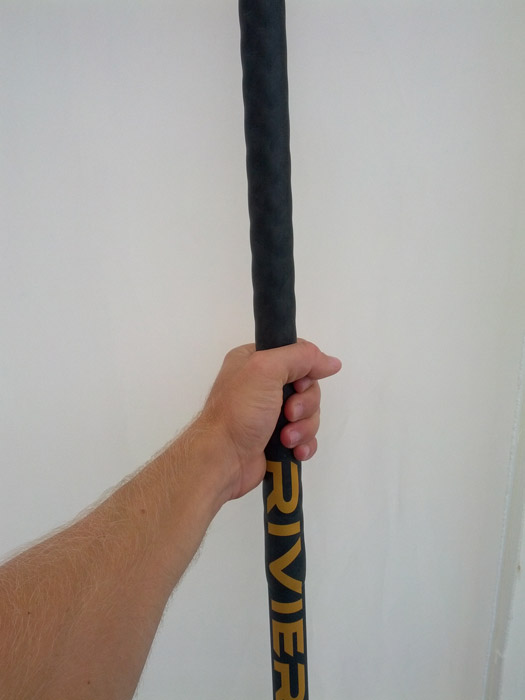 March 31, 2013
by Christopher Parker (@wheresbossman)
REVIEW: The "Bump" Paddle From Riviera Paddlesurf
I was stoked to get my hands on one of Riviera Paddlesurf's very unique and yet-to-be-released SUP paddles a few weeks ago. "The Bump" paddle is brand new for 2013 and I'm pretty sure you'll be seeing a fair few of them at the races this season.
It's one of those "why I didn't I think of that" ideas that's super simple but really effective. The Bump is basically a regular paddle shaft with an extra layer of carbon wrapped around it in a way that makes it bumpy and easier to grip with your lower hand.
Not only does this bumpy carbon grip work but it also makes your paddle very unique, so the novelty value alone will no doubt help sell a bunch of these paddles.

The photos tell the story: the paddle looks fairly normal from a distance, but up close you can see a strip along the middle of the shaft (maybe half a metre long) that's super bumpy. That's obviously right where your lower hand goes when you're paddling, giving you extra grip when your paddle gets wet.
You're not going to magically win a race using this paddle, but you are probably going to paddle better. I'm sure everyone has had that frustrating little moment when you're paddling your heart out only for a little bit of sweat or water to get on your hand, causing you to all of a sudden slip and lose all your flow & momentum.
There are other options out there – some people wax their paddles, some use "shark skin" shafts while many others just put up with a slippery grip – but this is one of the most novel and innovative approaches I've seen.
The prototype I demo'd had a standard paddle handle, but I did see the unique top that'll go on the final version of The Bump. The handle on the retail paddle will also have some bumps in it, kinda of like a bike handle that has grooves for your fingers.
It's another little novelty that while it won't send you from last to first in your next race, it will give you a slight edge and will definitely make your paddle stand out.
Riviera, based in the SUP mecca of San Clemente, is home to big name paddlers such as Thomas Maximus and is also well known for distributing Danny Ching's signature 404 race boards, so it's a company you can easily rely on.
If you're keen to get your hands on one of these, "The Bump" SUP paddle will be available soon from Riviera's site or its retailers.
In the meantime, check out the pics below to see what all the fuss is about…
(click any pic to open the uber full screen gallery)