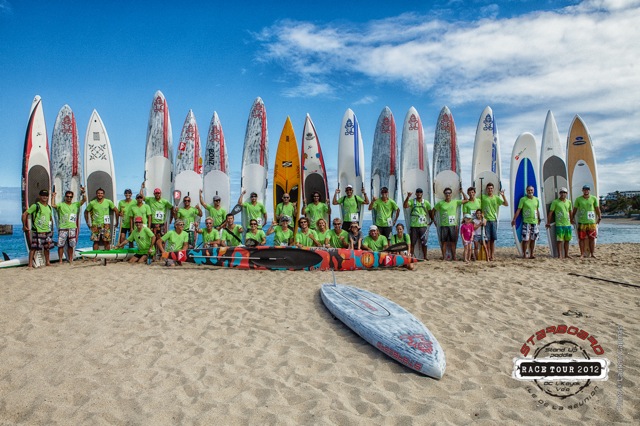 September 21, 2012
by Christopher Parker (@wheresbossman)
[RESULTS] Reunion Island Starboard Race Tour
Check out the action from the first stop of the 2012 Reunion Island Starboard SUP Race Tour. Starboard's own Gaetene Sene took out Race #1 last weekend, ahead of 28 local stand up paddlers who were eager to test themselves against one of the recognised names of international SUP racing.
Sene, who is one of France's leading racers, even managed to do some SUP whale watching while he was on Reunion (scroll down to see the photo). There's more info about Gaetene's victory on the official Starboard blog, including a race recap from the man himself:
"It was for me a very beautiful race, between the traditional fishing boat, the shows, the tourist encouragement and especially all the participants, about thirty. I took a lot of pleasures to mix with all of them. Each participant carried out this race with his own pace. My competitive spirit was always present to exceed me and take down a new victory. There is no doubt that the general level will quickly progress with such a favorable playing field. Cheer with all, participants, volunteers, sponsors, organizers and thank you for your very warm welcome. " >>> read Gaetene's full race recap.
The 2012 Reunion Starboard SUP Race Tour continues with Race #2 on 28th October and Race #3 on the 11th of November. Scroll down past the pics for the full results…