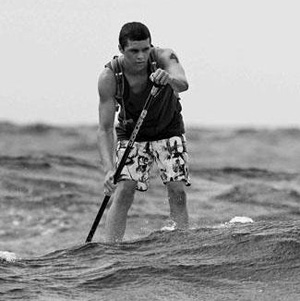 February 11, 2012
by Christopher Parker (@wheresbossman)
[RESULTS] SUP Australia's Queensland Titles Race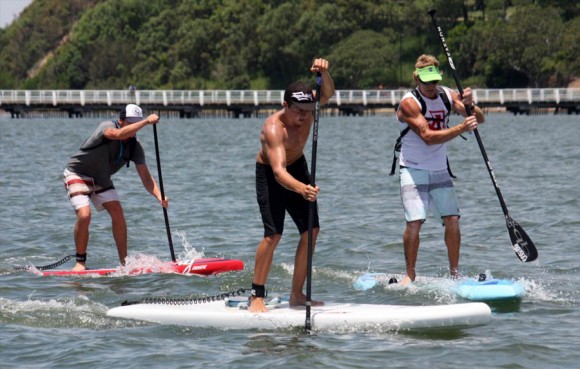 Results from the SUP Australia Queensland Titles race held in Brisbane today.
The race was set to be a 10-15km downwinder, but due to conditions the course ended up being 4.8k. So it was pretty much a sprint the whole way between the top three.
In the end it was young Naish teamrider Jake Jensen who got the win and snatched the $1,000 first place prize from fellow Gold Coasters Kelly Margetts and Dylan Magee.
Alison Fullagar made it a clean sweep for the Gold Coast, coming home first in the women's race.
*****
2012 SUPA Queensland Titles RESULTS
| M/F | # | Name | Time | Class | Division |
| --- | --- | --- | --- | --- | --- |
| M | 1 | Jake Jensen | 25.00 | 14' | Open |
| M | 2 | Kelly Margetts | 25.14 | 14' | Open |
| M | 3 | Dylan Magee | 25.27 | 14' | Open |
| M | 4 | Dylan Kek | 26.33 | Unlim | Open |
| M | 5 | Dale Chapman | 27.31 | 14' | Senior |
| F | 6 | Alison Fullegar | 28.48 | 14' | Open |
| M | 7 | Andrew Edhouse | 30.55 | 14' | Open |
| M | 8 | Alan Heald | 31.14 | 12'6" | Senior |
| F | 9 | Jayne Ryan | 31.26 | 12'6" | Senior |
| F | 10 | Sondra Purser | 31.40 | 12'6" | Open |
| M | 11 | John Townsend | 32.26 | 12'6" | Open |
| M | 12 | Adam Daly | 34.05 | 12'6" | Open |
| M | 13 | Scott Roberts | 34.58 | 12'6" | Senior |
| F | 14 | Lorraine Pacillo | 35.30 | 12'6" | Senior |
| M | 15 | Barnie Barnes | 38.00 | 12'6" | Senior |
| F | 16 | Zoe Daly | 39.16 | 12'6" | Open |
| M | 17 | Matt Batty | 43.13 | 12'6" | Open |