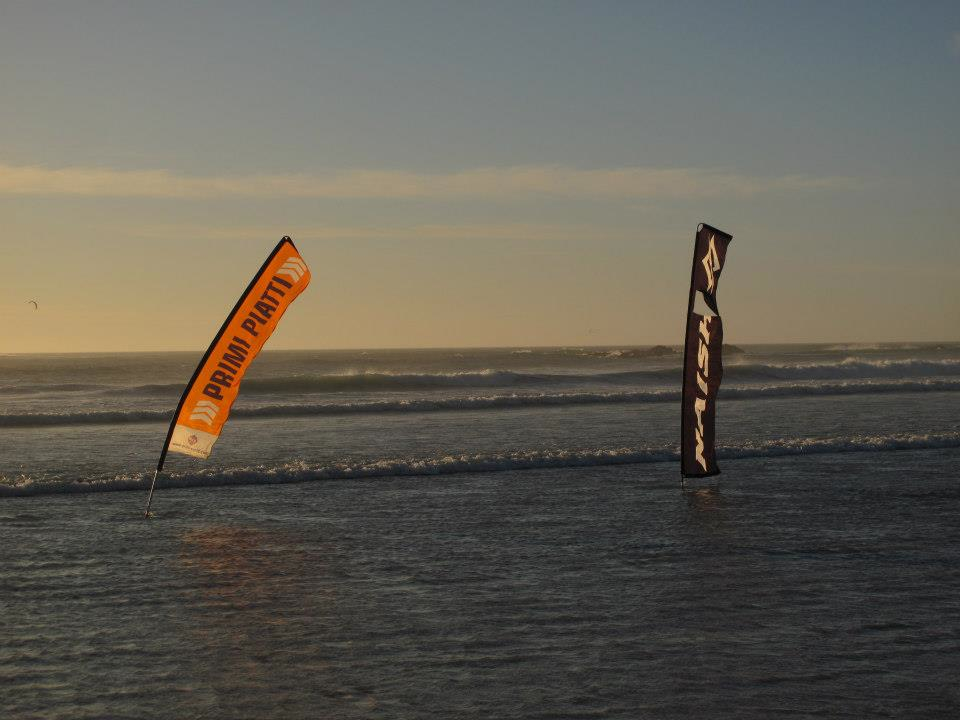 November 14, 2012
by Peter Petersen
[RESULTS] PRIMI Naish Downwind Dash Series, South Africa: Race #5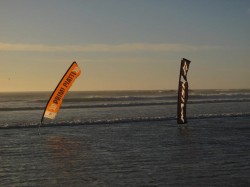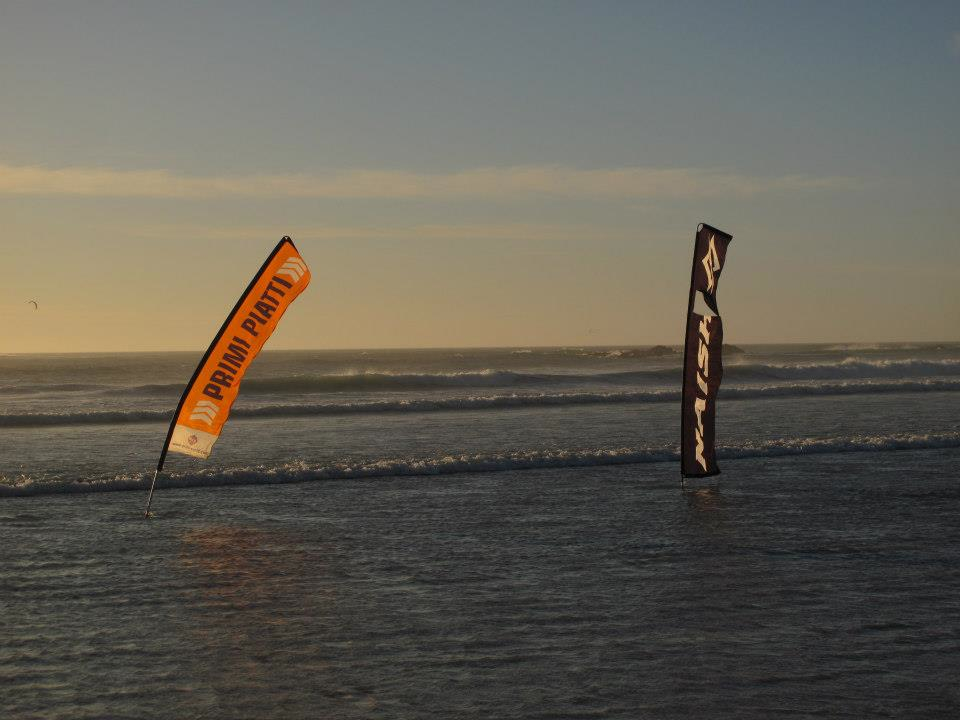 We've successfully completed five races in the first six weeks of the 10-week PRIMI Naish Downwind Dash Series, which is a testament to the consistency of the wind in Cape Town! It wasn't a howler today, but 15-24knots fanned the course producing heaps of quality runners.
It almost wasn't to be though, as the wind only turned and switched on two hours before the start. A lot of paddlers stayed at home due to the wind's late arrival – this despite the race-committee calling the race on since the morning. A total of 23 SUPs and 29 skis competed, the first time this year that skis have outnumbered the Stand Ups (plenty of name-calling such as "Fair-weather SUP'ers" etc was overheard at the bar afterwards…). A pretty solid swell might also have had something to do with it.
Big wave charger Chris Bertish attending Mavericks opening ceremony in the U.S. and Dylan Frick still on anti-biotics meant that lesser ranked paddlers were eyeing off a chance to steal the thunder. Colin Heckroodt welcomed the challenge and set off alongside Greg Bertish, with Dylan in tow. Dylan was looking a little sluggish off the start while Andrew Cillie chose a very wide line. Halfway down the course Andrew suddenly found his groove and Dylan also seemed to find his mojo, catching Greg and setting off after Colin.
Coming through Small Bay the sets were solid 3-6ft and Greg nearly became a rockstar while Francois Frick caught a beauty and nearly managed to pip Greg to the line. Up in front of them, Dylan made a great comeback, but just didn't have enough to take the win from Colin, who celebrated his first ever downwind victory. Third went to Andrew Cillie, who really was flying, making it a Starboard lock-out on the podium.
Brigette van Aswegen once again dominated the ladies while Mishka Steyn and Monica Wohlgemuth had a very close tussle, with Mishka eventually pulling ahead to take 2nd.
Only two juniors this week – we're in the middle of exams, so the rest of you are excused (this week only and provided you get good marks) – and Ethan Koopmans once again just pipped Joshua Robertson.
There were also two first-timers in this race, Mike Smith and Michal Mashia, meaning we now have 80 paddlers on the PRIMI Naish leaderboard. Positions are unchanged at the top of the leaderboard, though everyone is more bunched up and so there are openings for changes in the coming weeks. Four more races and forecast for next week is already looking promising…..gotta love Cape Town!
MORE >>> Results from the PRIMI Naish Downwind Dash Series, Races 1-4
PRIMI Naish Downwind Dash Series – LEADERBOARD

PRIMI Naish Downwind Dash Series – Race #5 RESULTS
Date: 14th November, 2012
Wind: SSE 15-24 knots
Course: 10.1km

| # | Name | Time | Class | Division | % of 1st | Grade | km/h | min/km | Board |
| --- | --- | --- | --- | --- | --- | --- | --- | --- | --- |
| 1 | Colin Heckroodt | 0:52:08 | 14' | Open | 100.00 | Elite | 11.62 | 0:05:10 | Starboard 14' OO |
| 2 | Dylan Frick | 0:52:37 | 14' | Open | 99.08 | Elite | 11.52 | 0:05:13 | Starboard 14' Ace Pro |
| 3 | Andrew Cillie | 0:53:15 | 14' | Masters | 97.90 | Elite | 11.38 | 0:05:16 | Starboard 14 'OO |
| 4 | Greg Bertish | 0:54:27 | 14' | Open | 95.75 | Elite | 11.13 | 0:05:23 | Coreban 14' Dart |
| 5 | Francois Frick | 0:54:33 | 14' | Open | 95.57 | Elite | 11.11 | 0:05:24 | Starboard 14' Ace Pro |
| 6 | Peter Petersen | 0:55:44 | 14' | Masters | 93.54 | A | 10.87 | 0:05:31 | Naish 14 Glide (2012) |
| 7 | Pietro Muscas | 0:56:33 | 14' | Masters | 92.19 | A | 10.72 | 0:05:36 | Naish 14 Glide 2012 |
| 8 | Ethan Koopman | 0:56:43 | 14' | Junior | 91.92 | A | 10.68 | 0:05:37 | Naish 14 Glide |
| 9 | Joshua Robertson | 0:57:40 | 14' | Junior | 90.40 | A | 10.51 | 0:05:43 | Fanatic 14 Falcon |
| 10 | Brad Adams | 0:58:49 | 14' | Open | 88.64 | B | 10.30 | 0:05:49 | Fanatic 14 Falcon |
| 11 | Brigette van Aswegen | 1:01:32 | 14' | Women's | 84.72 | C | 9.85 | 0:06:06 | Starboard 14' Ace Pro |
| 12 | Nick Muhl | 1:02:21 | 14' | Open | 83.61 | C | 9.72 | 0:06:10 | Naish 14 Glide AST |
| 13 | Rob Munro | 1:04:16 | 14' | Masters | 81.12 | C | 9.43 | 0:06:22 | Fanatic 14 OO |
| 14 | Guy Bubb | 1:04:55 | 14' | Open | 80.31 | C | 9.34 | 0:06:26 | Naish 14 Glide (2012) |
| 15 | Nico Pfitzenmaier | 1:05:31 | 14' | Open | 79.57 | D | 9.25 | 0:06:29 | Naish 14 Glide AST |
| 16 | Michael Fiet | 1:06:10 | 14' | Open | 78.79 | D | 9.16 | 0:06:33 | Coreban 14' Dart |
| 17 | Wayne Robertson | 1:07:54 | 14' | Open | 76.78 | D | 8.92 | 0:06:43 | Coreban 14 Dart |
| 18 | Steve Tripney | 1:09:14 | 14' | Masters | 75.30 | D | 8.75 | 0:06:51 | Coreban 14 Dart |
| 19 | Mishka Steyn | 1:09:39 | 14' | Jnr women's | 74.85 | D | 8.70 | 0:06:54 | Starboard 14' OO |
| 20 | Monika Wohlgemuth | 1:10:12 | 14' | Women's | 74.26 | D | 8.63 | 0:06:57 | Naish 14 Glide (2012) |
| 21 | Craig Girdlestone | 1:20:17 | 14' | Masters | 64.94 | D | 7.55 | 0:07:57 | Naish 14 Glide AST |
| 22 | Mike Smith | 1:20:27 | 14' | Masters | 64.80 | D | 7.53 | 0:07:58 | Fanatic 14 OO |
| 23 | Michal Mashiah | 1:24:06 | 14' | Women's | 61.99 | D | 7.21 | 0:08:20 | Naish 14 Glide AST |