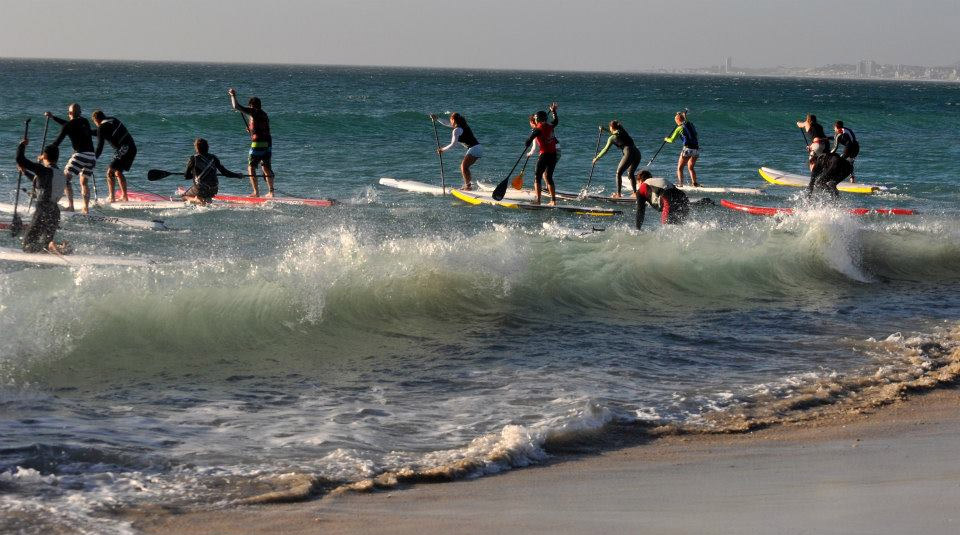 October 21, 2012
by Peter Petersen
[RESULTS] PRIMI Naish Downwind Dash Series (South Africa) Race #2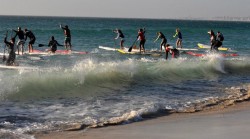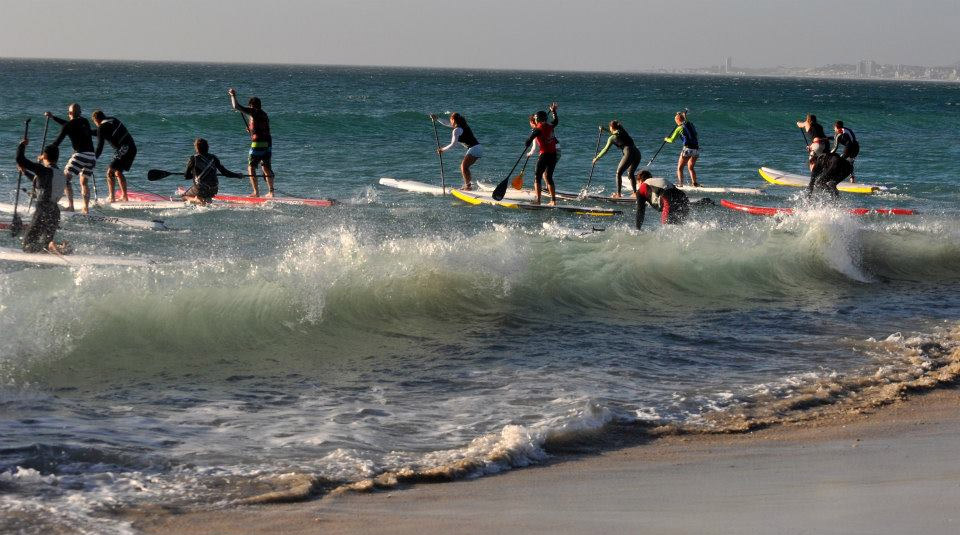 Boss Man's note: More action from South Africa with the second Downwind Dash Series race @ Cape Town. Young gun Dylan Frick was once again the victor, narrowly edging out Chris Bertish, while Brigette van Aswegen was too strong in the women's race for the second week in a row.
Also check out the results from last week's Downwind Dash race #1. Thanks again to SUPracer.com's latest columnist Peter Petersen for the race recap and results. All photos © Jane Amory.
[Jump straight to the race results]
*****
The second race of the PRIMI Naish Downwind Dash, held on Wednesday 17th October, gave the 43 SUP paddlers excellent downwind conditions with flat seas and a steady 15-25knot South-Easterly fanning the runs. The windspeed was still relatively light for Cape Town, but it was very contestable and there were quality runs the entire way.
Dylan Frick made no mistakes off the start this time round, and immediately led out together with the Bertish brothers Chris and Greg. Everyone else was slowly but surely getting left behind and eventually Greg also got dropped with about 3km out of the 10km left to go. Dylan kept leading out Chris but a concerted effort from Chris saw him virtually catch up at the entrance to Small Bay, only for Dylan to once again put the hammer down and finish one wave ahead of Chris in 52:47, 15 seconds ahead of Chris. Brother Greg made sure it was a repeat of last weeks 1,2,3 with a 54:18. Ivan van Vuuren had a sterling comeback from a uncharacteristic start last week with a fine fourth closely followed in by Pietro Muscas in 5th – these two gents also representing 1st and 2nd in the Masters division (over 45 years old).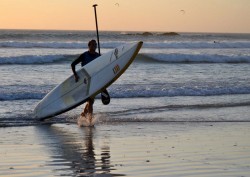 A couple of new names in the top 10 this week with Colin Heckroodt, Justin Bing and Nikki Venter pushing some of the stalwarts down the order – Brad Adams also made a welcome return to the top 10!
The first lady was once again the unbeatable Brigette van Aswegen at 1:02:24. Tammy Robarts from Strand came home 2nd in a time of 1:07:15, while 15 year old Mishka Steyn, also from the Strand, snagged 3rd a mere 12 seconds further back.
The Juniors saw Joshua Robertson record his first win in 1:02:14, with last weeks winner Ethan Koopmans relegated to 2nd in 1:04:25 and Calvin Ginsberg coming 3rd in 1:05:00.
A good couple of newcomers in John Henshilwood, Justin Trent, Luke Crocker and Oliver Potgieter – good to see fresh faces on the runs.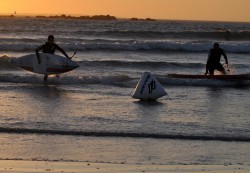 In the overall classification Dylan Frick has cemented his lead with two victories, followed by Chris Bertish and Greg Bertish. In 4th we now have our first Masters paddler, Pietro Muscas, ahead of the 2nd Master, Ivan van Vuuren in 5th.
Brigette van Aswegen has two victories in the Ladies, with Mishka Steyn now in 2nd and Karina Figl in 3rd. In the Juniors, Joshua Robertson now takes over the lead from Ethan Koopmans and Kimon Dos Santos in 3rd.
Remember, you get a discard after 4, 7 and 9 completed races so keep pitching for the races! More fun next week with 8 more races to go before we crown our first Downwind Champion of the new season!
PRIMI Naish Downwind Dash Series: Race #2 Results
Date: 17th October, 2012
Wind: SE 15-26knots
Waves: 0.5m
Course: 10.1km

| # | Name | Time | Class | Division | % of 1st | Grade | km/h | min/km | Board |
| --- | --- | --- | --- | --- | --- | --- | --- | --- | --- |
| 1 | Dylan Frick | 0:52:42 | 14' | Open | 100.00 | Elite | 11.50 | 0:05:13 | Starboard 14' Ace Pro |
| 2 | Chris Bertish | 0:53:02 | 14' | Open | 99.37 | Elite | 11.43 | 0:05:15 | Naish 14 Glide 2012 |
| 3 | Greg Bertish | 0:54:18 | 14' | Open | 97.05 | Elite | 11.16 | 0:05:23 | Coreban 14' Dart |
| 4 | Ivan van Vuuren | 0:54:50 | 14' | Masters | 96.11 | Elite | 11.05 | 0:05:26 | Coreban 14' Dart |
| 5 | Pietro Muscas | 0:55:29 | 14' | Masters | 94.98 | A | 10.92 | 0:05:30 | Naish 14 Glide 2012 |
| 6 | Colin Heckroodt | 0:56:20 | 14' | Open | 93.55 | A | 10.76 | 0:05:35 | Starboard 14' OO |
| 7 | Francois Frick | 0:56:26 | 14' | Open | 93.38 | A | 10.74 | 0:05:35 | Starboard 14' Ace Pro |
| 8 | Justin Bing | 0:56:44 | 14' | Open | 92.89 | A | 10.68 | 0:05:37 | Coreban 14' Alpha |
| 9 | Brad Adams | 0:58:17 | 14' | Open | 90.42 | A | 10.40 | 0:05:46 | Fanatic 14 Fly |
| 10 | Nicky Venter | 0:58:50 | 14' | Open | 89.58 | B | 10.30 | 0:05:50 | Starboard 14' OO |
| 11 | John Du Rooy | 0:59:04 | 14' | Open | 89.22 | B | 10.26 | 0:05:51 | Coreban |
| 12 | Andrew Cillie | 0:59:10 | 14' | Masters | 89.07 | B | 10.24 | 0:05:51 | Starboard 14' Ace Pro |
| 13 | Peter Petersen | 0:59:32 | 14' | Masters | 88.52 | B | 10.18 | 0:05:54 | Naish 14 Javelin MC |
| 14 | Tom King | 1:00:38 | 14' | Open | 86.92 | B | 9.99 | 0:06:00 | Naish 14 Glide (2012) |
| 15 | Nicky Carstens | 1:00:50 | 14' | Open | 86.63 | B | 9.96 | 0:06:01 | Custom 14' |
| 16 | Joshua Robertson | 1:02:14 | 14' | Junior | 84.68 | C | 9.74 | 0:06:10 | Coreban 14' Dart |
| 17 | Brigette van Aswegen | 1:02:24 | 14' | Women's | 84.46 | C | 9.71 | 0:06:11 | Starboard 14' Ace Pro |
| 18 | Grant Seeton Smith | 1:02:44 | 14' | Open | 84.46 | C | 9.71 | 0:06:11 | Coreban 14 Dart |
| 19 | Glen Thompson | 1:02:46 | 14' | Open | 83.96 | C | 9.65 | 0:06:13 | Naish 14 Glide AST |
| 20 | Rob Munro | 1:02:54 | 14' | Open | 83.78 | C | 9.63 | 0:06:14 | Fanatic 14 OO |
| 21 | Mitch Wagstaff | 1:04:18 | 14' | Masters | 83.78 | C | 9.63 | 0:06:14 | Starboard 14' OO |
| 22 | Dave Maxwell | 1:04:25 | 14' | Masters | 81.96 | C | 9.42 | 0:06:22 | Naish 14 Glide |
| 23 | Ethan Koopman | 1:04:34 | Unl | Junior | 81.81 | C | 9.41 | 0:06:23 | Naish 17' Javelin |
| 24 | Guy Bubb | 1:05:00 | 14' | Open | 81.62 | C | 9.39 | 0:06:24 | Naish 14 Glide (2012) |
| 25 | Jimmy Pappas | 1:06:44 | 14' | Open | 81.08 | C | 9.32 | #REF! | |
| 26 | Cameron Rein | 1:07:15 | 14' | Open | 78.97 | D | 9.08 | 0:06:36 | Naish 14 Glide 2012 |
| 27 | Tammy Robarts | 1:07:27 | 14' | Women's | 78.36 | D | 9.01 | 0:06:40 | Naish 14 Glide (2012) |
| 28 | Mishka Steyn | 1:07:59 | 14' | Women's Jnr | 78.13 | D | 8.98 | 0:06:41 | Starboard 14' OO |
| 29 | Gavin Dace | 1:08:00 | 14' | Open | 77.52 | D | 8.91 | 0:06:44 | Naish 14 Glide AST |
| 30 | Michael Fiet | 1:08:19 | 14' | Open | 77.50 | D | 8.91 | 0:06:44 | Coreban 14' Dart |
| 31 | Wayne Robertson | 1:08:24 | 14' | Open | 77.14 | D | 8.87 | 0:06:46 | Coreban 14 Dart |
| 32 | Tyran Cooper | 1:11:58 | 14' | Open | 77.05 | D | 8.86 | 0:06:46 | Coreban |
| 33 | Steve Tripney | 1:12:58 | 14' | Masters | 73.23 | D | 8.42 | 0:07:08 | Coreban 14 Dart |
| 34 | Craig Ginsberg | 1:13:47 | 14' | Masters | 72.22 | D | 8.31 | 0:07:13 | Naish 14 Glide (2012) |
| 35 | Karina Figel | 1:14:09 | 14' | Women's | 71.43 | D | 8.21 | 0:07:18 | Coreban 14' Dart |
| 36 | Monika Wohlgemuth | 1:15:00 | 14' | Women's | 71.07 | C | 8.17 | 0:07:20 | Naish 14 Glide (2012) |
| 37 | Calvin Ginsberg | 1:15:15 | 14' | Junior | 71.07 | D | 8.17 | 0:07:20 | Naish 14 Glide |
| 38 | James Taylor | 1:16:33 | 14' | Open | 70.03 | D | 8.05 | 0:07:27 | Naish 14 Glide AST |
| 39 | Luke Crocker | 1:21:32 | 14' | Open | 68.84 | D | 7.92 | 0:07:35 | Naish 14 Glide |
| 40 | Craig Girdlestone | 1:23:17 | 14' | Masters | 64.64 | D | 7.43 | 0:08:04 | Naish 14 Glide AST (2012) |
| 41 | Patricia Kohrs | 1:27:44 | 12'6 | Women's | 63.28 | D | 7.28 | 0:08:15 | Naish 12 Glide |
| 42 | John Henshilwood | 1:28:05 | 14' | Open | 60.07 | C | 6.91 | 0:08:41 | Coreban 14' Dart |
| 43 | Justin Trent | 1:29:05 | 14' | Open | 59.83 | D | 6.88 | 0:08:43 | Naish 14 Glide AST |
| 44 | Oliver Potgieter | 1:29:10 | 14' | Open | 59.16 | D | 6.80 | 0:08:49 | Naish 14 Glide |
MORE >> Downwind Dash race #1 RESULTS