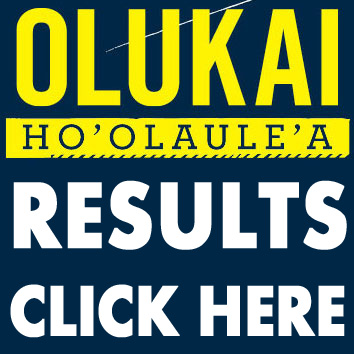 May 11, 2013
by Christopher Parker (@wheresbossman)
FULL RESULTS: Connor Baxter, Andrea Moller Win OluKai 2013 As 300+ Paddlers Descend On Maui
Connor Baxter and Andrea Moller have won the 2013 OluKai SUP Race on Maui, overcoming an elite field of paddlers to defend their respective titles. Dave Kalama was 2nd while Kai Lenny just held off Slater Trout for third. Talia Gangini was the next best female paddler.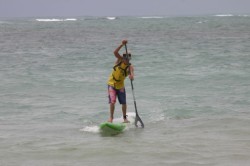 Connor won today's race in impressive fashion, crossing the line over a minute and a half ahead of Dave and over two and a half minutes in front of Kai. Andrea Moller was even more dominant in the women's race, completing the 8 mile course a full three minutes clear of the women (and beating most of the men while she was at it…).
Another very impressive performance came from Aussie Karla Gilbert. The former Ironwoman Queen finished fourth overall in the women's race despite being on a 14 footer (and despite racing in very unfamiliar territory).
The 2013 OluKai SUP Race was a huge success, with 336 stand up paddlers hitting the world famous Maliko downwind run to create one of the largest ever fields in SUP racing history.
We'll have a full photo gallery of the action, race recap and hopefully some video up tomorrow, but in the meantime take a look at the 2013 OluKai Ho'olaule'a Stand Up Paddleboard Race results below…
UPDATE: Check out Connor Baxter's OluKai recap for some insights from the champ himself.
2013 OluKai SUP Race RESULTS
Click "M/F" to switch between men's and women's results
Click "Division" to sort results by each different board class/age division

| # | M/F | M/F # | Name | Time | Division | Division # |
| --- | --- | --- | --- | --- | --- | --- |
| 1 | M | 1 | Connor Baxter | 0:50:04 | Elite Open Men | 1 |
| 2 | M | 2 | Dave Kalama | 0:51:39 | Elite Open Men | 2 |
| 3 | M | 3 | Kai Lenny | 0:52:35 | Elite Open Men | 3 |
| 4 | M | 4 | Slater Trout | 0:52:54 | Elite Open Men | 4 |
| 5 | M | 5 | Scott Gamble | 0:53:19 | Elite Open Men | 5 |
| 6 | M | 6 | Georges Cronsteadt | 0:53:26 | Elite Open Men | 6 |
| 7 | M | 7 | Livio Menlau | 0:53:38 | Elite Open Men | 7 |
| 8 | M | 8 | Kody Kerbox | 0:54:53 | Elite Open Men | 8 |
| 9 | M | 9 | Jeremy Riggs | 0:55:23 | Elite Open Men | 9 |
| 10 | M | 10 | Travis Baptiste | 0:55:57 | Elite Open Men | 10 |
| 11 | M | 11 | Scott Trudon | 0:56:51 | REC Men 50 - 59 | 1 |
| 12 | M | 12 | Zane Schweitzer | 0:56:55 | Elite Open Men | 11 |
| 13 | M | 13 | Joshua Riccio | 0:57:15 | Elite Open Men | 12 |
| 14 | M | 14 | Mark Raaphorst | 0:57:27 | Elite Open Men | 13 |
| 15 | M | 15 | Riggs Napoleon | 0:57:43 | SUP14 Men 17 & Under | 1 |
| 16 | M | 16 | Bart de Zwart | 0:58:12 | Elite Open Men | 14 |
| 17 | M | 17 | Noa Ginella | 0:58:33 | SUP14 Men 18 - 29 | 1 |
| 18 | M | 18 | Jerry Bess | 0:58:50 | REC Men 40 - 49 | 1 |
| 19 | M | 19 | Ralf Sifford | 0:59:39 | REC Men 50 - 59 | 2 |
| 20 | M | 20 | Kalani Vierra | 1:00:01 | REC Men 40 - 49 | 2 |
| 21 | M | 22 | Krak Arntson | 1:00:19 | SUP14 Men 50 - 59 | 1 |
| 22 | M | 21 | Nosert Terieterocer | 1:00:19 | Elite Open Men | 15 |
| 23 | M | 23 | Kaeo Abbey | 1:00:54 | Elite Open Men | 16 |
| 24 | M | 24 | Hogan Kania | 1:01:47 | SUP14 Men 18 - 29 | 2 |
| 25 | F | 1 | Andrea Moller | 1:02:15 | Elite Open Women | 1 |
| 26 | M | 25 | Amir Arbel | 1:02:22 | REC Men 30 - 39 | 1 |
| 27 | M | 26 | Masao Fukayama Jr | 1:02:31 | REC Men 30 - 39 | 2 |
| 28 | M | 27 | Matt Nottage | 1:02:43 | SUP14 Men 17 & Under | 2 |
| 29 | M | 28 | Brenon Rose | 1:03:14 | SUP14 Men 17 & Under | 3 |
| 30 | M | 29 | Ben Chalmers | 1:03:30 | REC Men 30 - 39 | 3 |
| 31 | M | 30 | Junya McGurn | 1:04:06 | SUP14 Men 40 - 49 | 1 |
| 32 | M | 31 | Justin Gordon | 1:04:25 | REC Men 40 - 49 | 3 |
| 33 | M | 32 | Danni Sheard | 1:04:40 | SUP14 Men 50 - 59 | 2 |
| 34 | M | 33 | Bernd Roediger | 1:04:52 | SUP14 Men 17 & Under | 4 |
| 35 | M | 34 | Art Aquino | 1:05:07 | REC Men 40 - 49 | 4 |
| 36 | F | 2 | Talia Gangini | 1:05:30 | Elite Open Women | 2 |
| 37 | F | 3 | Devin Blish | 1:05:38 | Elite Open Women | 3 |
| 38 | M | 35 | Eugene Ancheta | 1:06:18 | SUP14 Men 40 - 49 | 2 |
| 39 | F | 4 | Karla Gilbert | 1:06:39 | Elite Open Women | 4 |
| 40 | M | 36 | Belar Diaz | 1:06:51 | SUP14 Men 30 - 39 | 1 |
| 41 | M | 37 | Bullet Obra | 1:07:23 | SUP14 Men 18 - 29 | 3 |
| 42 | M | 38 | Rouys Alexandre | 1:07:48 | Elite Open Men | 17 |
| 43 | M | 39 | Kekoa Kahookele-Santo | 1:08:05 | SUP14 Men 18 - 29 | 4 |
| 44 | M | 40 | Thierry Tching | 1:08:11 | SUP14 Men 40 - 49 | 3 |
| 45 | M | 41 | Tim Wyers | 1:08:27 | REC Men 30 - 39 | 4 |
| 46 | M | 42 | Ridge Lenny | 1:08:31 | SUP14 Men 17 & Under | 5 |
| 47 | M | 43 | Keith Coleman | 1:08:36 | Elite Open Men | 18 |
| 48 | F | 5 | Kathy Shipman | 1:08:45 | SUP14 Women 50 - 59 | 1 |
| 49 | M | 44 | Bryan Altham | 1:08:48 | REC Men 40 - 49 | 5 |
| 50 | M | 45 | Randy Royse | 1:09:07 | REC Men 50 - 59 | 3 |
| 51 | M | 46 | Braly Joy | 1:09:24 | REC Men 30 - 39 | 5 |
| 52 | M | 47 | Melvin Ah Lo | 1:09:48 | REC Men 30 - 39 | 6 |
| 53 | F | 6 | Mariko Strickland | 1:09:49 | SUP14 Women 18 - 29 | 1 |
| 54 | M | 48 | Justin Ormonde | 1:10:20 | REC Men 40 - 49 | 6 |
| 55 | M | 49 | Lee Wnuk | 1:10:25 | REC Men 40 - 49 | 7 |
| 56 | M | 50 | John Bendon | 1:10:27 | SUP14 Men 30 - 39 | 2 |
| 57 | M | 51 | Ben Friberg | 1:10:35 | SUP14 Men 30 - 39 | 3 |
| 58 | M | 52 | Ron St. John | 1:10:39 | SUP14 Men 50 - 59 | 3 |
| 59 | M | 53 | Kili Wakana | 1:11:17 | SUP14 Men 18 - 29 | 5 |
| 60 | M | 54 | William Hofmann | 1:11:42 | REC Men 60 & Over | 1 |
| 61 | M | 55 | Jessse Richman | 1:11:44 | SUP14 Men 18 - 29 | 6 |
| 62 | M | 56 | Nick Moconey | 1:11:45 | SUP14 Men 40 - 49 | 4 |
| 63 | M | 57 | Greg Gilbert | 1:11:49 | REC Men 40 - 49 | 8 |
| 64 | M | 58 | Gilles Laborde | 1:11:55 | SUP14 Men 40 - 49 | 5 |
| 65 | F | 7 | Tehani Gangini | 1:12:31 | Elite Open Women | 5 |
| 66 | M | 59 | Robert Stoner | 1:12:42 | REC Men 50 - 59 | 4 |
| 67 | M | 60 | John Zevenbergen | 1:12:43 | REC Men 50 - 59 | 5 |
| 68 | M | 61 | Jimmy Fitt | 1:12:44 | SUP14 Men 30 - 39 | 4 |
| 69 | M | 62 | Paul Tucker | 1:13:02 | SUP14 Men 30 - 39 | 5 |
| 70 | M | 63 | Evan Obra | 1:13:08 | SUP14 Men 18 - 29 | 7 |
| 71 | M | 64 | Cedirc Molina | 1:13:09 | SUP14 Men 30 - 39 | 6 |
| 72 | M | 65 | Rj Whener | 1:13:12 | SUP14 Men 17 & Under | 6 |
| 73 | M | 66 | Vetea Ribet | 1:13:18 | SUP14 Men 30 - 39 | 7 |
| 74 | M | 67 | Gregory Harbottle | 1:13:25 | REC Men 50 - 59 | 6 |
| 75 | M | 68 | Black Abraham | 1:13:28 | REC Men 40 - 49 | 9 |
| 76 | M | 69 | William Boyum | 1:13:44 | REC Men 60 & Over | 2 |
| 77 | M | 70 | Milton Martinsor | 1:13:48 | REC Men 50 - 59 | 7 |
| 78 | M | 71 | Manny Ruiz | 1:13:50 | SUP14 Men 30 - 39 | 8 |
| 79 | M | 72 | Robert Picayo | 1:13:55 | REC Men 30 - 39 | 7 |
| 80 | M | 73 | Walter Machado | 1:14:11 | REC Men 60 & Over | 3 |
| 81 | F | 8 | Halie Harrison | 1:14:14 | Elite Open Women | 6 |
| 82 | M | 74 | John Chiu | 1:14:15 | REC Men 40 - 49 | 10 |
| 83 | M | 75 | Kevin Davison | 1:14:16 | REC Men 50 - 59 | 8 |
| 84 | M | 76 | Kevin Vangritis | 1:14:17 | REC Men 40 - 49 | 11 |
| 85 | F | 9 | Molly Walker | 1:14:18 | Elite Open Women | 7 |
| 86 | M | 77 | Kevin Hagan | 1:14:44 | SUP14 Men 40 - 49 | 6 |
| 87 | M | 78 | Daniel Debeer | 1:14:55 | SUP14 Men 30 - 39 | 9 |
| 88 | M | 79 | Hunter Eggers | 1:15:01 | SUP14 Men 40 - 49 | 7 |
| 89 | M | 80 | Jamie Mihlbauer | 1:15:04 | SUP14 Men 40 - 49 | 8 |
| 90 | M | 81 | Emery Tavares | 1:15:07 | REC Men 30 - 39 | 8 |
| 91 | M | 82 | Pedro Gapero | 1:15:13 | REC Men 30 - 39 | 9 |
| 92 | M | 83 | Archie Kalupa | 1:15:42 | SUP14 Men 50 - 59 | 4 |
| 93 | M | 84 | Ed Wheeler | 1:15:43 | SUP14 Men 40 - 49 | 9 |
| 94 | M | 85 | Bruce Baptiste | 1:15:47 | SUP14 Men 50 - 59 | 5 |
| 95 | M | 86 | Brad Albert | 1:16:05 | SUP14 Men 40 - 49 | 10 |
| 96 | M | 87 | Scott Cheney | 1:16:15 | SUP14 Men 50 - 59 | 6 |
| 97 | M | 88 | Nathan Decker | 1:16:22 | REC Men 30 - 39 | 10 |
| 98 | M | 89 | Jeff Okuna | 1:16:36 | REC Men 30 - 39 | 11 |
| 99 | M | 90 | Bram Denhaan | 1:17:13 | REC Men 40 - 49 | 12 |
| 100 | M | 91 | Chris Levins | 1:17:29 | REC Men 40 - 49 | 13 |
| 101 | M | 92 | Pierre Coetzee | 1:17:33 | SUP14 Men 50 - 59 | 7 |
| 102 | M | 93 | Freddy Huihui | 1:17:34 | SUP14 Men 18 - 29 | 8 |
| 103 | M | 94 | Danny Kalahiki | 1:17:39 | REC Men 40 - 49 | 14 |
| 104 | F | 10 | Jen Waikikilove | 1:17:41 | Elite Open Women | 8 |
| 105 | M | 95 | Stephen Ross | 1:17:42 | REC Men 50 - 59 | 9 |
| 106 | M | 96 | Peter John | 1:17:47 | SUP14 Men 30 - 39 | 10 |
| 107 | M | 97 | Reggie Balidoy | 1:17:57 | REC Men 40 - 49 | 15 |
| 108 | M | 98 | John Smalley | 1:17:57 | SUP14 Men 30 - 39 | 11 |
| 109 | M | 99 | Joseph Dratz | 1:18:01 | SUP14 Men 30 - 39 | 12 |
| 110 | M | 100 | Karl Rohlfing | 1:18:11 | REC Men 50 - 59 | 10 |
| 111 | F | 11 | Tomoe Yasu | 1:18:25 | Elite Open Women | 9 |
| 112 | M | 101 | Darren Del Monico | 1:18:26 | SUP14 Men 40 - 49 | 11 |
| 113 | M | 102 | Jason Carter | 1:18:32 | REC Men 18 - 29 | 1 |
| 114 | M | 103 | Warwick Gray | 1:18:35 | SUP14 Men 50 - 59 | 8 |
| 115 | F | 12 | Cristiane Martins | 1:19:01 | REC Women 30 - 39 | 1 |
| 116 | M | 104 | Bill Gassett | 1:19:06 | REC Men 50 - 59 | 11 |
| 117 | M | 105 | Fendall Moraitis | 1:19:10 | SUP14 Men 40 - 49 | 12 |
| 118 | M | 106 | Igor Reeru | 1:19:30 | SUP14 Men 30 - 39 | 13 |
| 119 | M | 107 | Donnie McGean | 1:19:37 | REC Men 50 - 59 | 12 |
| 120 | M | 108 | Girard Middletion | 1:19:51 | Elite Open Men | 19 |
| 121 | M | 109 | Raydon Vasquez | 1:20:01 | REC Men 40 - 49 | 16 |
| 122 | M | 110 | Jonno Walker | 1:20:10 | SUP14 Men 50 - 59 | 9 |
| 123 | M | 111 | Kevin Angala | 1:20:52 | SUP14 Men 18 - 29 | 9 |
| 124 | M | 112 | David Mello | 1:21:03 | SUP14 Men 30 - 39 | 14 |
| 125 | M | 113 | Lance Okrasinski | 1:21:05 | SUP14 Men 18 - 29 | 10 |
| 126 | F | 13 | Lani Gomes | 1:21:14 | SUP14 Women 40 - 49 | 1 |
| 127 | M | 114 | Dustin Insley | 1:21:32 | REC Men 18 - 29 | 2 |
| 128 | F | 14 | Marjorie Kahookele-Pea | 1:21:46 | REC Women 40 - 49 | 1 |
| 129 | M | 115 | Marcio Freire | 1:21:50 | SUP14 Men 30 - 39 | 15 |
| 130 | M | 116 | Benny Warton | 1:21:56 | SUP14 Men 18 - 29 | 11 |
| 131 | M | 117 | Kekaula Campbell | 1:21:59 | SUP14 Men 30 - 39 | 16 |
| 132 | F | 15 | Honora Kalama | 1:22:00 | SUP14 Women 18 - 29 | 2 |
| 133 | M | 118 | Jim Knutson | 1:22:03 | SUP14 Men 50 - 59 | 10 |
| 134 | F | 16 | Sharon Li | 1:22:10 | SUP14 Women 40 - 49 | 2 |
| 135 | M | 119 | Matty Schweitzer | 1:22:25 | SUP14 Men 18 - 29 | 12 |
| 136 | M | 120 | Oren Masserman | 1:22:33 | REC Men 30 - 39 | 12 |
| 137 | F | 17 | Chihagi Chiu | 1:22:35 | SUP14 Women 40 - 49 | 3 |
| 138 | M | 121 | Mark Sarver | 1:22:55 | REC Men 50 - 59 | 13 |
| 139 | M | 122 | Reza Danesh | 1:23:17 | SUP14 Men 30 - 39 | 17 |
| 140 | M | 123 | Scott Mercier | 1:23:20 | REC Men 50 - 59 | 14 |
| 141 | M | 124 | Noel Withers | 1:23:23 | SUP14 Men 30 - 39 | 18 |
| 142 | M | 125 | Chris Paskilao | 1:23:26 | SUP14 Men 30 - 39 | 19 |
| 143 | M | 126 | Kaleo Amadeo | 1:23:43 | SUP14 Men 40 - 49 | 13 |
| 144 | F | 18 | Sarah Delaunay | 1:23:46 | Elite Open Women | 10 |
| 145 | M | 127 | Matt Till | 1:23:48 | REC Men 40 - 49 | 17 |
| 146 | M | 128 | Laurent Guillemin | 1:23:49 | REC Men 30 - 39 | 13 |
| 147 | M | 129 | Jason Honda | 1:23:53 | SUP14 Men 30 - 39 | 20 |
| 148 | M | 130 | Pat McCarthy | 1:23:58 | REC Men 40 - 49 | 18 |
| 149 | M | 131 | Mauricio Abreu | 1:24:17 | SUP14 Men 30 - 39 | 21 |
| 150 | F | 19 | Alyssa Davis | 1:24:20 | SUP14 Women 40 - 49 | 4 |
| 151 | F | 20 | Suzie Cooney | 1:24:31 | SUP14 Women 40 - 49 | 5 |
| 152 | F | 21 | Megan Abubo | 1:24:40 | SUP14 Women 30 - 39 | 1 |
| 153 | M | 132 | Jeff Hudson | 1:25:05 | SUP14 Men 40 - 49 | 14 |
| 154 | M | 133 | Jerin Dunsmoor | 1:25:07 | SUP14 Men 40 - 49 | 15 |
| 155 | M | 134 | Martin Vollert | 1:25:26 | REC Men 50 - 59 | 15 |
| 156 | M | 135 | Michael Lowcher | 1:25:29 | SUP14 Men 60 & Over | 1 |
| 157 | M | 136 | Nelson Carmichael | 1:25:34 | SUP14 Men 40 - 49 | 16 |
| 158 | M | 137 | Ricky Balidoy | 1:25:34 | SUP14 Men 50 - 59 | 11 |
| 159 | F | 22 | Skylar Lickle | 1:25:37 | SUP14 Women 17 & Under | 1 |
| 160 | M | 138 | Josef Erlemann | 1:25:38 | Elite Open Men | 20 |
| 161 | M | 139 | Robin Bolos | 1:25:41 | REC Men 50 - 59 | 16 |
| 162 | M | 140 | Paul Davidson | 1:25:49 | SUP14 Men 40 - 49 | 17 |
| 163 | M | 141 | James Hanley | 1:26:03 | REC Men 50 - 59 | 17 |
| 164 | M | 142 | Sandy Deeley | 1:26:08 | REC Men 60 & Over | 4 |
| 165 | M | 143 | Les Shaw | 1:26:23 | SUP14 Men 50 - 59 | 12 |
| 166 | M | 144 | Tom Callan | 1:26:36 | SUP14 Men 40 - 49 | 18 |
| 167 | F | 23 | Simone Reddingius | 1:27:16 | SUP14 Women 50 - 59 | 2 |
| 168 | M | 145 | Mike Jucker | 1:27:33 | SUP14 Men 30 - 39 | 22 |
| 169 | F | 24 | Sharina Husted | 1:27:39 | SUP14 Women 30 - 39 | 2 |
| 170 | M | 146 | John Pitzer | 1:28:08 | SUP14 Men 18 - 29 | 13 |
| 171 | M | 147 | Parker Hapgood | 1:28:10 | SUP14 Men 50 - 59 | 13 |
| 172 | F | 25 | Anne Gassett | 1:28:12 | REC Women 40 - 49 | 2 |
| 173 | M | 148 | Phillip Voci | 1:28:21 | SUP14 Men 40 - 49 | 19 |
| 174 | F | 26 | Kim Herrera | 1:28:42 | REC Women 50 - 59 | 1 |
| 175 | F | 27 | Kathleen Hagan | 1:28:49 | SUP14 Women 40 - 49 | 6 |
| 176 | M | 149 | Jason Freese | 1:28:56 | REC Men 18 - 29 | 3 |
| 177 | M | 150 | Nick Salanoa | 1:28:59 | SUP14 Men 18 - 29 | 14 |
| 178 | M | 151 | Kalaeloa Robins | 1:29:06 | SUP14 Men 30 - 39 | 23 |
| 179 | F | 28 | Kimberley Sutton | 1:29:10 | SUP14 Women 18 - 29 | 3 |
| 180 | M | 152 | Josh Sands | 1:29:13 | SUP14 Men 30 - 39 | 24 |
| 181 | M | 153 | Dave Weiss | 1:29:16 | REC Men 50 - 59 | 18 |
| 182 | M | 154 | Cyrus Motamed | 1:29:17 | SUP14 Men 40 - 49 | 20 |
| 183 | M | 155 | Andy Claydon | 1:29:48 | SUP14 Men 40 - 49 | 21 |
| 184 | M | 156 | Ryan Schooley | 1:29:50 | SUP14 Men 30 - 39 | 25 |
| 185 | M | 157 | Paul Fraser | 1:30:04 | REC Men 50 - 59 | 19 |
| 186 | M | 158 | Brett Lickle | 1:30:24 | SUP14 Men 50 - 59 | 14 |
| 187 | M | 159 | Bouan Bernard | 1:30:39 | SUP14 Men 50 - 59 | 15 |
| 188 | M | 160 | Sam Pae | 1:31:05 | REC Men 40 - 49 | 19 |
| 189 | F | 29 | Deja Howared | 1:31:37 | REC Women 30 - 39 | 2 |
| 190 | F | 30 | Ashley Baxter | 1:31:38 | REC Women 18 - 29 | 1 |
| 191 | M | 161 | William Moschell | 1:31:42 | SUP14 Men 30 - 39 | 26 |
| 192 | M | 162 | Michael Delima | 1:31:49 | REC Men 30 - 39 | 14 |
| 193 | M | 163 | Axel Rosenblad | 1:31:53 | SUP14 Men 17 & Under | 7 |
| 194 | M | 164 | Gavin Ferguson | 1:31:59 | SUP14 Men 40 - 49 | 22 |
| 195 | M | 165 | Anthony Scaturro | 1:32:06 | REC Men 40 - 49 | 20 |
| 196 | M | 166 | Maleko Lorenzo | 1:32:08 | SUP14 Men 17 & Under | 8 |
| 197 | F | 31 | Mary Elizabeth O'Malley | 1:32:13 | SUP14 Women 30 - 39 | 3 |
| 198 | F | 32 | Lauren Eisenberg | 1:32:19 | REC Women 40 - 49 | 3 |
| 199 | F | 33 | Hillary Runner | 1:32:30 | SUP14 Women 30 - 39 | 4 |
| 200 | F | 34 | Yasuyo Johnson | 1:32:33 | SUP14 Women 40 - 49 | 7 |
| 201 | F | 35 | Margaret W.(peggy) King | 1:32:42 | REC Women 60 & Over | 1 |
| 202 | M | 167 | Chris Freeman | 1:32:48 | SUP14 Men 30 - 39 | 27 |
| 203 | M | 168 | Grant MacDoanld | 1:33:01 | SUP14 Men 40 - 49 | 23 |
| 204 | M | 169 | Conan Gentil | 1:33:11 | SUP14 Men 17 & Under | 9 |
| 205 | F | 36 | Melissa Rajesh | 1:33:25 | SUP14 Women 30 - 39 | 5 |
| 206 | M | 170 | Alex Mawae | 1:33:27 | SUP14 Men 17 & Under | 10 |
| 207 | F | 37 | Shanti Kay Manzano | 1:33:29 | SUP14 Women 30 - 39 | 6 |
| 208 | F | 38 | Laola Aea | 1:33:33 | SUP14 Women 60 & Over | 1 |
| 209 | M | 171 | Kurt Forster | 1:33:36 | SUP14 Men 40 - 49 | 24 |
| 210 | F | 39 | Rosiland Selbach | 1:33:46 | REC Women 30 - 39 | 3 |
| 211 | M | 172 | Clarence Yoshikane | 1:33:48 | SUP14 Men 50 - 59 | 16 |
| 212 | F | 40 | Clare Seeger Mawae | 1:33:50 | SUP14 Women 40 - 49 | 8 |
| 213 | M | 173 | Dan Coleman | 1:33:51 | SUP14 Men 60 & Over | 2 |
| 214 | F | 41 | Beth Deeley | 1:33:53 | REC Women 40 - 49 | 4 |
| 215 | M | 174 | Gary Niblock | 1:34:03 | REC Men 60 & Over | 5 |
| 216 | F | 42 | Abby Stoner | 1:34:04 | SUP14 Women 17 & Under | 2 |
| 217 | M | 175 | Daniel Kopycienski | 1:34:06 | SUP14 Men 40 - 49 | 25 |
| 218 | F | 43 | Donna Badome | 1:34:15 | REC Women 50 - 59 | 2 |
| 219 | F | 44 | Amber Lee | 1:34:20 | SUP14 Women 30 - 39 | 7 |
| 220 | F | 45 | Luni Morey | 1:34:38 | REC Women 40 - 49 | 5 |
| 221 | M | 176 | Chad Beitler | 1:34:56 | REC Men 18 - 29 | 4 |
| 222 | M | 177 | Vince Hogan | 1:35:28 | SUP14 Men 60 & Over | 3 |
| 223 | F | 46 | Julie Scheyer | 1:35:46 | SUP14 Women 40 - 49 | 9 |
| 224 | M | 178 | Anik Wild | 1:35:56 | Elite Open Men | 21 |
| 225 | M | 179 | Charles Lira | 1:36:07 | SUP14 Men 50 - 59 | 17 |
| 226 | M | 180 | Fred Keanuenue Stanton | 1:36:10 | SUP14 Men 18 - 29 | 15 |
| 227 | M | 181 | Teene Froiseth | 1:36:19 | REC Men 60 & Over | 6 |
| 228 | M | 182 | Killa Nikaido | 1:36:42 | REC Men 50 - 59 | 20 |
| 229 | M | 183 | Taito Barrack | 1:36:56 | REC Men 40 - 49 | 21 |
| 230 | M | 184 | Ian Hogan | 1:37:09 | SUP14 Men 30 - 39 | 28 |
| 231 | M | 185 | Scott Smith | 1:37:10 | SUP14 Men 40 - 49 | 26 |
| 232 | M | 186 | Jim Thomas | 1:37:13 | REC Men 30 - 39 | 15 |
| 233 | M | 187 | Colin Lee | 1:37:13 | REC Men 50 - 59 | 21 |
| 234 | M | 188 | Dani Riggs | 1:37:16 | SUP14 Men 60 & Over | 4 |
| 235 | F | 47 | Jay Kaawa | 1:37:29 | REC Women 30 - 39 | 4 |
| 236 | M | 189 | Bill Worthington | 1:37:45 | REC Men 50 - 59 | 22 |
| 237 | M | 190 | David Salangsang | 1:37:48 | SUP14 Men 50 - 59 | 18 |
| 238 | M | 191 | Wes Anderson | 1:38:05 | SUP14 Men 30 - 39 | 29 |
| 239 | M | 192 | Tom Burke | 1:38:15 | REC Men 50 - 59 | 23 |
| 240 | F | 48 | Lori Park | 1:38:19 | REC Women 30 - 39 | 5 |
| 241 | M | 193 | Keijiro Yasu | 1:38:21 | REC Men 50 - 59 | 24 |
| 242 | M | 194 | Keisuke Komuro | 1:38:21 | SUP14 Men 30 - 39 | 30 |
| 243 | M | 195 | Scooter Metcalfe | 1:38:25 | REC Men 50 - 59 | 25 |
| 244 | F | 49 | Ashley Akers | 1:38:33 | REC Women 30 - 39 | 6 |
| 245 | M | 196 | Bill Freese | 1:38:58 | SUP14 Men 40 - 49 | 27 |
| 246 | M | 197 | Martin Bruederli | 1:39:00 | SUP14 Men 40 - 49 | 28 |
| 247 | F | 50 | Lisa Knutson | 1:39:02 | SUP14 Women 40 - 49 | 10 |
| 248 | M | 198 | Rafael Pereira Aragon | 1:39:15 | SUP14 Men 40 - 49 | 29 |
| 249 | F | 51 | Amy Anderson | 1:39:41 | SUP14 Women 30 - 39 | 8 |
| 250 | M | 199 | Ben Buehner | 1:40:00 | SUP14 Men 30 - 39 | 31 |
| 251 | M | 200 | Kyle Wade | 1:40:17 | SUP14 Men 40 - 49 | 30 |
| 252 | M | 201 | James Giroux | 1:40:23 | SUP14 Men 40 - 49 | 31 |
| 253 | F | 52 | Lara Claydon | 1:40:28 | SUP14 Women 17 & Under | 3 |
| 254 | F | 53 | Ari Vanderschoot | 1:40:28 | SUP14 Women 50 - 59 | 3 |
| 255 | M | 202 | Mike Overton | 1:40:55 | REC Men 50 - 59 | 26 |
| 256 | M | 203 | Guy Davis | 1:40:57 | SUP14 Men 50 - 59 | 19 |
| 257 | M | 204 | David Daunhauer | 1:40:58 | SUP14 Men 40 - 49 | 32 |
| 258 | F | 54 | Nani Vickers | 1:41:12 | REC Women 30 - 39 | 7 |
| 259 | M | 205 | Edward Shasek | 1:41:29 | SUP14 Men 60 & Over | 5 |
| 260 | F | 55 | Judith Shasek | 1:41:43 | SUP14 Women 60 & Over | 2 |
| 261 | M | 206 | Sean Harney | 1:42:53 | SUP14 Men 40 - 49 | 33 |
| 262 | F | 56 | Hiria Rolleston | 1:43:13 | SUP14 Women 30 - 39 | 9 |
| 263 | M | 207 | David Bond | 1:43:26 | SUP14 Men 40 - 49 | 34 |
| 264 | M | 208 | Sean Sweet | 1:43:28 | REC Men 50 - 59 | 27 |
| 265 | M | 209 | Santos Keoki | 1:43:39 | SUP14 Men 30 - 39 | 32 |
| 266 | F | 57 | Shaureen Schweitzer | 1:43:43 | SUP14 Women 40 - 49 | 11 |
| 267 | M | 210 | Andreas Gessner | 1:43:47 | SUP14 Men 18 - 29 | 16 |
| 268 | M | 211 | Mathew Labuguen | 1:43:48 | SUP14 Men 18 - 29 | 17 |
| 269 | M | 212 | George Muller | 1:43:54 | SUP14 Men 30 - 39 | 33 |
| 270 | F | 58 | Jennifer Rosenblad | 1:43:55 | SUP14 Women 40 - 49 | 12 |
| 271 | M | 213 | Isaac Kahakane | 1:44:01 | SUP14 Men 30 - 39 | 34 |
| 272 | F | 59 | Danielle Sears Cadman | 1:44:07 | REC Women 40 - 49 | 6 |
| 273 | M | 214 | Jeffrey Skrotzki | 1:44:09 | SUP14 Men 18 - 29 | 18 |
| 274 | M | 215 | Nick Turner | 1:44:10 | SUP14 Men 30 - 39 | 35 |
| 275 | M | 216 | Bart Bootsma | 1:44:11 | SUP14 Men 18 - 29 | 19 |
| 276 | M | 217 | Marciano Sado | 1:44:35 | SUP14 Men 60 & Over | 6 |
| 277 | F | 60 | Sheree Horsburgh | 1:44:42 | SUP14 Women 40 - 49 | 13 |
| 278 | M | 218 | Randy Stark | 1:45:09 | REC Men 40 - 49 | 22 |
| 279 | M | 219 | Don Rickerd | 1:45:19 | SUP14 Men 60 & Over | 7 |
| 280 | M | 220 | Robert Judge | 1:45:29 | SUP14 Men 30 - 39 | 36 |
| 281 | M | 221 | Michael Pasco | 1:45:33 | SUP14 Men 30 - 39 | 37 |
| 282 | M | 222 | Don Mehling | 1:45:40 | SUP14 Men 40 - 49 | 35 |
| 283 | F | 61 | Joyce Benson | 1:45:48 | SUP14 Women 50 - 59 | 4 |
| 284 | F | 62 | Hillary Hardy | 1:46:05 | SUP14 Women 40 - 49 | 14 |
| 285 | M | 223 | Benjamin Thomas | 1:46:20 | SUP14 Men 18 - 29 | 20 |
| 286 | F | 63 | Natalia Fon | 1:46:32 | SUP14 Women 50 - 59 | 5 |
| 287 | F | 64 | Sasha Kinloch | 1:47:03 | SUP14 Women 40 - 49 | 15 |
| 288 | M | 224 | Jeff Hudson | 1:47:13 | REC Men 40 - 49 | 23 |
| 289 | F | 66 | Kimberly Vanderlaan | 1:47:30 | SUP14 Women 50 - 59 | 6 |
| 290 | F | 65 | Gina Lawless | 1:47:30 | REC Women 40 - 49 | 7 |
| 291 | F | 67 | Karen Kramer | 1:47:33 | SUP14 Women 30 - 39 | 10 |
| 292 | M | 225 | Travis Martinson | 1:47:58 | SUP14 Men 30 - 39 | 38 |
| 293 | F | 68 | Cathy Gillis | 1:48:43 | REC Women 50 - 59 | 3 |
| 294 | M | 226 | David Diller | 1:48:45 | SUP14 Men 18 - 29 | 21 |
| 295 | M | 227 | Jansen Alvarado | 1:48:46 | SUP14 Men 30 - 39 | 39 |
| 296 | M | 228 | Tetsuro Yoshino | 1:49:10 | REC Men 30 - 39 | 16 |
| 297 | M | 229 | Mark Benson | 1:49:13 | SUP14 Men 60 & Over | 8 |
| 298 | M | 230 | Marc Lefebvre | 1:49:19 | SUP14 Men 40 - 49 | 36 |
| 299 | F | 69 | Ashley Keanu-Blanco | 1:49:28 | SUP14 Women 18 - 29 | 4 |
| 300 | M | 231 | Mark Martinez | 1:49:32 | SUP14 Men 50 - 59 | 20 |
| 301 | F | 70 | Robyn Lee | 1:50:09 | REC Women 50 - 59 | 4 |
| 302 | F | 71 | Elisabeth Dubuit | 1:50:16 | SUP14 Women 60 & Over | 3 |
| 303 | M | 232 | Paul Williams | 1:50:26 | REC Men 50 - 59 | 28 |
| 304 | M | 233 | Tim Whalen | 1:50:55 | REC Men 30 - 39 | 17 |
| 305 | F | 72 | Renee Beitler | 1:52:27 | SUP14 Women 18 - 29 | 5 |
| 306 | M | 234 | Clement Enomoto | 1:53:00 | SUP14 Men 30 - 39 | 40 |
| 307 | F | 73 | Kathie Mercier | 1:53:34 | REC Women 50 - 59 | 5 |
| 308 | F | 74 | Andrea Shluker | 1:53:38 | SUP14 Women 40 - 49 | 16 |
| 309 | F | 75 | Michelle Wagner | 1:53:49 | SUP14 Women 40 - 49 | 17 |
| 310 | F | 76 | Andrea Thayer | 1:53:54 | SUP14 Women 18 - 29 | 6 |
| 311 | F | 77 | Staci Coble | 1:54:00 | REC Women 18 - 29 | 2 |
| 312 | M | 235 | Kenneth Ross | 1:54:08 | SUP14 Men 30 - 39 | 41 |
| 313 | M | 236 | Tim Till | 1:54:17 | REC Men 40 - 49 | 24 |
| 314 | M | 237 | Kevyn Correa | 1:54:32 | SUP14 Men 40 - 49 | 37 |
| 315 | M | 238 | Joshua Hema | 1:54:34 | REC Men 30 - 39 | 18 |
| 316 | F | 78 | Heather Levitt | 1:54:38 | SUP14 Women 50 - 59 | 7 |
| 317 | M | 239 | Toby Levitt | 1:54:39 | SUP14 Men 50 - 59 | 21 |
| 318 | F | 79 | Dawn Hudson | 1:55:47 | REC Women 30 - 39 | 8 |
| 319 | M | 240 | Sean Boyd | 1:56:25 | REC Men 40 - 49 | 25 |
| 320 | M | 241 | Andrew Urasky | 1:56:51 | SUP14 Men 18 - 29 | 22 |
| 321 | M | 242 | Steffen Kory | 1:57:38 | SUP14 Men 30 - 39 | 42 |
| 322 | M | 243 | Ray Warburton | 1:57:45 | SUP14 Men 40 - 49 | 38 |
| 323 | M | 244 | David Goetz | 1:58:39 | SUP14 Men 50 - 59 | 22 |
| 324 | M | 245 | Carson Goetz | 1:59:42 | SUP14 Men 17 & Under | 11 |
| 325 | M | 246 | Lance Murphy | 1:59:51 | SUP14 Men 50 - 59 | 23 |
| 326 | M | 247 | Dean Brewer | 1:59:58 | SUP14 Men 40 - 49 | 39 |
| 327 | F | 80 | Miranda Camp | 2:00:31 | SUP14 Women 40 - 49 | 18 |
| 328 | M | 248 | Michael Leone | 2:01:01 | SUP14 Men 30 - 39 | 43 |
| 329 | F | 81 | Rhonda Satcher | 2:03:26 | REC Women 50 - 59 | 6 |
| 330 | M | 249 | Robbert Leone | 2:03:49 | SUP14 Men 40 - 49 | 40 |
| 331 | M | 250 | Ben Kotter | 2:03:51 | REC Men 30 - 39 | 19 |
| 332 | F | 82 | Erin Fitzgerald | 2:05:57 | SUP14 Women 30 - 39 | 11 |
| 333 | F | 83 | Laurie Beitler | 2:06:13 | SUP14 Women 50 - 59 | 8 |
| 334 | M | 251 | Jonah Eyre | 2:10:49 | SUP14 Men 30 - 39 | 44 |
| 335 | F | 84 | Barbara Coda-Chambers | 2:15:24 | REC Women 50 - 59 | 7 |
| 336 | M | 252 | Michael Nichols | 2:15:25 | REC Men 50 - 59 | 29 |