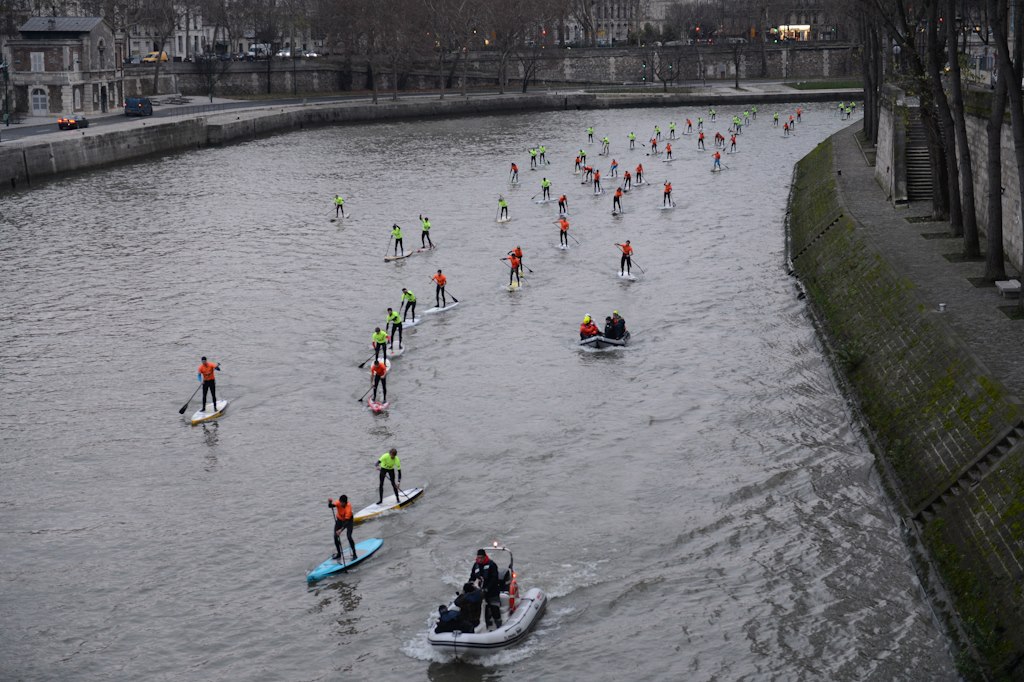 December 9, 2012
by Christopher Parker (@wheresbossman)
[RESULTS] Eric Terrien Wins The Paris Crossing As 200 Paddlers Hit The Seine
Eric Terrien has taken out today's Nautic SUP Paris Crossing, capping off another year of domination in Europe. Gaetan Sene claimed second place in the main event, the Elite Distance Race (on his namesake the River Seine, no less), with Yoann Cornelis claiming third in the Distance and 2nd overall. Meanwhile Faustine Merret, Manca Notar and Sonni Hönschied dominated the women's division.
Conditions were close to freezing, with the temperature hovering around 4°C (39°F) as the paddlers took to the water just after sunrise. There were plenty of wetsuits, booties, gloves and beanies on show. The 12km course stretched up and down the famous river, with competitors gliding under historic bridges and even going past the Eiffel Tower at one point. Over 200 paddlers braved the cold for what must have been one of the largest ever SUP races in Europe.
The Distance Race was only half of the show though; the whole event is part of a massive boat show happening in Paris, so in the afternoon the paddlers headed indoors for some short course sprints in the pool. Results were combined to crown the overall champ.
Check out the early race results below then check back soon for full results and pics of the action.
2012 Nautic SUP Paris Crossing: RESULTS
MEN'S OVERALL
1st: Eric Terrien
2nd: Yoann Cornelis
3rd: Roman Frejo
4th: Gaetan Sene
5th: Peter Bartl
6th: Arthur Arutkin
7th: Leonard Nika
8th: Normen Weber
9th: Arthur Daniel
10th: Casper Steinfath
Full results coming soon…
WOMEN'S OVERALL
1st: Faustine Merret
2nd: Manca Notar
3rd: Sonni Hönschied
Full results coming soon…
MEN'S SPRINTS
Full results coming soon…
WOMEN'S SPRINTS
1st: Manca Notar
Full results coming soon…
MEN'S ELITE DISTANCE RACE
1st: Eric Terrien
2nd: Gaetan Sene
3rd: Yoann Cornelis
4th: Roman Frejo
5th: Leonard Nika
6th: Arthur Arutkin
7th: Arthur Daniel
8th: Peter Bartl
9th: Normen Weber
10th: Casper Steinfath
Full results coming soon…
WOMEN'S ELITE DISTANCE RACE
1st: Faustine Merret
2nd: Manca Notar
3rd: Sonni Hönschied
Full results coming soon…
OPEN DISTANCE RACE
1st: Thomas Hebert
2nd: Julien Bouyer-Albeau
3rd: Davide Ionico
4th: Borja Basso
5th: Robin Dorval
6th; Jérémy Branchu
7th: Robby Naish
8th: Frederico Benettolo
9th: Olivier Goasguen
10th: Olivier Vigoureux
Full results coming soon…