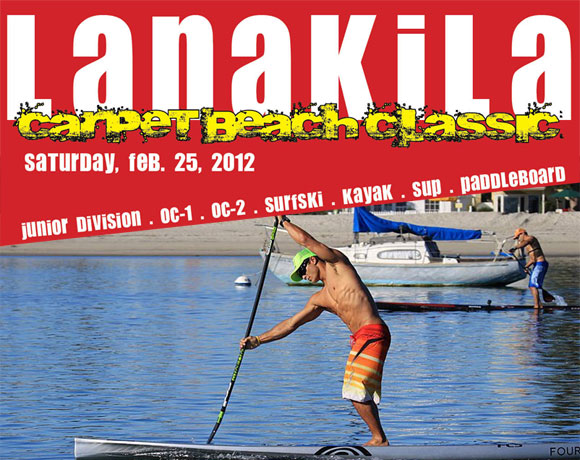 February 27, 2012
by Christopher Parker (@wheresbossman)
[RESULTS] Lanakila Carpet Beach Classic SUP Race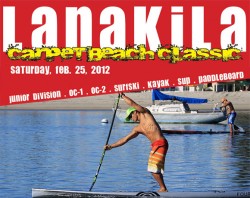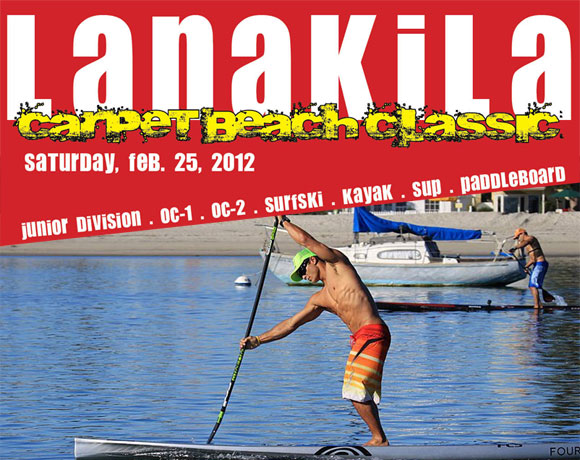 Seems you can't go a single week anymore without a whole bunch of stand up paddle races somewhere in the world!
So while the Gold medals were being won in Peru, there was still plenty of action right around the world this past weekend, including at one of the meccas of SUP racing: SoCal.
The 2012 Lanakila Carpet Beach Classic SUP race was held at Redondo Beach, California on Saturday 25th Feb. The area is home to many of the world's fastest SUP racers, so while it might have been a "local" race it was still stacked full of talent.
Local boy Danny Ching kept his 2012 winning streak in tact by taking out the Stock 12'6″ Division. Though it was Dialy Ndiaye who took line honours, seconds head of Mr. Unlimited himself, Thomas Maximus.
Krisztina Zur put in a massive performance to take out the women's race. The 4x World Kayak Champion finished ahead of both the 14′ and Unlimited female paddlers as well as 80% of the men's Stock field.
*****
2012 Lanakila Carpet Beach Classic SUP Race RESULTS
Click "M/F" to sort men's and women's results.
Click "Class" to sort results by board class.

| M/F | # | Name | Time | Class | Class # | Age |
| --- | --- | --- | --- | --- | --- | --- |
| M | 1 | Dialy Ndiaye | 0.44.20 | Unlim | 1 | Open |
| M | 2 | Thomas "Maximus" Shahinian | 0.44.27 | Unlim | 2 | Open |
| M | 3 | Jered Vargas | 0.45.20 | Unlim | 3 | Open |
| M | 4 | Karl Ring | 0.45.23 | Unlim | 4 | 40+ |
| M | 5 | Brian Stockdale | 0.45.41 | Unlim | 5 | Open |
| M | 6 | Danny Ching | 0.47.19 | 12'6" | 1 | Open |
| M | 7 | Kevin Nerison | 0.47.45 | 14' | 1 | Open |
| M | 8 | Eric Starnes | 0.47.55 | 14' | 2 | Open |
| M | 9 | Michael Murphy | 0.48.28 | 12'6" | 2 | Open |
| M | 10 | Daniel Hughes | 0.49.58 | 14' | 3 | 18 |
| M | 11 | Brendan Light | 0.50.13 | 14' | 4 | 17 |
| M | 12 | Rami Zur | 0.50.15 | 12'6" | 3 | Open |
| M | 13 | Taylor Rambo | 0.50.55 | 12'6" | 4 | Open |
| M | 14 | Dan Gavere | 0.51.03 | 14' | 5 | Open |
| F | 15 | Krisztina Zur | 0.51.50 | F12'6" | 1 | Open |
| M | 16 | Brian Kane | 0.52.29 | 12'6" | 5 | 40+ |
| M | 17 | Daniel Mccarter | 0.53.32 | Unlim | 6 | Open |
| M | 18 | John Goodman | 0.53.35 | 14' | 6 | 50+ |
| M | 19 | Gene Smith | 0.54.46 | 12'6" | 6 | 50+ |
| M | 20 | Peter De Avila | 0.55.07 | 12'6" | 7 | Open |
| F | 21 | Alison Riddle | 0.55.40 | F14' | 1 | Open |
| M | 22 | Kho Billy | 0.55.43 | 12'6" | 8 | Open |
| F | 23 | Julie Wolfe | 0.55.56 | FUnlim | 1 | Open |
| M | 24 | Richard Davidson | 0.55.58 | 14' | 7 | 50+ |
| F | 25 | Kristin Thomas | 0.56.05 | F12'6" | 2 | Open |
| M | 26 | Steve Shikiya | 0.56.08 | 12'6" | 9 | 40+ |
| M | 27 | Chris Koerner | 0.56.15 | 14' | 8 | Open |
| M | 28 | Aaron Hazlerigg | 0.56.35 | 12'6" | 10 | Open |
| M | 29 | Mark Miamoto | 0.57.38 | 14' | 9 | 19 |
| M | 30 | Anntoinette Cocco | 0.59.06 | 12'6" | 11 | Open |
| M | 31 | Robyn Benincasa | 0.59.20 | 14' | 10 | 40+ |
| M | 32 | Pat Ryan | 1.01.23 | 12'6" | 12 | Open |
| M | 33 | Eric Lindholm | 1.02.31 | 12'6" | 13 | 60+ |
| M | 34 | Larry Johnson | 1.02.32 | 12'6" | 14 | 40+ |
| F | 35 | Ruth Vesler | 1.04.45 | F12'6" | 3 | Open |
| M | 36 | Candy Apple | 1.05.05 | 12'6" | 15 | 50+ |
| M | 37 | Kenneth Gallant | 1.06.44 | 12'6" | 16 | 50+ |
| M | 38 | Gary Peterson | 1.06.44 | 14' | 11 | 40+ |
| F | 39 | Renee Locarnini | 1.08.57 | F12'6" | 4 | Open |
| M | 40 | Mike Guerrrero | 1.09.21 | 12'6" | 17 | 50+ |
| M | 41 | Chris Carnahan | 1.10.02 | 12'6" | 18 | Open |
| F | 42 | Kristy Morris | 1.11.57 | F12'6" | 5 | Open |
| F | 43 | Stefani Jones | 1.12.06 | F12'6" | 6 | Open |
| M | 44 | Richard Rademacher | 1.12.52 | 12'6" | 19 | Open |
| M | 45 | Boogaard | 1.13.28 | 14' | 12 | Open |
| M | 46 | John Hackbart | 1.13.49 | 14' | 13 | Open |
| F | 47 | Andrea Conrad | 1.14.31 | F12'6" | 7 | Open |
| M | 48 | Ian Light | 1.15.11 | 12'6" | 20 | 13 |