November 3, 2012
by Christopher Parker (@wheresbossman)
[RESULTS] Hennessey's World SUP Championships In Cabo, Mexico (UPDATE: Day 2 Results Available)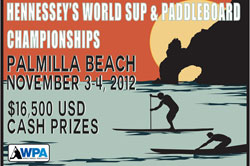 The 2012 Hennessey's World SUP Championships have just wrapped up in Cabo, Mexico. Several of the world's finest were in town to duke it out for the $16.5k in cash prizes and title of WPA World SUP Champ. Saturday was the 11 mile P2P (Punta Gorda to Palmilla) Distance Race, while Sunday saw the 4 mile Elite race.
The Distance Race was taken out by Chase Kosterlitz and Jenny Kalmbach. Jenny blitzed the women's field (and most of the men's) in a very impressive performance, while Chase narrowly beat home Fernando Stalla.
Stalla took revenge in the Elite Race though, claiming the victory as well as the overall championship title after Kosterlitz finished 3rd behind Ryan Helm. Meanwhile in the women's Elite Race, Candice Appleby got one back on Kalmbach after she finished 17 seconds clear.
Check out the race results below…
*****
Hennessey's World SUP Champs – Elite Race RESULTS
Men's 4 mile Elite Race
1st: Fernando Stalla (38:54)
2nd: Ryan Helm (39:34)
3rd: Chase Kosterlitz (41:10)
4th: Jay Wild (44:00)
5th: Byron Kurt (44:20)
Women's 4 mile Elite Race
1st: Candice Appleby (46:22)
2nd: Jenny Kalmbach (46:39)
3rd: Brandi Baksic (47:35)
4th: Krisztina Zur (52:05)
5th: Lina Augaitis (52:59)
FULL RESULTS COMING SOON
Hennessey's World SUP Champs – Distance Race RESULTS
Date: 3rd November; Location: Cabo San Lucas, Mexico; Course: 11 miles
Click "M/F" to switch between Men's and Women's Results
Click "Class" to sort results by Board Class

| Overall # | M/F | Name | Time | Class | # | Division | # |
| --- | --- | --- | --- | --- | --- | --- | --- |
| 1 | M | Chase KOSTERLITZ | 1:39:59 | 14' | 1 | 18-29 | 1 |
| 2 | M | Fernando STALLA | 1:40:16 | 14' | 2 | 18-29 | 2 |
| 3 | M | Ryan HELM | 1:43:41 | 14' | 3 | 30-39 | 1 |
| 4 | M | Byron KURT | 1:49:31 | 14' | 4 | 40-49 | 1 |
| 5 | M | Sean PANGELINAN | 1:49:47 | 14' | 5 | 18-29 | 3 |
| 6 | F | Jenny KALMBACH | 1:50:01 | F12'6 | 1 | 18-29 | 1 |
| 7 | M | Javier JIMENEZ | 1:51:22 | 14' | 6 | 18-29 | 4 |
| 8 | M | Ernest JOHNSON | 1:52:10 | 14' | 7 | 40-49 | 2 |
| 9 | M | Justin COOK | 1:55:06 | 14' | 8 | 18-29 | 5 |
| 10 | F | Candice APPLEBY | 1:55:51 | F12'6 | 2 | 18-29 | 2 |
| 11 | M | Rami ZUR | 1:55:56 | 14' | 9 | 30-39 | 2 |
| 12 | F | Brandi BAKSIC | 1:56:35 | F12'6 | 3 | 40-49 | 1 |
| 13 | M | Don ALDERMAN | 1:57:55 | 14' | 10 | 40-49 | 3 |
| 14 | M | Matt WISE | 1:58:59 | 14' | 11 | 17u | 1 |
| 15 | M | Stephen WINIERSKI | 2:00:17 | 14' | 12 | 40-49 | 4 |
| 16 | M | Colin MCPHILLIPS | 2:00:36 | 14' | 13 | 30-39 | 3 |
| 17 | M | Rand CARTER | 2:01:21 | 12'6 | 1 | 40-49 | 1 |
| 18 | F | Krisztina FAZEKAS ZUR | 2:02:00 | F12'6 | 4 | 30-39 | 1 |
| 19 | F | Lina AUGAITIS | 2:02:52 | F12'6 | 5 | 30-39 | 2 |
| 20 | M | Anthony VELA | 2:04:01 | 14' | 14 | 30-39 | 4 |
| 21 | M | James ROTHWELL | 2:04:36 | 14' | 15 | 40-49 | 5 |
| 22 | M | Brain HAGG | 2:04:48 | 14' | 16 | 18-29 | 6 |
| 23 | M | Scott BRADLEY | 2:05:27 | 14' | 17 | 50+ | 1 |
| 24 | M | Diego MARTINEZ | 2:06:38 | 12'6 | 2 | 30-39 | 1 |
| 25 | M | Lars SVANBERG | 2:06:43 | 14' | 18 | 50+ | 2 |
| 26 | M | David LEACH | 2:08:37 | 14' | 19 | 50+ | 3 |
| 27 | M | Ozzy LEANCH | 2:10:41 | 12'6 | 3 | 40-49 | 2 |
| 28 | M | Mike EVATT | 2:10:52 | 14' | 20 | 50+ | 4 |
| 29 | M | Sol RODRIGUEZ | 2:11:06 | 14' | 21 | 30-39 | 5 |
| 30 | M | Brook Staples | 2:12:37 | 14' | 22 | 40-49 | 6 |
| 31 | F | April ZILG | 2:13:05 | F12'6 | 6 | 18-29 | 3 |
| 32 | M | Bob FARRAR | 2:13:36 | 14' | 23 | 50+ | 5 |
| 33 | M | John SCHALKA | 2:14:09 | 14' | 24 | 50+ | 6 |
| 34 | M | Ross STEVENS | 2:15:42 | 14' | 25 | 40-49 | 7 |
| 35 | M | Darren DELMONICA | 2:15:45 | 14' | 26 | 40-49 | 8 |
| 36 | M | Rob PLAKENHORN | 2:16:28 | 14' | 27 | 50+ | 7 |
| 37 | F | Bernadette LEACH | 2:17:41 | F12'6 | 7 | 50+ | 1 |
| 38 | M | Bernardo URREA | 2:18:27 | 12'6 | 4 | 18-29 | 1 |
| 39 | F | Kristin THOMAS | 2:20:49 | F12'6 | 8 | 40-49 | 2 |
| 40 | M | Roberto CONTI-VECCHI | 2:22:26 | 12'6 | 5 | 40-49 | 3 |
| 41 | M | Peter BRADSHAW | 2:22:59 | 14' | 28 | 40-49 | 9 |
| 42 | F | Elizabeth SCHALKA | 2:24:14 | F12'6 | 9 | 18-29 | 4 |
| 43 | M | Corey CURTIS | 2:24:30 | 14' | 29 | 18-29 | 7 |
| 44 | F | Betsy RISNER | 2:25:05 | F12'6 | 10 | 50+ | 2 |
| 45 | F | Mary SCHEERER | 2:25:21 | F12'6 | 11 | 50+ | 3 |
| 46 | M | Mauricio URREA | 2:26:06 | 12'6 | 6 | 18-29 | 2 |
| 47 | F | Annie DOYLE | 2:26:45 | F12'6 | 12 | 50+ | 4 |
| 48 | M | Leon ROBLES | 2:26:49 | 14' | 30 | 30-39 | 6 |
| 49 | F | Amy Staples | 2:28:35 | F12'6 | 13 | 40-49 | 3 |
| 50 | F | Veronica NAVA | 2:31:18 | F12'6 | 14 | 40-49 | 4 |
| 51 | F | Janet JENSEN | 2:31:45 | F12'6 | 15 | 40-49 | 5 |
| 52 | M | Ed PIERCE | 2:31:46 | 14' | 31 | 50+ | 8 |
| 53 | M | Alfonso GUERRA | 2:32:48 | 12'6 | 7 | 40-49 | 4 |
| 54 | M | Daniel URREA | 2:33:54 | 14' | 32 | 30-39 | 7 |
| 55 | M | Marco PENA | 2:33:55 | 14' | 33 | 30-39 | 8 |
| 56 | F | Teresa WOODLEY | 2:35:46 | F12'6 | 16 | 50+ | 5 |
| 57 | M | Bill HAMILTON | 2:36:26 | 12'6 | 8 | 50+ | 1 |
| 58 | M | Jeff ALTER | 2:38:44 | 14' | 34 | 50+ | 9 |
| 59 | F | Shari HYNES | 2:40:37 | F12'6 | 17 | 40-49 | 6 |
| 60 | F | Gabriela FARIAS | 2:40:59 | F12'6 | 18 | 18-29 | 5 |
| 61 | M | Pedro SALAS | 2:42:01 | 12'6 | 9 | 30-39 | 2 |
| 62 | M | Mickey MUNOZ | 2:42:30 | 12'6 | 10 | 50+ | 2 |
| 63 | F | Donna BANDY | 2:46:42 | F12'6 | 19 | 40-49 | 7 |
| 64 | M | Ignacio AYUSO | 2:52:02 | 12'6 | 11 | 50+ | 3 |
| 65 | F | Jericho POPPLAR | 2:54:25 | F12'6 | 20 | 50+ | 6 |
| 66 | M | Alfonso GAYTAN | 3:18:27 | 12'6 | 12 | 50+ | 4 |
| 67 | M | Stephen WINIARSKI | 3:23:03 | 14' | 35 | 40-49 | 10 |
| 68 | M | Brook STAPLES | 3:23:05 | 14' | 36 | 40-49 | 11 |
| 69 | M | Jay MARSHALL | 3:23:07 | 14' | 37 | 50+ | 10 |
| 70 | F | Kristin GRAHAM | 3:23:23 | F12'6 | 21 | 40-49 | 8 |
| 71 | F | Jenny ALDERMAN | 3:23:24 | F12'6 | 22 | 40-49 | 9 |
| 72 | F | Amy STAPLES | 3:23:25 | F12'6 | 23 | 40-49 | 10 |
*****
Jenny Kalmbach crosses the line to claim the Distance Race victory…