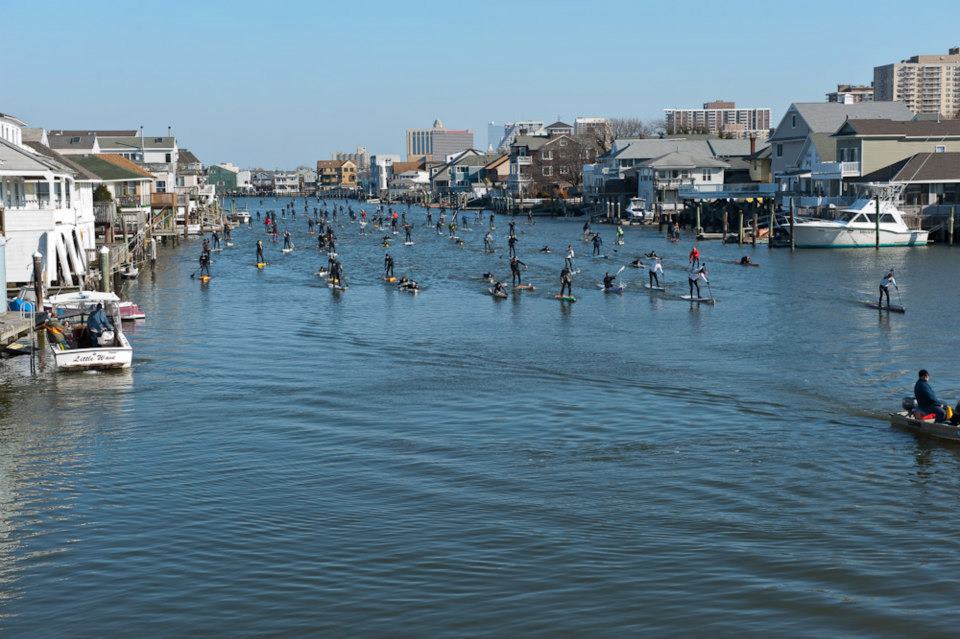 [RESULTS] Freezin' For A Reason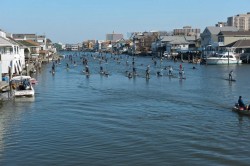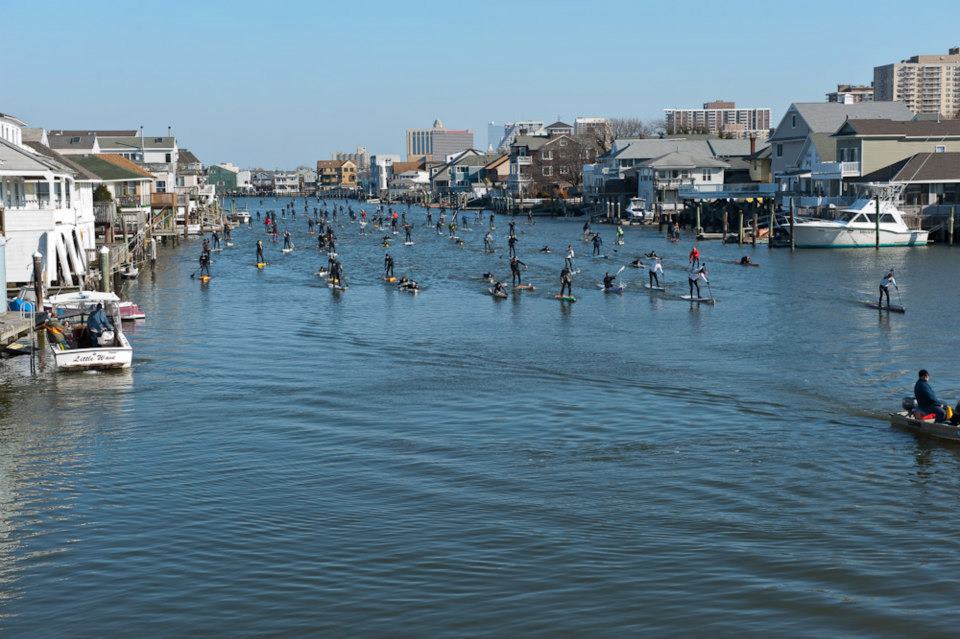 The Freezin' For A Reason SUP race was held last Saturday (Jan 5th) in New Jersey. Over 100 paddlers (80 of them on SUPs) turned up to race for a good cause; the event aised $10,000 for victims of Hurricane Sandy.
In the men's division, Steve Dullack took out first in a sprint to the line, while Teri Plunkett won the women's (on an inflatable, no less).
Full results below.
*****
Freezin' For A Reason SUP Race Results
| # | Name | Time | Class |
| --- | --- | --- | --- |
| 1 | Steve Dullak | 01:04.4 | 14' |
| 2 | Sven Peltonen | 01:04.4 | 14' |
| 3 | Mark Colino | 01:04.4 | 14' |
| 4 | John Kutner | 01:04.5 | 14' |
| 5 | Jim Rothwell | 01:07.1 | 14' |
| 6 | Drew Felson | 01:08.3 | 14' |
| 7 | Mike Laielli | 01:09.4 | 14' |
| 8 | Sean Duffey | 01:10.3 | 14' |
| 9 | Dave Cooker | 01:11.2 | 14' |
| 10 | Chad Brcockman | 01:12.2 | 14' |
| 11 | Carl Tripician | 01:13.2 | Open |
| 12 | Chris Atlee | 01:13.6 | 14' |
| 13 | Zack Stiener | 01:14.1 | 12'6" |
| 14 | Paul Giunta | 01:14.3 | 14' |
| 15 | Nick Nichols | 01:14.6 | 14' |
| 16 | Teri Plunket | 01:15.1 | Female |
| 17 | John Fox | 01:16.1 | 14' |
| 18 | Brian Coen | 01:17.3 | 12'6" |
| 19 | Darryl Heale | 01:17.5 | 14' |
| 20 | Adam Walcoff | 01:18.3 | 14' |
| 21 | Margo Pellegrino | 01:18.4 | Female |
| 22 | Eddy O'Kinsky | 01:18.6 | 14' |
| 23 | Ken Gallant | 01:19.1 | 14' |
| 24 | Mark Neustader | 01:19.6 | 14' |
| 25 | Samantha Cerone | 01:20.0 | Female |
| 26 | Paul Veres | 01:20.2 | 14' |
| 27 | Carmen Rune | 01:20.3 | 14' |
| 28 | Brian Dellet | 01:21.1 | 12'6" |
| 29 | Pat Armstrong | 01:21.4 | 14' |
| 30 | Joe Destefano | 01:22.0 | 12'6" |
| 31 | Roy Kvalo | 01:22.4 | 14' |
| 32 | Rob Ransom | 01:22.5 | 14' |
| 33 | Jasper Jarden | 01:23.2 | 12'6" |
| 34 | Jeff Deron | 01:23.4 | 14' |
| 35 | Brandy Middlesworth | 01:23.5 | 14' |
| 36 | Chad Destanik | 01:24.2 | 14' |
| 37 | Rich Bubnowski | 01:24.3 | 12'6" |
| 38 | Bruce Hunt | 01:24.4 | 12'6" |
| 39 | Scott Jordan | 01:24.4 | 12'6" |
| 40 | Jon Coen | 01:24.5 | 14' |
| 41 | Chris Ryan | 01:24.6 | 12'6" |
| 42 | Kevin McCarty | 01:25.5 | 14' |
| 43 | Ben Schaible | 01:25.5 | 12'6" |
| 44 | Joe Fox | 01:27.1 | 12'6" |
| 45 | Susan Castiglia | 01:27.6 | Female |
| 46 | Joan Merritt | 01:28.0 | Female |
| 47 | Susan Laielli | 01:28.2 | Female |
| 48 | Chris Hemburger | 01:28.4 | n/a |
| 49 | Joby Leigh | 01:28.4 | Open |
| 50 | Scott Platt | 01:29.1 | 12'6" |
| 51 | Gary Galluppi | 01:29.3 | 12'6" |
| 52 | Chuck Piola | 01:30.3 | 14' |
| 53 | Michael Christtofons | 01:30.4 | n/a |
| 54 | Ryan Platt | 01:31.1 | 14' |
| 55 | Andrew Hunt | 01:32.0 | 12'6" |
| 56 | john slattery | 01:32.2 | 12'6" |
| 57 | Kevin Barnes | 01:32.2 | n/a |
| 58 | Stacy Marchel | 01:32.3 | Female |
| 59 | Josette Lata | 01:33.1 | Female |
| 60 | Sonny Dagustino | 01:36.3 | 12'6" |
| 61 | Kyle Bourbain | 01:37.1 | 12'6" |
| 62 | Tom Kresz | 01:37.5 | 12'6" |
| 63 | Michael Barnes | 01:38.1 | 14' |
| 64 | Ted Leeds | 01:38.2 | 12'6" |
| 65 | Dave Hough | 01:38.3 | n/a |
| 66 | Brett Riggio | 01:38.4 | n/a |
| 67 | Greg Hanson | 01:41.0 | n/a |
| 68 | Rick Weeks | 01:41.4 | n/a |
| 69 | Katherine Simone | 01:44.4 | Female |
| 70 | Robert Kuhn | 01:47.3 | n/a |
| 71 | Chris Erica | 01:49.4 | n/a |
| 72 | Wendy Nussey | 01:50.2 | Female |
| 73 | Michael Christtofons | 01:50.2 | n/a |
| 74 | Julie Southard | 01:50.3 | Female |
| 75 | Mike Wilby | 01:51.3 | n/a |
| 76 | Becky Jenkins | 01:51.5 | Female |
| 77 | Andrew Finnerty | 01:52.2 | n/a |
| 78 | Julie McGroatry | 01:53.0 | Female |
| 79 | Molly McBride | 01:55.4 | Female |
| 80 | Trisha Piola | 02:02.4 | Female |