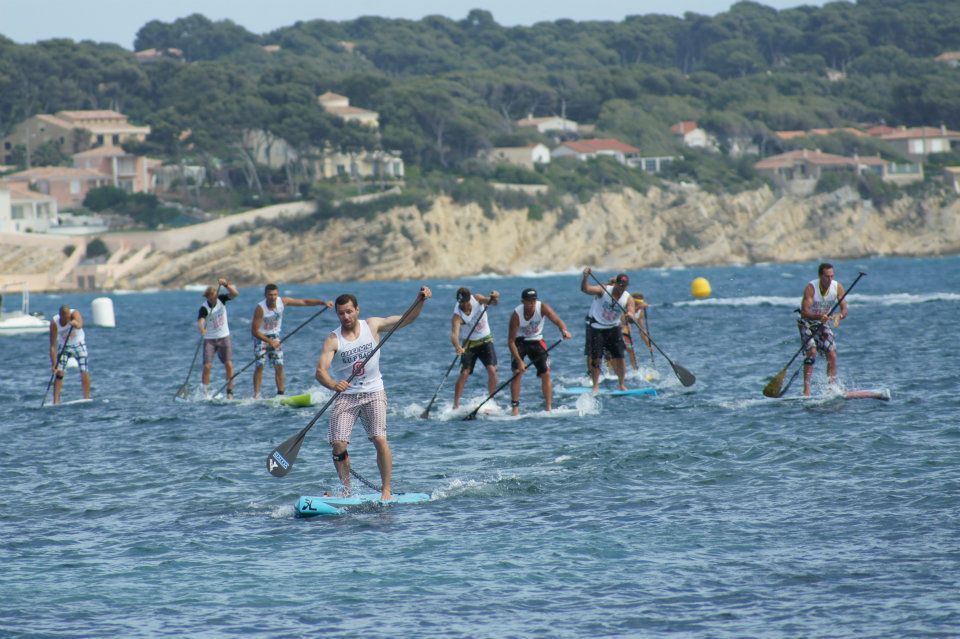 June 17, 2012
by Christopher Parker (@wheresbossman)
[RESULTS] Waxx Summer SUP Challenge (France)
Check out results from the 2012 Waxx Summer SUP Challenge that was held last weekend in Bandol, France.
Well known French SUP racer (and surfer) Greg Closier took out victory in the Elite 5km "Slalom Race" (think Battle of the Paddle but without the waves). Closier walked away with €1,200 in prize money and a victory over one of his rivals for the French National Team, Gaetene Sene.
Though Sene did get some revenge in the 10km Distance Race, taking the victory ahead of Didier Leneil and Closier. Meanwhile in the women's races, Olivia Piana continued her fine form to take out both races.
The Summer SUP Challenge in Bandol was the third big French SUP race in the past three weekends (the other two being the SUP Race Cup and Massilia SUP Race). Each event has offered upwards of $10,000 in prize money on offer… combine that with last week's $20,000 Lost Mills race you can safely say that Stand Up Paddle racing in Europe is looking strong.
Plus this event had the coolest sponsor of any SUP event: Waxx Underwear.
Check out some video of the race action on Youtube or take a look at the full results below (pics thanks to Laurence Oliva).
*****
Waxx Summer SUP Challenge 5km Elite Race
| # | Name | Time | Division | Div # |
| --- | --- | --- | --- | --- |
| 1 | Gregory CLOSIER | 00:26:08 | Open Men's | 1 |
| 2 | Gaetan SENE | 00:26:15 | Open Men's | 2 |
| 3 | Thierry KOSTKA | 00:27:01 | Senior Men's | 1 |
| 4 | Didier LENEIL | 00:27:37 | Senior Men's | 2 |
| 5 | Sebastien BRUEL | 00:27:45 | Open Men's | 3 |
| 6 | Philippe ESCROUZAILLES | 00:28:08 | Open Men's | 4 |
| 7 | Christophe DESSART | 00:28:18 | Open Men's | 5 |
| 8 | Sebastien CATTELAN | 00:28:29 | Open Men's | 6 |
| 10 | Laurent DELPIN | 00:28:42 | Open Men's | 7 |
| 11 | … INCONNU | 00:29:04 | Open Men's | 8 |
| 12 | Fabien FULGONI | 00:29:13 | Open Men's | 9 |
| 14 | Olivia PIANA | 00:31:34 | Open Women's | 1 |
| 15 | Stephane CELETTE | 00:31:44 | Open Men's | 10 |
| 16 | Christophe RODES | 00:31:53 | Senior Men's | 3 |
| 17 | Herve ROTA | 00:32:03 | Open Men's | 11 |
| 18 | William FROES | 00:32:16 | SEM | 1 |
| 19 | Christophe RONDEAU | 00:32:21 | Senior Men's | 4 |
| 21 | Brice BONOMI | 00:32:49 | Open Men's | 12 |
| 23 | Bruno TOLLARI | 00:33:17 | Senior Men's | 6 |
| 24 | Oscar WULLHEIM | 00:34:23 | Senior Men's | 7 |
| 25 | Lydie SOULE-TOUHE | 00:34:50 | Senior Women's | 1 |
| 26 | Xavier KEMPF | 00:35:05 | Open Men's | 14 |
| 27 | Christophe LAGNEAU | 00:35:11 | Open Men's | 15 |
| 29 | Emmanuel LIBRE | 00:36:39 | SEMANM | 1 |
| 30 | Guillaume SIMEONI | 00:37:36 | Open Men's | 16 |
| 31 | Henri RONAN | 00:39:22 | Senior Men's | 8 |
| 32 | Christophe GATTI | 00:41:00 | Senior Men's | 9 |
*****
Waxx Summer SUP Challenge 10km Distance Race

| # | Name | Time | Class |
| --- | --- | --- | --- |
| 1 | Gaetan SENE | 01:04:16 | 12'6" |
| 2 | Didier LENEIL | 01:04:58 | 12'6" |
| 3 | Gregory CLOSIER | 01:05:15 | 12'6" |
| 4 | Sebastien CATTELAN | 01:06:01 | 12'6" |
| 5 | Thierry KOSTKA | 01:06:16 | 12'6" |
| 6 | Philippe ESCROUZAILLES | 01:07:05 | 12'6" |
| 7 | Sebastien BRUEL | 01:07:20 | 12'6" |
| 8 | Christophe DESSART | 01:07:51 | 12'6" |
| 9 | Laurent DELPIN | 01:08:59 | 12'6" |
| 10 | Lulu LAUGEOIS | 01:09:03 | 12'6" |
| 11 | Guillaume FALLOURA | 01:09:12 | 12'6" |
| 12 | Patrick COLIN | 01:10:26 | 12'6" |
| 13 | Laurent BENAICHE | 01:14:15 | 12'6" |
| 14 | Sebastien TRIPOGNEZ | 01:16:00 | 12'6" |
| 15 | Pierre NAU | 01:18:02 | 12'6" |
| 16 | Christophe RODES | 01:18:27 | 12'6" |
| 17 | Stephane CELETTE | 01:18:49 | 12'6" |
| 18 | William WUSTENBERG | 01:19:03 | 12'6" |
| 19 | Michel OCCHIPIRTI | 01:19:07 | 14' |
| 20 | Christophe RONDEAU | 01:19:28 | 12'6" |
| 21 | Jerome MASSIASSE | 01:20:11 | 12'6" |
| 22 | William FROES | 01:20:35 | 12'6" |
| 23 | Johan BELLON | 01:23:01 | 12'6" |
| 24 | Guillaume SIMEONI | 01:23:04 | 12'6" |
| 25 | Brice BONOMI | 01:23:12 | 12'6" |
| 26 | Celine GUESDON | 01:27:24 | F12'6" |
| 27 | David TOURENC | 01:27:49 | 14' |
| 28 | Laeticia ISNARDON | 01:34:52 | 12'6" |
| 29 | Henri RONAN | 01:35:57 | 12'6" |
| 30 | Nicolas CRUCIANI | 01:47:16 | 12'6" |
| 31 | Frederic MUTRYN | 02:08:45 | 12'6" |
| 32 | Jean-Frederic FAURE | 02:14:22 | 12'6" |
| 33 | Aurelia AUDRAN | 02:21:58 | F12'6" |
*****
Waxx Summer SUP Challenge 3km Fun Race

| # | Name | Time | Division | Div # | M/F |
| --- | --- | --- | --- | --- | --- |
| 1 | Pierre NAU | 00:17:48 | CAM | 1 | M |
| 2 | … INCONNU | 00:17:52 | MASTM | 1 | M |
| 3 | Laurent DELPIN | 00:17:57 | MASTM | 2 | M |
| 4 | Antoine DELPERO | 00:17:59 | SEM | 1 | M |
| 5 | Lulu LAUGEOIS | 00:18:15 | BEM | 1 | M |
| 6 | Stephane CELETTE | 00:18:17 | MASTM | 3 | M |
| 7 | Christophe RONDEAU | 00:18:39 | VETM | 1 | M |
| 8 | Matt DELLAVEDOVA | 00:19:31 | BEM | 2 | M |
| 9 | Henri RONAN | 00:19:54 | VETM | 2 | M |
| 10 | Lydie SOULE-TOUHE | 00:20:00 | SEMANF | 1 | F |
| 11 | Benjamin MERIC | 00:20:08 | BEM | 3 | M |
| 12 | Laeticia ISNARDON | 00:20:12 | SEMANF | 2 | F |
| 13 | Thomas CANTONI | 00:21:40 | MASTM | 4 | M |
| 14 | Jules LANGLOIS | 00:22:18 | BEM | 4 | M |
| 15 | Julien DROUILLOT | 00:23:55 | SEMANM | 1 | M |
| 16 | Pierre TRAPES | 00:24:53 | SEMANM | 2 | M |
| 17 | Sabrina DELLA-VEDOUA | 00:25:43 | MASTF | 1 | F |
| 18 | Yannick JULIENNE | 00:26:07 | SEMANM | 3 | M |
| 19 | Aurelia AUDRAN | 00:26:11 | SEF | 1 | F |
| 20 | Mawir MAMFOU | 00:29:51 | SEM | 2 | M |