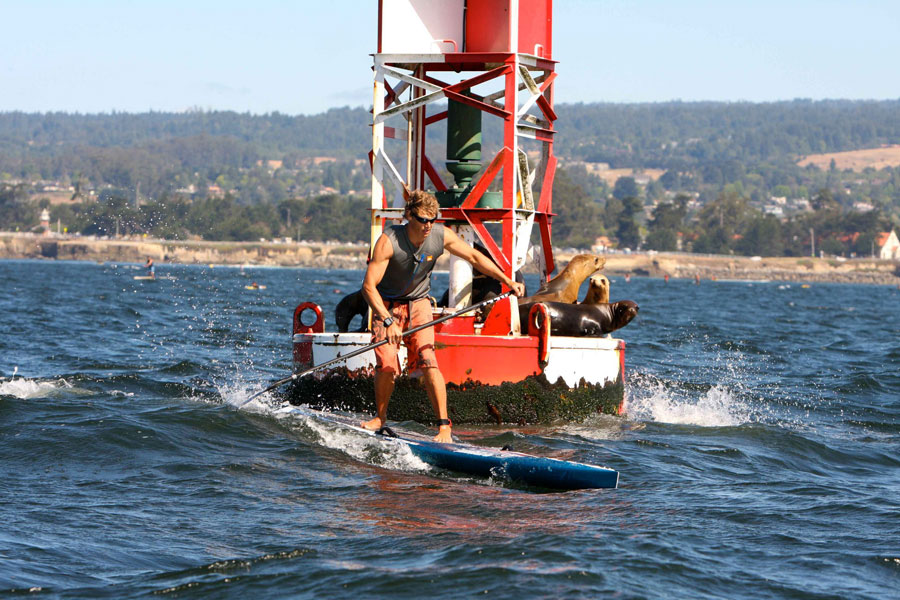 June 23, 2012
by Christopher Parker (@wheresbossman)
[RESULTS] Surftech Jay Race
Results are in from the big Surftech Jay Raceheld @ Santa Cruz today.
The event is held each year in memory of big wave legend Jay Moriarity and this year and attracted over 200 paddlers.
Jamie Mitchell was the big winner, taking out the elite 12 mile race in the 14′ class, with Matt Becker in 2nd.
Candice Appleby absolutely dominated the women's race, taking out the elite 12'6″ division ahead of Alison Riddle and Jen Fuller, while Brit Oliphant won the women's 14′ class.
Take a look at the full results below and check back tomorrow for a whole bunch of pics and video of the race action…
*****
2012 Surftech Jay Race – 12 Mile SUP Race RESULTS
Click "M/F" to switch between Men's and Women's Results
Click "Class" or "Class > Division" to sort results by Board Class or Age Division
Click "Time" to reset the results

| # | M/F | M/F # | Name | Time | Class | Class # | Age | Division | Div # |
| --- | --- | --- | --- | --- | --- | --- | --- | --- | --- |
| 1 | M | 1 | Jamie Mitchell | 1:55:34.0 | 14' | 1 | 35 | 30-39 | 1 |
| 2 | M | 2 | Matt Becker | 1:57:00.0 | 14' | 2 | 17 | U17 | 1 |
| 3 | M | 3 | Tony Mueller | 2:03:38.8 | Unlim | 1 | 52 | 50+ | 1 |
| 4 | M | 4 | Benjamin Sarrazin | 2:05:19.1 | 12'6" | 1 | 38 | 30-39 | 1 |
| 5 | M | 5 | Patrick Ohea | 2:06:24.4 | 14' | 3 | 36 | 30-39 | 2 |
| 6 | M | 6 | Keith Meter | 2:06:38.3 | 12'6" | 2 | 41 | 40-49 | 1 |
| 7 | M | 7 | Austin Young | 2:06:48.0 | 12'6" | 3 | 20 | 18-29 | 1 |
| 8 | M | 8 | Billy Miller | 2:07:00.0 | 14' | 4 | 27 | 18-29 | 1 |
| 9 | F | 1 | Candice Appleby | 2:07:19.0 | F12'6" | 1 | 26 | 18-29 | 1 |
| 10 | M | 9 | Mike Bennett | 2:07:42.4 | 14' | 5 | 42 | 40-49 | 1 |
| 11 | M | 10 | John Alexiou | 2:08:34.8 | 14' | 6 | 46 | 40-49 | 2 |
| 12 | M | 11 | Rand Carter | 2:10:09.0 | 14' | 7 | 48 | 40-49 | 3 |
| 13 | M | 12 | Joel Comer | 2:11:31.6 | 14' | 8 | 48 | 40-49 | 4 |
| 14 | M | 13 | Brad Seyffer | 2:12:20.3 | 12'6" | 4 | 39 | 30-39 | 2 |
| 15 | M | 14 | John Griffith | 2:12:51.4 | 14' | 9 | 49 | 40-49 | 5 |
| 16 | M | 15 | Davis Meyler | 2:13:07.6 | 12'6" | 5 | 40 | 40-49 | 2 |
| 17 | M | 16 | Scott Cheney | 2:13:31.1 | 12'6" | 6 | 50 | 50+ | 1 |
| 18 | M | 17 | Christoph Chandler | 2:13:57.0 | 12'6" | 7 | 19 | 18-29 | 2 |
| 19 | M | 18 | Kyle Wade | 2:15:53.5 | 14' | 10 | 47 | 40-49 | 6 |
| 20 | F | 2 | Alison Riddle | 2:15:53.9 | F12'6" | 2 | 26 | 18-29 | 2 |
| 21 | M | 19 | Fred Andersen | 2:16:59.2 | 14' | 11 | 60 | 50+ | 1 |
| 22 | F | 3 | Jen Fuller | 2:16:59.7 | F12'6" | 3 | 49 | 40-49 | 1 |
| 23 | M | 20 | Scott Estrada | 2:17:49.1 | 14' | 12 | 44 | 40-49 | 7 |
| 24 | M | 21 | Michael Irette | 2:19:30.8 | 14' | 13 | 43 | 40-49 | 8 |
| 25 | M | 22 | Tai Boutell | 2:19:50.7 | 14' | 14 | 42 | 40-49 | 9 |
| 26 | M | 23 | Jay Gomez | 2:20:11.2 | 14' | 15 | 35 | 30-39 | 3 |
| 27 | M | 24 | Derek Dial | 2:20:48.8 | 12'6" | 8 | 42 | 40-49 | 3 |
| 28 | M | 25 | Bill Saxton | 2:21:39.8 | Unlim | 2 | 60 | 50+ | 2 |
| 29 | M | 26 | Jens Williford | 2:22:03.8 | 14' | 16 | 39 | 30-39 | 4 |
| 30 | M | 27 | Steve Drottar | 2:22:36.5 | 14' | 17 | 47 | 40-49 | 10 |
| 31 | M | 28 | Scott Ruble | 2:22:38.7 | 14' | 18 | 42 | 40-49 | 11 |
| 32 | M | 29 | Hunter Griffith | 2:22:43.4 | 12'6" | 9 | 14 | U17 | 1 |
| 33 | F | 4 | Kerstin Ouellet | 2:23:02.3 | F12'6" | 4 | 41 | 40-49 | 2 |
| 34 | F | 5 | Brit Oliphant | 2:23:20.8 | F14' | 1 | 17 | U17 | 1 |
| 35 | M | 30 | Olivier Guincetre | 2:23:37.2 | 12'6" | 10 | 38 | 30-39 | 3 |
| 36 | M | 31 | Scott Boyles | 2:23:44.8 | 12'6" | 11 | 49 | 40-49 | 4 |
| 37 | M | 32 | Ryan Brown | 2:24:31.9 | 12'6" | 12 | 41 | 40-49 | 5 |
| 38 | M | 33 | David Westendorf | 2:26:30.8 | 14' | 19 | 44 | 40-49 | 12 |
| 39 | M | 34 | Michael Dillon | 2:27:28.1 | 14' | 20 | 60 | 50+ | 2 |
| 40 | F | 6 | Marlayna McNeil | 2:27:41.6 | F12'6" | 5 | 46 | 40-49 | 3 |
| 41 | M | 35 | Kevin Scott | 2:28:38.5 | 14' | 21 | 50 | 50+ | 3 |
| 42 | F | 7 | Kimberly Gomez | 2:29:35.8 | F12'6" | 6 | 33 | 30-39 | 1 |
| 43 | M | 36 | Russ Oleyer | 2:29:54.7 | 14' | 22 | 47 | 40-49 | 13 |
| 44 | M | 37 | Steve Smith | 2:32:00.8 | 12'6" | 13 | 56 | 50+ | 2 |
| 45 | F | 8 | Sofia Dewolfe | 2:32:47.9 | F12'6" | 7 | 17 | U17 | 1 |
| 46 | M | 38 | Jeff Miller | 2:32:59.7 | 12'6" | 14 | 43 | 40-49 | 6 |
| 47 | F | 9 | Lauren Eisenberg | 2:33:53.2 | F14' | 2 | 47 | 40-49 | 1 |
| 48 | M | 39 | Andrew Colehower | 2:35:54.4 | 14' | 23 | 44 | 40-49 | 14 |
| 49 | M | 40 | Bill Sullivan | 2:36:53.3 | Unlim | 3 | 55 | 50+ | 3 |
| 50 | M | 41 | Buzz Hegerle | 2:37:36.1 | Unlim | 4 | 50 | 50+ | 4 |
| 51 | M | 42 | Jon Sisk | 2:37:52.1 | 14' | 24 | 49 | 40-49 | 15 |
| 52 | M | 43 | Brad Solberg | 2:39:46.2 | 12'6" | 15 | 39 | 30-39 | 4 |
| 53 | F | 10 | Kristine Hamrick | 2:40:27.2 | F14' | 3 | 47 | 40-49 | 2 |
| 54 | M | 44 | Andrew Gere | 2:40:40.4 | 14' | 25 | 46 | 40-49 | 16 |
| 55 | M | 45 | Chris Hollingsworth | 2:41:30.9 | 14' | 26 | 39 | 30-39 | 5 |
| 56 | M | 46 | Walker Lewis | 2:41:57.8 | 14' | 27 | 35 | 30-39 | 6 |
| 57 | M | 47 | Jean-Michel Trivi | 2:44:45.9 | 14' | 28 | 41 | 40-49 | 17 |
| 58 | M | 48 | Gary Niblock | 2:46:24.9 | 12'6" | 16 | 65 | 50+ | 3 |
| 59 | M | 49 | Cheyne Springbett | 2:48:20.0 | 12'6" | 17 | 16 | U17 | 2 |
| 60 | M | 50 | Steve Beck | 2:49:30.3 | 14' | 29 | 51 | 50+ | 4 |
| 61 | M | 51 | Dave Rundio | 2:52:15.9 | 12'6" | 18 | 39 | 30-39 | 5 |
| 62 | F | 11 | Valerie Khacahdourian | 2:53:05.0 | F12'6" | 8 | 50 | 50+ | 1 |
| 63 | M | 52 | Gary Leong | 2:54:27.7 | 12'6" | 19 | 65 | 50+ | 4 |
| 64 | M | 53 | Connor Hollingsworth | 3:01:19.2 | 12'6" | 20 | 14 | U17 | 3 |
| 65 | M | 54 | Coleton Hollingsworth | 3:01:33.7 | 14' | 30 | 18 | 18-29 | 2 |
| 66 | M | 55 | Dana Schreiber | 3:01:33.7 | 12'6" | 21 | 38 | 30-39 | 6 |
*****
2012 Surftech Jay Race – 2 Mile SUP Race RESULTS
Click "M/F" to switch between Men's and Women's Results
Click "Class" or "Class > Division" to sort results by Board Class or Age Division
Click "Time" to reset the results

| # | M/F | M/F # | Name | Time | Class | Class # | Age | Division | Div # |
| --- | --- | --- | --- | --- | --- | --- | --- | --- | --- |
| 1 | M | 1 | Chris Peterson | 24:17.4 | 14' | 1 | 38 | 30-39 | 1 |
| 2 | M | 2 | Brian Winterhalder | 24:27.0 | 12'6" | 1 | 43 | 40-49 | 1 |
| 3 | M | 3 | Mark Pastick | 25:10.6 | 12'6" | 2 | 55 | 50+ | 1 |
| 4 | M | 4 | Frank Knight | 25:16.4 | 12'6" | 3 | 54 | 50+ | 2 |
| 5 | F | 1 | Lucy Bell | 25:24.1 | F 12'6" | 1 | 32 | F30-39 | 1 |
| 6 | M | 5 | Erich Diekmann | 25:41.3 | 12'6" | 4 | 42 | 40-49 | 2 |
| 7 | M | 6 | Chris Cole | 26:53.4 | 14' | 2 | 46 | 40-49 | 1 |
| 8 | F | 2 | Micha Shaw | 27:05.9 | F 12'6" | 2 | 30 | F30-39 | 2 |
| 9 | F | 3 | Kristen Winter | 27:22.6 | F 12'6" | 3 | 41 | F40-49 | 1 |
| 10 | M | 7 | Tim Hop Something | 27:51.9 | 12'6" | 5 | 51 | 50+ | 3 |
| 11 | M | 8 | Kurt Roessler | 27:57.3 | Up to 12' | 1 | 51 | 50+ | 1 |
| 12 | M | 9 | Lester Waddel | 28:02.9 | Up to 12' | 2 | 63 | 50+ | 2 |
| 13 | M | 10 | Frank Perrott | 28:19.7 | Up to 12' | 3 | 53 | 50+ | 3 |
| 14 | M | 11 | Jase Roessler | 28:28.4 | Up to 12' | 4 | 19 | 18-29 | 1 |
| 15 | M | 12 | Brian Dillon | 28:31.3 | 12'6" | 6 | 15 | 13-17 | 1 |
| 16 | M | 13 | Bill Jones | 28:42.7 | 12'6" | 7 | 64 | 50+ | 4 |
| 17 | M | 14 | Smilin Steve Smith | 28:54.5 | 12'6" | 8 | 57 | 50+ | 5 |
| 18 | F | 4 | Kaila Pearson | 29:05.6 | F 14' | 1 | 19 | F18-29 | 1 |
| 19 | F | 5 | Tasha Hammer | 30:05.0 | F 12'6" | 4 | 39 | F30-39 | 3 |
| 20 | F | 6 | Nancy Gere | 30:30.4 | F 12'6" | 5 | 46 | F40-49 | 2 |
| 21 | M | 15 | Chris Leger | 30:50.1 | Up to 12' | 5 | 28 | 18-29 | 2 |
| 22 | M | 16 | Trent Carter | 30:55.3 | 12'6" | 9 | 10 | 12U | 1 |
| 23 | F | 7 | Jane McKenzie | 31:02.5 | F 12'6" | 6 | 57 | F50+ | 1 |
| 24 | M | 17 | Ron Evans | 31:22.6 | Up to 12' | 6 | 52 | 50+ | 4 |
| 25 | F | 8 | Stacey Lovegren | 32:17.7 | F 12'6" | 7 | 46 | F40-49 | 3 |
| 26 | F | 9 | Karen Van Putten | 32:47.8 | F 14' | 2 | 42 | F40-49 | 1 |
| 27 | F | 10 | Michelle Knight | 32:52.8 | F 12'6" | 8 | 49 | F40-49 | 4 |
| 28 | M | 18 | Bruce Walters | 32:53.7 | Up to 12' | 7 | 52 | 50+ | 5 |
| 29 | F | 11 | Mary Vanderhoof | 32:59.5 | F up to 12' | 1 | 56 | F50+ | 1 |
| 30 | F | 12 | Kali'A Alexiou | 33:34.4 | F 12'6" | 9 | 11 | F12U | 1 |
| 31 | F | 13 | Melissa Stevens | 33:59.2 | F 12'6" | 10 | 39 | F30-39 | 4 |
| 32 | M | 19 | Rip Chappin | 34:16.3 | 12'6" | 10 | 64 | 50+ | 6 |
| 33 | M | 20 | Phil Rockey | 35:05.5 | 12'6" | 11 | 65 | 50+ | 7 |
| 34 | F | 14 | Katharine Teuschler | 35:34.6 | F 12'6" | 11 | 41 | F40-49 | 5 |
| 35 | M | 21 | Steve Kundich | 35:37.1 | Up to 12' | 8 | 48 | 40-49 | 1 |
| 36 | F | 15 | Mireille Horton | 35:45.6 | F up to 12' | 2 | 43 | F40-49 | 1 |
| 37 | F | 16 | Marlies Tallman | 36:03.1 | F up to 12' | 3 | 47 | F40-49 | 2 |
| 38 | F | 17 | Zee Zee Matta | 37:04.1 | F up to 12' | 4 | 47 | F40-49 | 3 |
| 39 | F | 18 | Saki Evans | 37:08.2 | F up to 12' | 5 | 51 | F50+ | 2 |
| 40 | M | 22 | Sean Horton | 37:15.5 | Up to 12' | 9 | 42 | 40-49 | 2 |
| 41 | F | 19 | Kate Carpenter | 37:17.5 | F 12'6" | 12 | 50 | F50+ | 2 |
| 42 | F | 20 | Courtney Springbett | 39:01.7 | F 12'6" | 13 | 13 | F13-17 | 1 |
| 43 | F | 21 | Julie Drennan | 40:59.0 | F 12'6" | 14 | 53 | F50+ | 3 |
| 44 | F | 22 | Narine Kadekian | 42:23.2 | F 12'6" | 15 | 46 | F40-49 | 6 |
| 45 | F | 23 | Marina Andriola | 44:11.9 | F up to 12' | 6 | 56 | F50+ | 3 |
| 46 | M | 23 | Joe Clarke | 45:06.2 | Up to 12' | 10 | 51 | 50+ | 6 |
| 47 | F | 24 | Michelle Craig | 47:37.7 | F 12'6" | 16 | 39 | F30-39 | 5 |
| 48 | F | 25 | Crystal Obregon | 51:25.1 | F 12'6" | 17 | 42 | F40-49 | 7 |
| 49 | F | 26 | Michaella Olavan | 51:40.3 | F 14' | 3 | 48 | F40-49 | 2 |
| 50 | M | 24 | Noah Nagel | 57:05.6 | 12'6" | 12 | 11 | 12U | 2 |