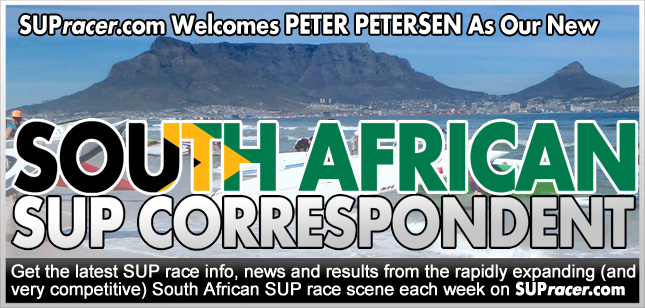 November 5, 2012
by Peter Petersen
[RESULTS] Team South Africa Qualifying Series, Race #4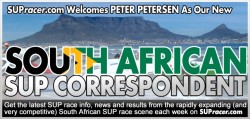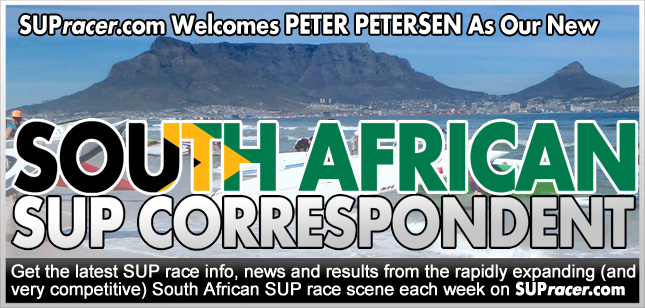 The Brian Kayaks Big Bay Classic race hosted round four of the South African SUPSA Qualifying Series on Sunday 4th November. The winners from this Series will be representing Team South Africa @ the ISA Worlds in Peru next year.
Perfect light wind conditions greeted the 110 paddlers of which only 13 were SUPs. A 6.1km triangle course was set going out the bay and up the coast into a slight headwind. This was followed by a 3km downwind leg which offered nice little bumps with a 180 turn and back to Big Bay.
Dylan Frick shot out the gate and immediately got a gap on Colin Heckroodt and Brad Adams. On the second leg, Francois Frick overtook Brad Adams while Pietro Muscas had to come from behind to pull in Brad, Peter P and ultimately Francois as well. Brad dropped off completely on the downwind leg while Dylan just held his pace and a safe distance to Colin.
Dylan won comfortably ahead of Colin while Pietro muscled into 3rd. Brigette van Aswegen beat Mishka Steyn and Monika Wohlgemuth in the Ladies.
Surfing the last wave in, Dylan has now put himself in a position to potentially qualify for ISA Worlds. He was stoked to be back in the mix after missing out on the first couple of races due to his Hawaii commitments. Scott Rutherfoord from Durban can't place worse than second in the overall ranking and is therefore already qualified, whereas Dylan Frick, Colin Heckroodt and Brad Adams have it all to do in the last race. If any of those three win the Coreban Summer Series in December then they will automatically qualify as well.
We'll keep you posted with the results from that race, as well as the full teams competing in the 2013 ISA World Stand Up Paddle Championships in Peru.
– Peter
Team South Africa Qualifying Series, Race #4 RESULTS
| # | Name | Time | Class | Division | % of 1st | Grade | km/h | min/km | Board |
| --- | --- | --- | --- | --- | --- | --- | --- | --- | --- |
| 1 | Dylan Frick | 0:40:57 | 14' | Men's | 100 | Elite | 8.94 | 0:06:43 | Starboard 14' Ace Pro |
| 2 | Colin Heckroodt | 0:41:40 | 14' | Men's | 98.28 | Elite | 8.78 | 0:06:50 | 14' |
| 3 | Pietro Muscas | 0:42:09 | 14' | Men's | 97.15 | Elite | 8.68 | 0:06:55 | Naish 14' MC |
| 4 | Francois Frick | 0:42:11 | 14' | Men's | 97.08 | Elite | 8.68 | 0:06:55 | Starboard 14' Ace Pro |
| 5 | Peter Petersen | 0:44:38 | 14' | Men's | 91.75 | A | 8.20 | 0:07:19 | Naish 14' MC |
| 6 | Tom King | 0:45:13 | 14' | Men's | 90.56 | A | 8.09 | 0:07:25 | Fanatic 14' Falcon |
| 7 | Matthew vd Linden | 0:45:51 | 14' | Men's | 89.31 | B | 7.98 | 0:07:31 | Naish 14' MC |
| 8 | Brad Adams | 0:46:29 | 14' | Men's | 88.10 | B | 7.87 | 0:07:37 | Fanatic 14' Fly |
| 9 | Brigette van Aswegen | 0:48:31 | 14' | Women's | 84.40 | C | 7.54 | 0:07:57 | Starboard 14' Ace Pro |
| 10 | Dave Maxwell | 0:49:25 | 14' | Men's | 82.87 | C | 7.41 | 0:08:06 | Naish 14 Glide |
| 11 | Craig Girdlestone | 0:56:13 | 14' | Men's | 72.84 | D | 6.51 | 0:09:13 | Naish 14 Glide |
| 12 | Mishka Steyn | 0:58:00 | 14' | Women's | 70.60 | D | 6.31 | 0:09:30 | Starboard 14' OO |
| 13 | Monika Wohlgemuth | 0:59:53 | 14' | Women's | 68.38 | D | 6.11 | 0:09:49 | Naish 14 Glide |