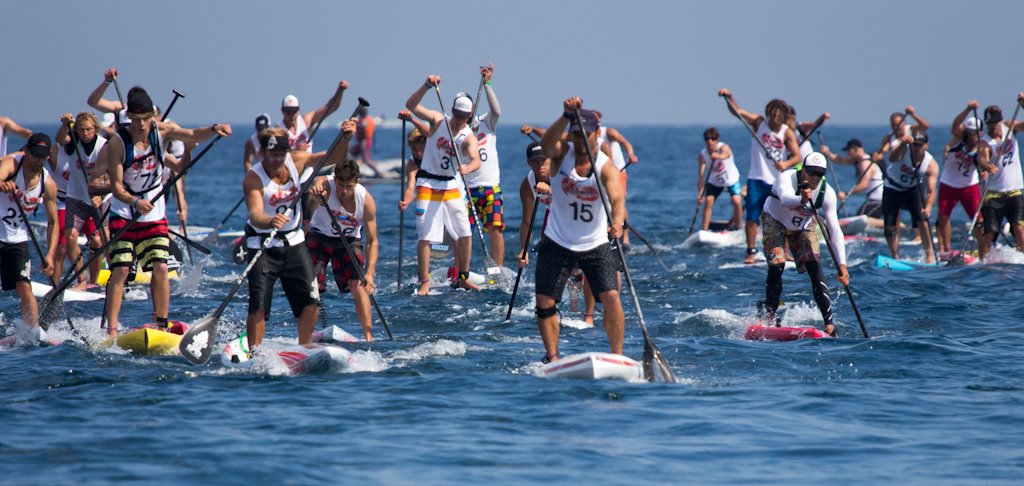 May 29, 2012
by Christopher Parker (@wheresbossman)
[RESULTS] The SUP Race Cup, France (UPDATED)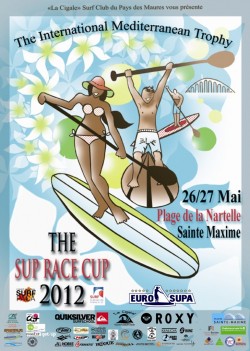 The SUP Race Cup (aka the International Mediterranean Trophy) was held last weekend in St. Maxime, on France's famous Côte d'Azur.
This is probably the most prestigious Stand Up Paddle race event in Europe and the 2012 edition drew the best from the continent, such as Eric Terrien, Gaetene Sene and Casper Steinfath, as well as international stars like Bart de Zwart and Chase Kosterlitz.
Saturday was the main event, the 7km Elite Beach Race, with the 15km Long Distance race happening on Sunday.
Over 100 stand up paddlers competed but it was BIC Sport's Eric Terrien and Fanatic's Olivia Piana who were the big winners, with both of them going through the weekend undefeated.
After each paddler's time from the Beach Race and Long Distance Race were combined, the Overall Men's Top 10 looked like this:
1st: Eric Terrien (France)
2nd: Gaetan Sene (France)
3rd: Leonard Nika (Italy)
4th: Casper Steinfath (Denmark)
5th: Bart de Zwart (Hawaii)
6th: Greg Closier (France)
7th: Yoann Cornelis (France)
8th: Chase Kosterlitz (Florida)
9th:  Arthur Daniel (France)
10th: Arthur Arutkin (France)
Check out the full results below (they'll be in a more readable format shortly…) plus take a look at the awesome SUP Race Cup photo gallery.
*****
2012 SUP Race Cup Beach Race
Elite Men's Race (7km, 12'6″ boards)
(Click the image to zoom in)
(These are the top finishers; full results coming soon)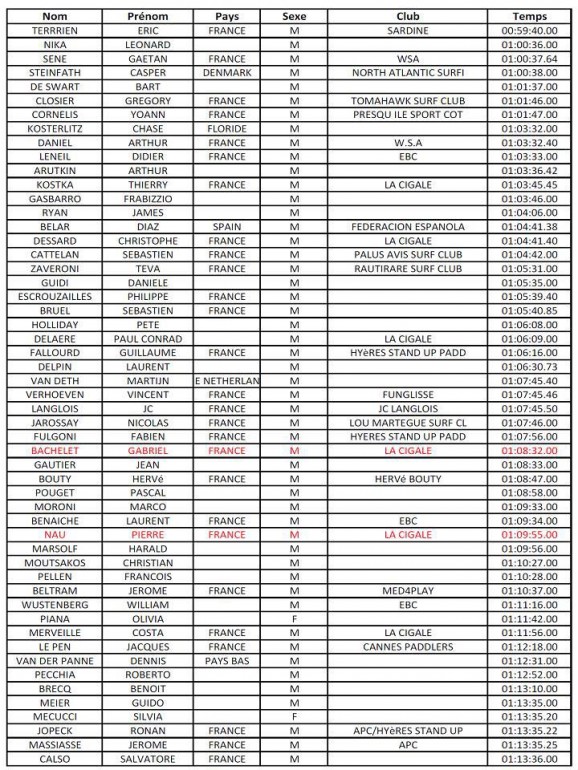 Elite Women's Race (7kms, 12'6″ boards)
(Click the image to zoom in)


*****
2012 SUP Race Cup Long Distance Race
Elite Men's Race (15km, 12'6″ boards)
(Click the image to zoom in)
(These are the top finishers; full results coming soon)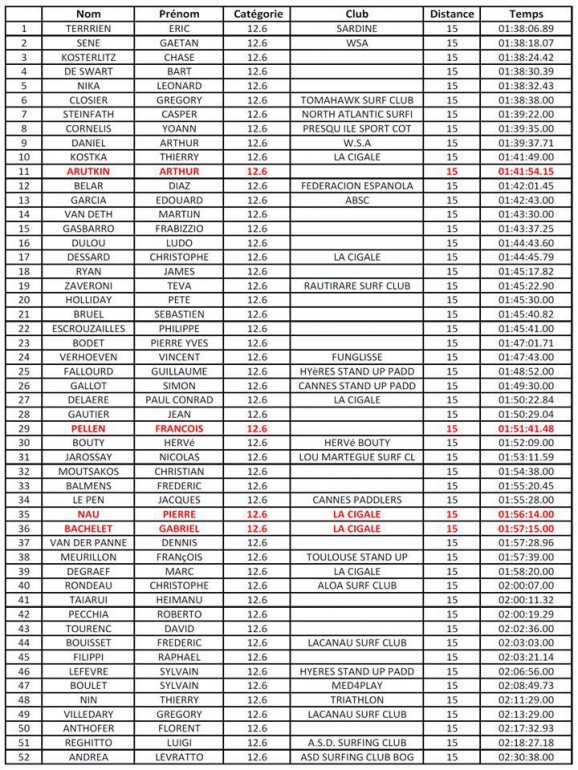 Elite Women's Race (15km, 12'6″ boards)
(Click the image to zoom in)


*****
2012 SUP Race Cup – Men's Combined Results
Times from the two races were added together to find the overall placings. Seeing how he won both races, Eric Terrien had no trouble taking the overall trophy and being crowned the champion of Europe once again.
(Click the image to zoom in)
(Samedi = Beach Race // Dimanche = Long Distance Race)
(These are the top finishers; full results coming soon)