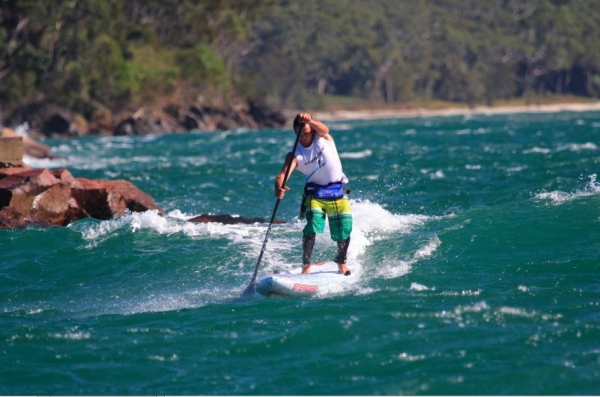 May 25, 2012
by Christopher Parker (@wheresbossman)
[RESULTS] Southern Cross SUP Festival (updated + video)
Check out the results from a massive weekend of Stand Up Paddle racing at the Southern Cross SUP Festival, held at Port Stephens (Australia).
The event was presented by d'Albora Marinas, organised by Surfing NSW and acted as the New South Wales State SUP Titles. Winners from this weekend's races qualified for the Australian National SUP Titles in August, which then decides who gets a spot in Team Australia for the 2013 ISA SUP World Champs.
The big winner this weekend was Starboard's Beau O'Brian, who took 2nd in the Battle of the Paddle-style Surf Race, behind Kelly Margetts, before claiming a hat-trick of victories in the Elite Downwinder, Technical Short Course and Dash For Cash races.
O'Brian recently signed with Team Starboard and used the Starboard Coastal Runner 14′ to win the downwinder and the new Starboard Ace 14′ to claim his other two wins (and pocket $2,500 in prize money).
"This is the best downwinder I've ever done. I just got back from Hawaii where conditions were pretty good, but out here it really suited the 14 foot boards perfectly.

Being a downwinder, it could have been anyone's race today. I saw the boys going a bit wide but I thought I'd take the inside line after I saw it sucking pretty hard off the point, which seemed to work out pretty well for me.

Stoked with how good all the races were and really happy with how my new boards are working."
In total there was $8,000 cash and plenty of prizes on offer across the weekend. On the women's side, Alison Fullagar, Molly Walker and Terrene Black all shared in the money.
Conditions for the downwinder were all time, with 35+ knot winds, while the overall event was hailed by all competitors as a big success.
Jump to: Elite Marathon (Downwinder) Results | Surf Race Results | Short Course Results | Dash For Cash Results | Team Relay Results | Race PHOTOS | Surf Race VIDEO
*****
Elite Marathon Downwinder RESULTS (Saturday)
Click "M/F" to switch between Men's and Women's Results

| # | M/F | M/F # | Name | Time | Division | Div # |
| --- | --- | --- | --- | --- | --- | --- |
| 1 | M | 1 | Beau O'BRIAN | 0:41:48 | Men's 14' | 1 |
| 2 | M | 2 | Kelly MARGETTS | 0:42:39 | Men's 14' | 2 |
| 3 | M | 3 | Sam PARKER | 0:43:04 | Men's 14' | 3 |
| 4 | M | 4 | David KISSANE | 0:43:14 | 40+ Men's 14' | 1 |
| 5 | M | 5 | Andy DAVIES | 0:43:41 | Men's 14' | 4 |
| 6 | M | 6 | Will ANIDO | 0:44:50 | 40+ Men's 14' | 2 |
| 7 | M | 7 | Steve MORRISON | 0:45:00 | Men's 14' | 5 |
| 8 | M | 8 | Mick DAVIS | 0:45:16 | 40+ Men's 14' | 3 |
| 9 | M | 9 | Dane HURST | 0:46:16 | Men's 14' | 6 |
| 10 | M | 10 | Ben CHALMERS | 0:47:40 | Men's 14' | 7 |
| 11 | M | 11 | Cameron HOSKING | 0:48:30 | 40+ Men's 14' | 4 |
| 12 | M | 12 | Dale CHAPMAN | 0:48:35 | 40+ Men's 14' | 5 |
| 13 | M | 13 | Alan TEURQUETIL | 0:49:07 | 40+ Men's 14' | 6 |
| 14 | F | 1 | Terrene BLACK | 0:49:18 | Women's 14' | 1 |
| 15 | M | 14 | Pete MORGAN | 0:50:00 | Men's 12'6" | 1 |
| 16 | M | 15 | Kai BATES | 0:50:35 | Men's 14' | 8 |
| 17 | M | 16 | Andrew CASSIDY | 0:51:05 | 40+ Men's 14' | 7 |
| 18 | M | 17 | Peter MEYER | 0:51:34 | Men's 14' | 9 |
| 19 | M | 18 | Simon DODD | 0:51:35 | Men's 14' | 10 |
| 20 | M | 19 | Tony RUAULT | 0:53:03 | Men's 14' | 11 |
| 21 | F | 2 | Molly WALKER | 0:54:53 | Women's 14' | 2 |
| 22 | F | 3 | Sondra PURSSER | 0:54:54 | Women's 14' | 3 |
| 23 | M | 20 | Neil ENGLISH | 0:56:10 | 40+ Men's 14' | 8 |
| 24 | M | 21 | Roger SAUNDERS | 0:56:17 | 40+ Men's 14' | 9 |
| 25 | M | 22 | Jason BATES | 0:56:32 | 40+ Men's 14' | 10 |
| 26 | M | 23 | Mark MITCHELL | 0:57:03 | 40+ Men's 14' | 11 |
| 27 | M | 24 | Matt WORLEY | 0:57:43 | Men's 12'6" | 2 |
| 28 | M | 25 | Mitchell PEARSON | 0:58:09 | Men's 14' | 12 |
| 29 | F | 4 | Alison FULLAGAR | 0:58:56 | Women's 14' | 4 |
| 30 | M | 26 | John ENGELS | 0:59:03 | 40+ Men's 12'6" | 1 |
| 31 | M | 27 | Paul HARRINGTON | 0:59:26 | 40+ Men's 14' | 12 |
| 32 | M | 28 | Matt COLEFAT | 0:59:40 | Men's 14' | 13 |
| 33 | M | 29 | Richard MAURER | 1:00:24 | 40+ Men's 14' | 13 |
| 34 | M | 30 | Rodney HINDERSON | 1:01:02 | 40+ Men's 14' | 14 |
| 35 | M | 31 | Rick MUNITZ | 1:02:11 | Men's 14' | 14 |
| 36 | F | 5 | Di MORRISON | 1:02:41 | Women's 14' | 5 |
| 37 | M | 32 | Adam PALLISTER | 1:03:47 | 40+ Men's 14' | 15 |
| 38 | M | 33 | Mark HANCOCK | 1:04:56 | Men's 14' | 15 |
| 39 | F | 6 | Vanessa SMITH | 1:05:11 | Women's 12'6" | 1 |
| 40 | M | 34 | Aiden LEWIS | 1:06:15 | Men's 12'6" | 3 |
| 41 | M | 35 | Andrew LAI | 1:07:58 | Men's 12'6" | 4 |
| 42 | F | 7 | Nicole ALLAN | 1:12:32 | Women's 12'6" | 2 |
| 43 | F | 8 | Melisa MCMANUS | 1:12:40 | Women's 14' | 6 |
*****
Surf Race RESULTS (Friday)
Open Men's
1st: Kelly MARGETTS 00:23:48
2nd: Beau O'BRIAN 00:23:51
3rd: Steve MORRISON 00:24:51
4th: Andy DAVIES 00:26:08
5th: Peter MEYER 00:27:23
6th: Kai BATES 00:27:32
7th: David KISSANE 00:27:44 (Over 40's)
8th: Dane HURST 00:27:56
9th: John CHRISTENSEN 00:28:12 (Over 40's)
10th: noel GRAHAM 00:29:15 (Over 40's)
11th: Ben CHALMERS 00:29:19
12th: Roger SAUNDERS 00:29:21
13th: Michael STOKES 00:30:20 (Over 40's)
14th: Alan TEURQUETIL 00:31:17 (Over 40's)
15th: Dale CHAPMAN 00:31:34 (Over 40's)
16th: Andrew CASSIDY 00:32:28 (Over 40's)
17th: Matt WORLEY 00:33:51
18th: Mark MITCHELL 00:41:17
19th: Mark HANCOCK 00:41:18 (Over 40's)
20th: Will ANIDO 00:41:18 (Over 40's)
21st: Jason MCMANUS 00:41:19 (Over 40's)
Open Women's
1st: Terrene BLACK 00:31:55
2nd: Molly WALKER 00:32:46
3rd: Sondra PURSSER 00:33:06
4th: Alison FULLAGAR 00:34:05
5th: Elyse COMERFORD 00:39:07
*****
Short Course RESULTS (Sunday)
Open Men's
1st: Beau O'Brian
Open Women's
1st: Alison Fullagar
Men's Over 40
1st: Robert Westerlink
*****
Dash For Cash RESULTS (Sunday)
Men's
1st: Beau O'Brian
Women's
1st: Molly Walker
*****
Team Relay RESULTS (Sunday)
1st: Team Naish (Andy Davies, David Kissane, Steve Morrison, Di Morrison)
2nd: C4 Waterman (Terrene Black, Matt Worley, Simon Dodd, Dylan Henry)
3rd: Roar Industries (Alison Fullagar, Molly Walker, Neil English, Beau O'Brian)
4th: Liquid Force (Andrew Cassidy, Paul Chapman, Roger Saunders, Elyse Comeford)
5th: Kahuna (Adam Pantlin, Adam Aalistar, Mitch Pearson, Jade Doley)
6th: Grom (Dave Stretton, Josh Stretton, Elyse Comeford, Matty Keen)
7th: Surfing NSW (Amanda Couzner, Luke Michalak, Matt Keen, Terry Day)
*****
Photo credits: Cameron Hosking, Paul Harrington, Surfing NSW