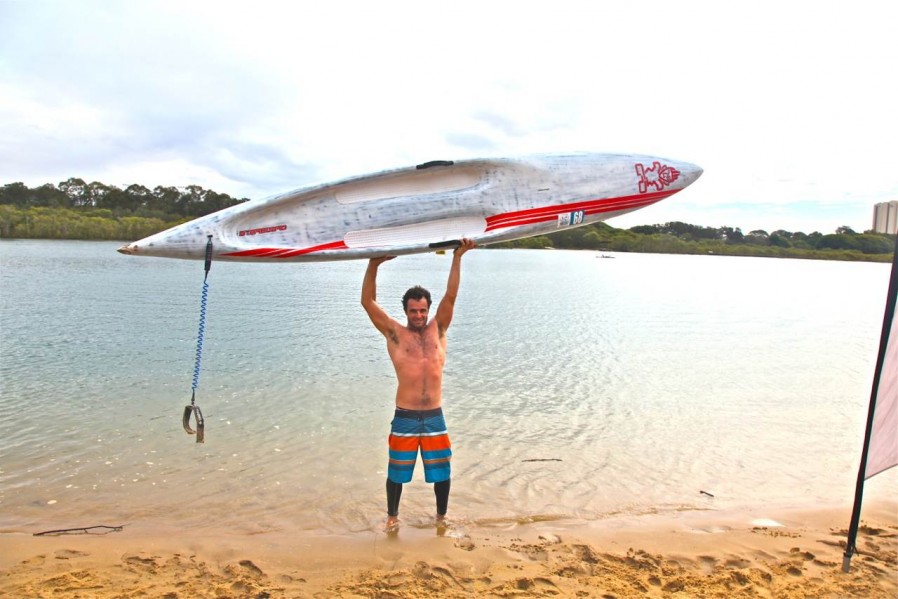 June 10, 2012
by Christopher Parker (@wheresbossman)
[RESULTS] Queensland State SUP Titles (UPDATED/VIDEO)
Check out the results of the 2012 Queensland State SUP Titles that were held on the Gold Coast this past weekend.
This race was a qualifier for the Australian National SUP Titles to be held in August (which will decide who represents Team Australia @ the 2013 ISA World SUP Champs).
Queensland (and the Gold Coast in particular) boasts a massive concentration of stand up paddle racing talent. Almost every race director in the world would have been stoked to see such an elite field line up at the start, and that's without both Travis Grant (injured) and Jamie Mitchell (working the Volcom Pro Fiji) competing.
There were two events on the weekend; the Long Distance Race and the Battle of the Paddle-style Technical Sprint Race. The Long Distance race was a bit different in that the first half was an open ocean downwinder (Snapper Rocks to Currumbin Alley), while the second half was all flat water (up and down Currumbin Creek).
The qualifying division for the National Titles was a 17km course on 14′ boards, while at the same time there was an 8km course for the stock 12'6″ and unlimited paddlers.
Although the main goal was just to qualify for the National Titles, this was still a race and with this many good paddlers it was always going to be fast.
So it was amazing to see Starboard team rider Beau O'Brian score an absolute runaway victory. Despite a stacked field of evenly matched paddlers, O'Brian put an incredible four minutes between himself and 2nd place Jake Jensen (Naish). The local gun then backed it up by taking out the Technical Course/Surf Race the next day.
Meanwhile in the women's race it was another Starboard that crossed the line first, with Alison Fullagar winning ahead of Fanatic's Angie Jackson. Though Angie did get some revenge by winning the Technical Course/Surf Race.
Check out the full race results below (the bold names qualified for the National Titles). Special mention goes to Fanatic's Paul Jackson and Dylan Magee, who both qualified in the Long Distance event despite riding 12'6″ boards.
*****
*****
2012 Queensland State SUP Titles Long Course Race
Course: 17km // Boards: 14′
This was the qualifying division for the National Titles // Bold Name = Qualified
(click "M/F" to switch between Men's and Women's Results)

| # | M/F | M/F # | Name | Time | Division | Div # |
| --- | --- | --- | --- | --- | --- | --- |
| 1 | M | 1 | Beau O'BRIAN | 1:42:37 | 14' Open Men's | 1 |
| 2 | M | 2 | Jake JENSEN | 1:46:12 | 14' Open Men's | 2 |
| 3 | M | 3 | Kelly MARGETTS | 1:46:21 | 14' Open Men's | 3 |
| 4 | M | 4 | Lincoln DEWS | 1:46:22 | 14' Open Men's | 4 |
| 5 | M | 5 | Paul JACKSON | 1:47:49 | 14' Open Men's (12'6") | 5 |
| 6 | M | 6 | Troy PEASE | 1:48:59 | 14' 40+ Men | 1 |
| 7 | M | 7 | Paul JONES | 1:50:22 | 14' Open Men's | 6 |
| 8 | M | 8 | Dylan MAGEE | 1:51:16 | 14' Open Men's (12'6") | 7 |
| 9 | M | 9 | Heath BROWN | 1:51:22 | 14' 40+ Men | 2 |
| 10 | M | 10 | Steve WALKER | 1:51:37 | 14' Open Men's | 8 |
| 11 | M | 11 | Trevor TUNNINGTON | 1:52:21 | 14' Open Men's | 9 |
| 12 | M | 12 | Ryan KECK | 1:52:28 | 14' Open Men's | 10 |
| 13 | M | 13 | Dale CHAPMAN | 1:53:31 | 14' 40+ Men | 3 |
| 14 | M | 14 | Sam HAMILTON | 1:54:45 | 14' Open Men's | 11 |
| 15 | M | 15 | Chris MAYNARD | 1:56:26 | 14' 40+ Men | 4 |
| 16 | F | 1 | Alison FULLAGAR | 1:59:00 | 14' Open Women's | 1 |
| 17 | F | 2 | Angela JACKSON | 1:59:36 | 14' Open Women's | 2 |
| 18 | M | 16 | Alain TEURQUETIL | 2:00:20 | 14' 40+ Men | 5 |
| 19 | F | 3 | Karla GILBERT | 2:04:47 | 14' Open Women's | 3 |
| 20 | M | 17 | Neil ENGLISH | 2:05:00 | 14' 40+ Men | 6 |
| 21 | F | 4 | Molly WALKER | 2:05:42 | 14' Open Women's | 4 |
| 22 | M | 18 | Andrew EDHOUSE | 2:06:54 | 14' 40+ Men | 7 |
| 23 | F | 5 | Sue DORRIES | 2:07:14 | 14' Open Women's | 5 |
| 24 | F | 6 | Sondra PURSER | 2:15:57 | 14' Open Women's | 6 |
| 25 | M | 19 | Mark WOELDERS | 2:24:00 | 14' 40+ Men | 8 |
*****
2012 Queensland State SUP Titles Long Course Race
Course: 8km // Boards: 12'6″ and Unlimited
Click "Division" to switch between the Stock and Unlimited results

| Overall # | Name | Time | Division | Div # |
| --- | --- | --- | --- | --- |
| 1 | Jackson MAYNARD | 0:54:32 | Unlim Open Men | 1 |
| 2 | Matt CARTER | 0:57:24 | Unlim Open Men | 2 |
| 3 | Mark WALDECK | 0:59:50 | Unlim 40+ Men | 1 |
| 4 | Greg BEER | 1:00:22 | Unlim 40+ Men | 2 |
| 5 | Wayne JOHNSTONE | 1:02:22 | 12'6" Open Men | 1 |
| 6 | Luke FRENCH | 1:03:14 | 12'6" Open Men | 2 |
| 7 | Chris CHAMBERLAIN | 1:03:58 | Unlim Open Men | 3 |
| 8 | John TOWNSEND | 1:04:28 | Unlim 40+ Men | 3 |
| 9 | Luke EGAN | 1:05:22 | 12'6" Open Men | 3 |
| 10 | Rob WALTON | 1:06:20 | 12'6" Open Men | 4 |
| 11 | Dion PARKER | 1:06:26 | 12'6" Open Men | 5 |
| 12 | Peter TURNER | 1:07:20 | Unlim 40+ Men | 4 |
| 13 | Julian BLANCHARD | 1:08:05 | Unlim 40+ Men | 5 |
| 14 | Shane LYNCH | 1:08:12 | Unlim 40+ Men | 6 |
| 15 | Paul MITCHELL | 1:08:14 | Unlim 40+ Men | 7 |
| 16 | Roger SAUNDERS | 1:09:17 | Unlim Open Men | 4 |
| 17 | Derek O'NEILL | 1:09:45 | Unlim 40+ Men | 8 |
| 18 | Robert EYRE | 1:09:55 | Unlim 40+ Men | 9 |
| 19 | Peter TULLETT | 1:10:11 | Unlim 40+ Men | 10 |
| 20 | Scott CORRIGAN | 1:10:33 | 12'6" Open Men | 6 |
| 21 | Jeremy SCOTT | 1:10:48 | Unlim 40+ Men | 11 |
| 22 | Peter MORLEY | 1:11:31 | Unlim 40+ Men | 12 |
| 23 | Ryan RISTUCCIA | 1:11:52 | 12'6" Open Men | 7 |
| 24 | Alex GULLIS | 1:14:15 | 12'6" Open Women | 1 |
| 25 | Robert PENNELL | 1:14:43 | Unlim 40+ Men | 13 |
| 26 | Chris MCCALL | 1:16:47 | 12'6" Open Men | 8 |
| 27 | David GULLIS | 1:17:25 | 12'6" Open Men | 9 |
| 28 | Steve GRAHAM | 1:19:30 | Unlim 40+ Men | 14 |
| 29 | Cathy TANNER | 1:23:03 | 12'6" Open Women | 2 |
| 30 | Sheldon STEELES | 1:23:37 | 12'6" Open Men | 10 |
*****
2012 Queensland State SUP Titles Surf Race
Course: BoP-style surf race // Boards: 12'6″
Bold Name = Qualified for the National Titles
Open Men's
1st: Beau O'Brian
2nd: Kelly Margetts
3rd: Paul Jackson
4th: Jake Jensen
5th: Lincoln Dews
6th: Troy Pease (Qualified as 40+)
7th: Dylan Magee
8th: Steve Walker
9th: Simon Hunnybun
10th: Trevor Tunnington
11th: Luke French
12th: Chris Devine
Open Women's
1st: Angela Jackson
2nd: Karla Gilbert
3rd: Sondra Purser
4th: Tenille Devine
5th: Alison Fullagar
6th: Molly Walker
7th: Keale Dorries
Over 40's
1st: Troy Pease
2nd: Peter Dorries
3rd: Heath Brown
4th: Dale Chapman
5th: Steve Quiller
6th: Alain Teurquetil
7th: Brett Williams
8th: Wayne Johnstone
9th: Peter Turner
10th: Rob Walton
*****