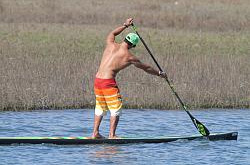 February 11, 2012
by Christopher Parker (@wheresbossman)
[RESULTS] 2012 Hal Rosoff Classic SUP Race (UPDATED)
UPDATE: Check out this great race footage from Thomas Maximus. Apparently he and Danny were too busy chatting and missed their start by over a minute :O
It was a very solid performance then, as they both managed to fight back to grab podium positions!
*****
Results from the 2012 Hal Rosoff Classic, held Saturday 12th Feb in California.
Over 240 stand up paddlers joined a bunch of outrigger, surf ski and kayakers for the 5.5 mile race at the Newport Aquatic Center.
Danny Ching took out the overall race on his unlimited board, ahead of Jim Terrell and Thomas Maximus. While Karl Ring, Kristin Thomas and Suzy Strazzulla also had wins. (We're working on sorting out the FULL results…)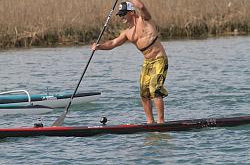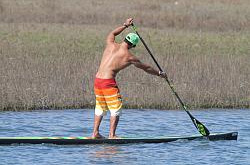 Images copyright Bruce White. Hundreds more photos @ windanseaphoto.com
*****
2012 Hal Rosoff Classic SUP Race RESULTS
Men's Unlimited
1st: Danny Ching (55:07)
2nd: Jim Terrell (55:11)
3rd: Thomas Maximus (56:27)
4th: Dialy Ndiaye (56:52)
5th: Jared Vargas (59:03)
6th: Tyler Morgan (01:00:30)
7th: Brendan Light (01:00:38)
8th: Jim Vitale (01:01:29)
Men's 14′
1st: Karl Ring (??)
2nd: Byron Kurt (01:03:29)
3rd: Chance Fielder (01:03:56)
4th: Brad Rambo (01:04:20)
5th: Chad Bashor (01:04:33)
6th: Dane Morrissey (01:04:34)
7th: Brian Haag (01:04:37)
8th: E.J. Johnson (01:05:17)
9th: Brent Pascoe (01:07:03)
10th: Jack Wygal (01:07:51)
Women's 14′
1st: Suzy Strazzulla (01:11:11)
2nd: Robin Benincasa (01:12:42)
Women's 12'6″
1st: Kristin Thomas (01:13:09)
2nd: Terry Plunkett (01:15:07)
3rd: Antoinette Cocco (01:15:22)
4th: Alison Riddle (01:16:01)
We're working on sorting out the full results now. Raw data available @ SoCal Racing