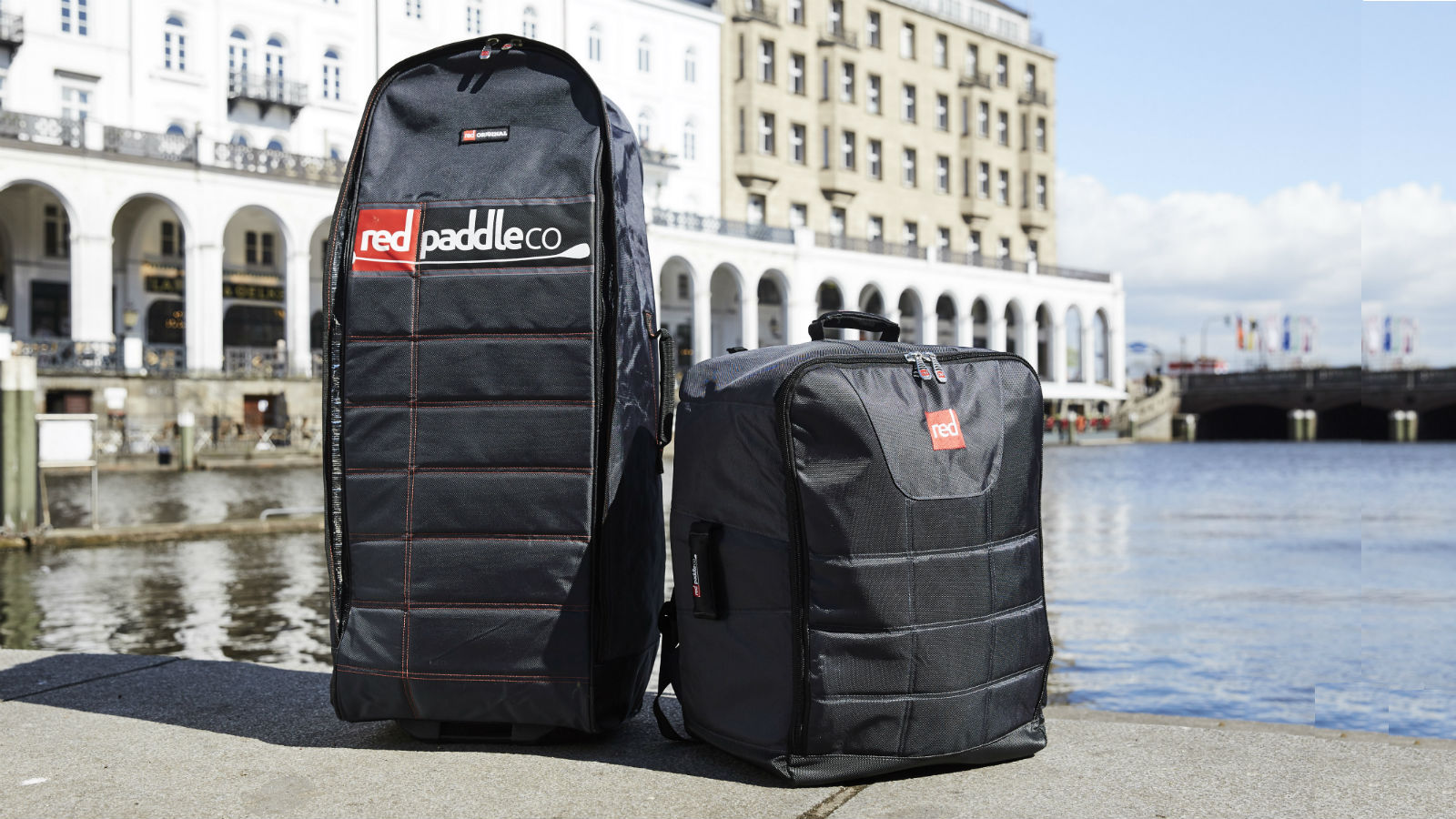 August 30, 2018
by Christopher Parker (@wheresbossman)
GAME CHANGER: Red Paddle Co just revealed the world's most-compact SUP (and I want one)
I love inflatables. They make it so much easier to travel, opening up a world of adventure that hard boards make difficult at best and impossible at worst.
Sure, they're not quite as rigid, but unless you're a hardcore racer or want to go for a surf, a blow-up SUP will do most of the time. No surprise, then, that inflatable sales are dwarfing their carbon brethren everywhere from Europe to Japan.
But for all their convenience, inflatable stand up paddleboards aren't really *that* small, are they? You're guaranteed to check it in on the plane, and it'll squeeze into the back of a car, but it's still pretty damn bulky.
Apparently Red Paddle Co, the undisputed industry leader, thinks the same, because they've just unveiled what could be an absolute game-changer of a board.
It's called the Red "Compact," and I want one.
The Co 9'6″ Compact from Red Paddle Co does what its name suggests, embracing a bunch of innovative features to produce a board that inflates to full-size but packs down into a pint-sized backpack.
The board was revealed yesterday after a stealthy little Instagram teaser campaign, and it comes on the eve of Red's "Dragon World Championships" in Austria. The launch also helps celebrate 10 years since Red released their first board, which highlights just how much experience the brand has with inflatables (it's all they do).
As someone who travels obsessively-light, the Red Compact is a dream come true. It is, quite possibly, the world's first carry-on SUP*. Like the Macbook Air of the paddleboarding world, the Compact has almost all the same features and quality as its bigger brothers and sisters but in a much smaller package.
Red achieves this by making a board you can fold in half, widthways, before rolling up, essentially creating a fat little cube instead of the elongated bulk of a regular inflatable. Throw in a twin-fin setup and Red's new patent-pending "PACT" technology, and we've now got a board that fits in a normal-sized backpack.
The icing on top is a new five-piece paddle that fits snugly inside this new cube-like design.
I never trusted multi-piece paddles – the early incarnations were a byword for "flimsy" – until I started roaming with my three-piece Quickblade Travel Paddle, a brilliant little feat of engineering that works just as good as a high-end blade. Red have taken it to another extreme with the five-piece, but after seeing what QB achieved, I'm optimistic.
Red's modular paddle has the added benefit of being adjustable: you can remove one or two of the pieces to make it shorter, which the company is marketing as a family-friendly paddle that both kids and adults can use. Judging by the blade, this five-piece isn't exactly a high-performance paddle, but then again a 9'6″ isn't a high-performance board. This whole package is marketed towards leisure paddlers (a massively bigger market than the racing world), so it'll do just fine.
The innovation extends into the backpack, and not just in terms of size & shape. Trimming directly from the official press release:
"It's the most highly engineered SUP bag on the planet, applying approximately 53% less down force on the carrier's lower back, you can travel for longer in comfort." The bag also features customisable lumbar support and adjustable height features so is suitable for any size of paddler.
Based on the uber-popular 10'6″ Ride, the 9'6″ x 32″ Red Compact is a standard-shaped, all-round paddleboard that's advertised to carry riders up to 95kgs (about 210 pounds). The 10'6 is one of the funnest boards I've ever owned, so hopefully the Compact carries on that tradition.
I'll reserve judgement til I've actually had a go of the thing, but that won't be long: I'm heading to Austria tomorrow for this weekend's Dragon World Championships where hopefully I can get my hands on one of the Compact demo boards. If so, I'll try to make a full unboxing video for you, but until then here's the official teaser vid to whet your appetite.
The Red Paddle Co "Compact" inflatable is available for pre-order now (via the official site) with first shipping expected in November; there should be general retail availability in time for Christmas. It'll set you back $1,899 USD or 1,499 Euros. That's a solid jump from the 10'6′ Ride, which you'll find online for about $1,299, but if you're after convenience it could be priceless.
* The Red Compact is technically too large to be a carry-on bag (and Red isn't marketing it that way), however it's not far off. And as someone who's taken 59 flights so far this year, I'm willing to bet you'd get this on the plane as carry-on luggage more times than not. Perhaps we need to test it out…