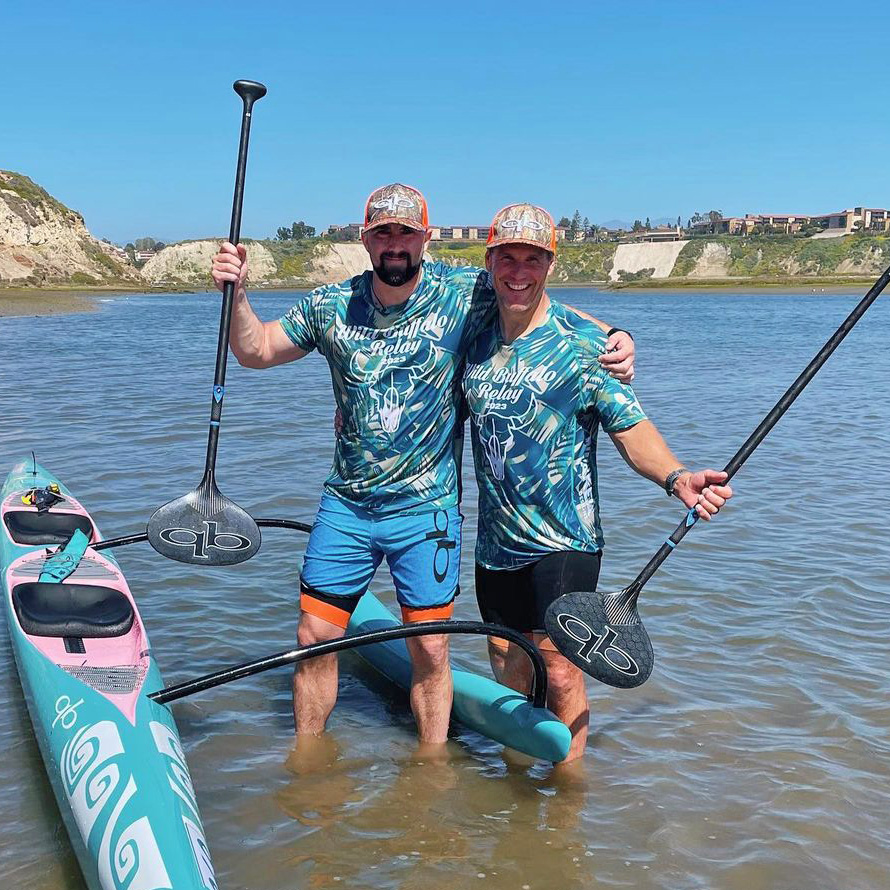 April 2, 2023
by Christopher Parker (@wheresbossman)
Another game changer? Quickblade has invented a strange-looking paddle called the "Stingray"

There's a classic line in the 2014 promo video for Quickblade's wildly successful V-Drive paddle where Dave Kalama calls it a "game changer." The fact that he and QB founder Jim Terrell are wearing headbands and playing tennis makes the video all the more entertaining.
The V-Drive wasn't just successful for Quickblade, it was a game-changer for the entire industry as just about every brand made their own version, either an "inspired by" design or a direct knockoff. The V-Drive was an icon.
Well perhaps Jimmy and Kalama should dust off the sweats, because the latest QB creation might be another great leap forward in paddle design.
This is the "Stingray" from Quickblade Paddles, a rather bold new design that looks kind of like a melted V-Drive. Or a squashed pear. Or funky a banjo. Or …a stingray.
Whatever you see when you look at the Stingray one thing is clear: you're looking at a unique paddle. To my knowledge, the paddling world has never seen anything like this before.
But while bold is brave, the obvious question is, "Does it actually work?" Or rather: Is it any better than what's already out there? Would you swap your V-Drive for a Stingray?
I presume it'll take a while to answer that question as Quickblade ramps up production and gets this paddle into more hands, but early feedback has been overwhelmingly positive. Jim Terrell doesn't take shortcuts — the Stingray would have gone through extensive prototyping and testing.
And besides, just look at this thing: The Stingray is gonna get attention no matter what.
According to Jimmy, there's been a lot of interest from the outrigger crew – the Stingray has already won a bunch of OC1 and OC2 races in SoCal – while it's also getting used by SUP foilers who believe the "short and stubby" design better avoids being hit by the foil wing underwater.
As for the SUP racing version of the Stingray, I do know a few of the top QB athletes have been testing it but I haven't heard what the verdict is yet. If it is working, we should start seeing it being carried onto the podium in the next few months.
What I can say for sure is that I got a close look at the Stingray last year and it was pretty impressive. We used a few prototypes during the Yukon River Quest, and just holding this paddle in your hands is exciting simply because it's so different.
SUP and outrigger legend Travis Grant was also on that Canada trip and summed up the Stingray in typical Travis fashion:
"I don't know why it works, but yeah it works."
Is the Quickblade Paddles Stingray a game-changer? We'll have to wait and see, but either way my hat goes off to Jimmy Terrell (aka 'The Mad Scientist') for constantly pushing the boundaries of what we think a paddle should look like.