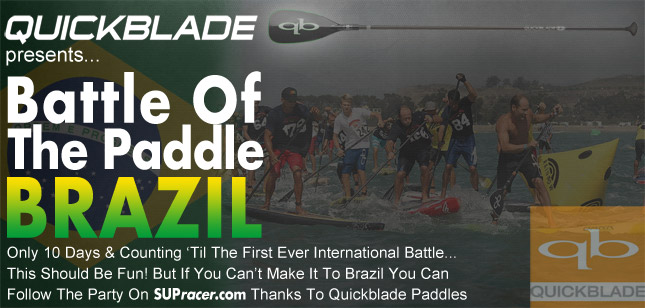 October 16, 2013
by Christopher Parker (@wheresbossman)
Quickblade Presents: Battle Of The Paddle BRAZIL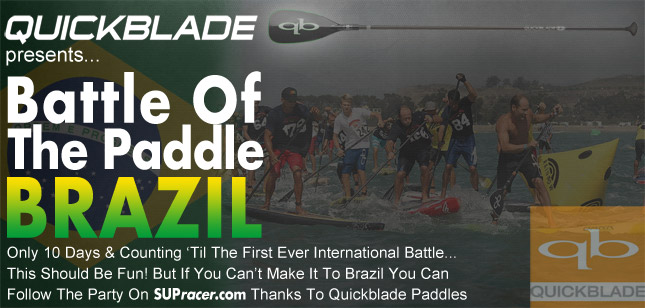 We're only 10 days away from the next big race on the calendar: Battle of the Paddle BRAZIL.
This is the first time that the BOP, aka the race that started it all, has left the United States and will be an interesting experiment in the expansion of this iconic event. It'll also be a lot fun, pretty much guaranteed. I mean c'mon, it's Brazil… What's the first thing that comes to mind when you think Brazil? Exactly.
But if you can't join the party don't despair. While you might not get to sip cocktails and enjoy the "view" on the white sandy beaches North of Rio, you can still follow the fun on SUPracer.com.
Thanks to Quickblade Paddles you can follow the whole Brazilian adventure starting today and leading up to full coverage of the race itself on the weekend of October 26th & 27th.
Team SUPracer.com will be traveling with the Quickblade crew, including the Mad Scientist himself: Jimmy Terrell, the big guy from the East Coast: Chase Kosterlitz, Mr. Everywhere: Spain's Belar Diaz, the Fabio of Mexico: Fernando Stalla, as well as one of the most prolific podium-getters in California BOP history, Brandi Baksic.
The Battle of the Paddle Brazil follows the same format we know and love: Elite Race, Distance Race, Open Race, Relays. With a $25,000 prize purse. And while we won't see the same level of competition as at Dana Point, we will get to see some well known names from the international scene battling against the best Brazil has to offer.
We'll also get to see this place:
Where are we heading?
Cabo Frio.
Cabo Frio is a surf town about an hour North of Rio de Janeiro. It's known to get plenty of that magical Battle ingredient: waves, while having some pretty darn nice beaches in general. Meanwhile just around the corner from Cabo Frio is Buzios – aka St. Tropez of Brazil.
In other words, it's not a bad little stretch of coastline…
Battle of the Paddle.
Brazil.
Yep. This is going to be fun.
So follow the adventure on SUPracer.com thanks to Quickblade Paddles. We'll be counting down to the Battle of the Paddle BRAZIL over the next week and a half, before sending you live updates all weekend long on October 26th & 27th.
Join us for the party…