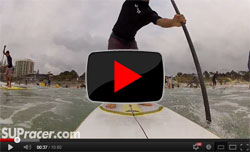 November 18, 2012
by Christopher Parker (@wheresbossman)
[VIDEO] This One's For The Hardcore Race Fans Only…
Hardcore about your SUP racing? Check out this on board GoPro clip from Saturday's Power of the Paddle SUP race in Queensland. Gives you some insight into a Battle of the Paddle-style course race, with buoy turns, waves and plenty of board-clanging to deal with.
Conditions weren't as crazy as last year's Power of the Paddle, but the race was still a grind for over an hour. The men's race was split into three races, with about 10 minutes rest in between each one. The first two rounds were eliminators, with the slowest 10 or so paddlers getting dropped, while the third race was the decider.
The first round was 3x laps and then round 2 and the final were both 2x. Each lap was around 1.5k's, so all up the race was around 10.5km (if you made the final). Definitely not easy. I had a GoPro on my board for the first elimination round and here's what the first lap looked like.
The clip is long, so again, this one's for the hardcore SUP race fans only…
(the camera angle gets fixed after a minute or two)