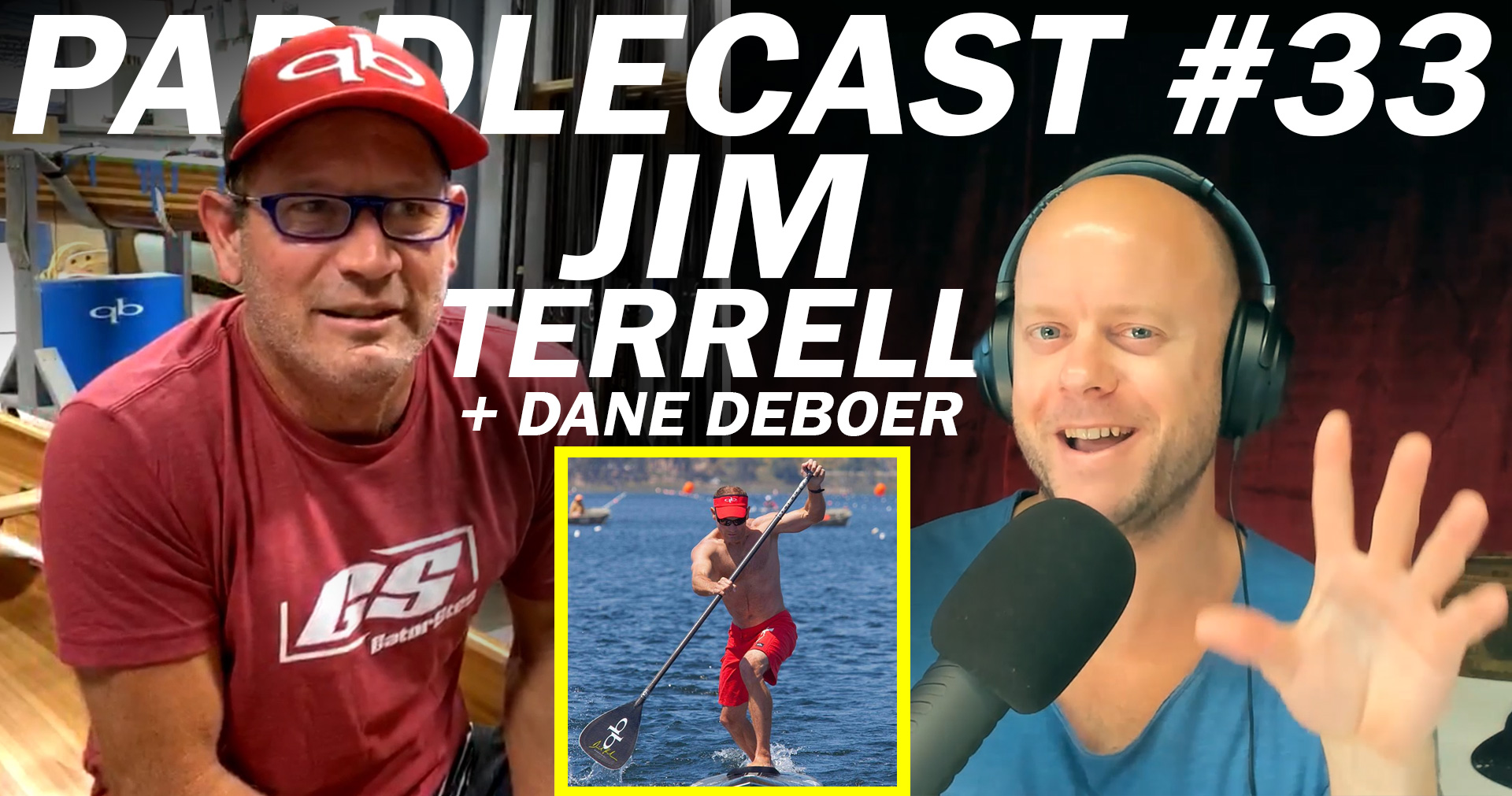 June 1, 2020
by Christopher Parker (@wheresbossman)
Paddlecast #33: Jim Terrell talks building canoes, competing in the Olympics and the early days of SUP…
It's finally ready! After three attempts and a few days of editing, the marathon Paddlecast with Jim Terrell from Quickblade is done.
Jim Terrell is a four-time Olympian and the founder of Quickblade Paddles. We had a great chat about everything from building canoes to competing in the Olympics, the birth of QB and working with guys like Dave Kalama and Laird Hamilton in the earliest days of the sport. We were also joined by Jimmy's good friend and one of the original SoCal paddlers, Dane DeBoer, to chat about the first-ever Battle of the Paddle.
Apart from being one of the most influential brands in the sport, Quickblade has been one of SUP Racer's biggest supporters over the years (I actually lived at the QB factory in California for a few months). Jimmy and I have spent countless hours on roadtrips across the States and around Europe — he and his wife & kids have become like family to me. I take it as a compliment whenever someone asks if I'm biased towards the brand.
Thanks to all the Club SUP Racer members who submitted questions for the "AMA" — we could have made an entire hour-long episode just from Jimmy's response. I was actually going to cut this up into a couple of 90-minute podcasts but decided to just leave it in all its three-hour glory. This is a marathon episode, hope you enjoy!
/chris
Never miss an episode: Subscribe to Paddlecast on YouTube, Spotify and Apple Podcasts
---
WATCH PADDLECAST


Heads up: YouTube has a cool new feature that adds "chapters" or timestamps to the video. Very useful for long podcast episodes like this (it'll also help you skip my seven-minute intro monologue lol). You'll need to watch the video directly on youtube.com or via the mobile app to make use of this new feature.

[device](video not loading? watch on YouTube)[/device]

LISTEN TO PADDLECAST
[device](audio player not loading? listen directly on Spotify or Apple Podcasts)[/device]


SUBSCRIBE TO PADDLECAST
— YouTube
— Spotify
— Apple Podcasts

SUPPORT PADDLECAST (AND SUP RACER)
If you're enjoying the podcasts, I invite you to consider joining Club SUP Racer. You'll get early access to every podcast plus a few other members-only perks. You'll also be helping support the creative work of SUP Racer that I love to build and share with this great community of ours.
Click here to find out more about Club SUP Racer…

TIMESTAMPS
YouTube has a cool new feature that adds timestamps or "chapters" directly into the video (you need to watch the episode on youtube.com or via the mobile app to enable chapters).
Or if you're listening to the audio version, here's your Paddlecast #33 cheat sheet:
0:00 – intro
7:29 – Building the 'Yukon Canoe'
19:39 – Paddling in the 60s & 70s
27:52 – Marathon canoe racing
36:45 – What can SUP learn from canoeing?
39:13 – Sprint canoe racing/design
42:48 – The "Bat Board"
45:11 – Making paddles for Laird & Dave
47:45 – The origins of Quickblade
57:10 – Life as an Olympic athlete
1:00:55 – Canoeing vs SUP
1:04:06 – Would the Olympics be good for SUP?
1:09:15 – The first-ever BOP (2008)
1:14:56 – How has the sport changed over 10 years?
1:18:00 – 2009 Battle of the Paddle
1:21:44 – When the sport got too serious
1:25:30 – Seeking new adventures
1:30:40 – INTERMISSION
1:30:50 – Club SUP Racer "AMA" (Ask Me Anything)
1:31:02 – AMA: Aaron Hendriks (woodstrip/new designs/Tahiti)
1:42:51 – AMA: Tony Webster (influence of Larry Cain)
1:50:41 – AMA: Adam Tischler (blade angles)
1:57:45 – AMA: Jason Anderson (Trifecta vs V-Drive vs UV)
2:02:48 – AMA: Adrian Angell (design trends)
2:08:45 – The Spider-Man Paddle
2:10:50 – Dane DeBoer talks early days of SUP
2:28:10 – "Dory" racing with Dane DeBoer
2:34:02 – Dane DeBoer on Jim Terrell
2:35:15 – The woodstrip OC-1
2:48:18 – Closer look at the four-man 'Yukon Canoe'
2:56:09 – outro