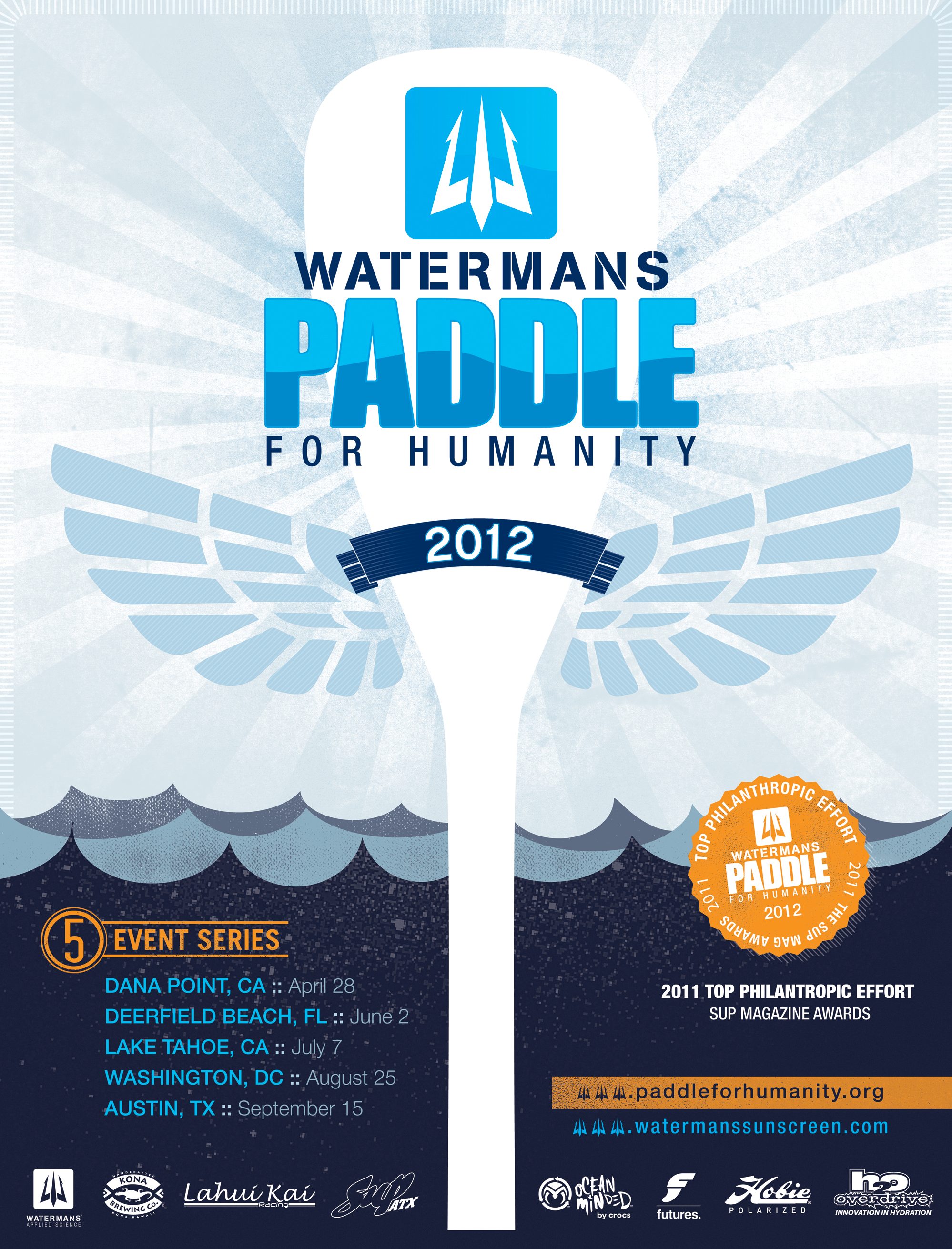 April 4, 2012
by Christopher Parker (@wheresbossman)
Paddle For Humanity Sets Up Big 2012 Race Series
Watermans Paddle For Humanity
Stand Up Paddle Race Series 2012
Dana Point, CA, April 28
Deerfield Beach, FL, June 2
Lake Tahoe, CA, July 7
Washington DC, August  25
Austin, TX, September 15
Race Format
Three races at each event:
– The 5km Olympic Challenge
— Standard short course race, with points going towards WPA rankings
– The DOT Challenge
— Complete as many one mile laps as you can in 60 minutes, all for charity
– The Chuck Patterson Signature 5-Lap Relay Race 
— Four one mile laps plus an extra "alternate" lap with random physical/mental challenges, depending on the location. Sounds a bit weird, and a bit different, but also pretty cool. So long as it doesn't involve an arm-wrestle contest with Chuck…
Official Site: PaddleForHumanity.org
*****
One of Stand Up Paddle racing's best known charity events, Paddle For Humanity, is looking set for a big 2012.
The crew behind the series, Watermans Applied Science, have been press releasing up a storm the past couple of weeks.
Firstly they upped the series to five events this year, with stops in Florida, Texas, DC and two in California.
Next up, Watermans announced that Mick DiBetta and Kelly Margetts (who we chatted to last week about the new Paddle Power Trainer) would be heading all the way from Aus to Florida for the Deerfield Beach race.
That was followed up by the news that stand up paddling's very own version of the Hulk, Chuck Patterson, would be headlining the entire series.
Finally the Paddle For Humanity events were given full World Paddle Association (WPA) sanctioned status, meaning they're more than just charity races and points will actually count for national/world championship qualification.
Sounds like it'll be a big year. Keep up with things the official Paddle For Humanity blog, and of course stay tuned to SUPracer for full results come race time!