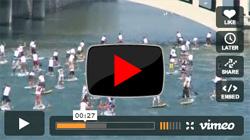 September 19, 2012
by Christopher Parker (@wheresbossman)
[VIDEOS] Open de Lyon SUP Race (France)
One of France's (and Europe's) biggest SUP races of the year went down in Lyon the weekend before last. The 2012 Open de Lyon SUP Race was held the 8th/9th September on the Rhone River in Lyon. After a Summer that saw Europe step things up and host a good half a dozen major stand up paddle races, the Open de Lyon was a great way to finish the season.
The event attracted 115 stand up paddlers, including many of Europe's top names. The races were held over four rounds with points combined to produce the overall champ. In the end it was Gaetene Sene who took out the men's title, Olivia Piana was untouchable in the women's, while Arthur Arutkin dominated the junior division (and took 4th overall).
Check out some video highlights below and also take a look at the full Open de Lyon SUP race recap and results thanks to GetUp SUP Mag (if you can't read French, click here for the English translation…).
*****
*****
Open de Lyon SUP Race Results (Top 50)
Nom = surname; Prenom = first name
M = men's; F = women's; J = juniors
M1, 2, 3, 4 = Race 1, 2, 3, 4
Rang = Overall placing