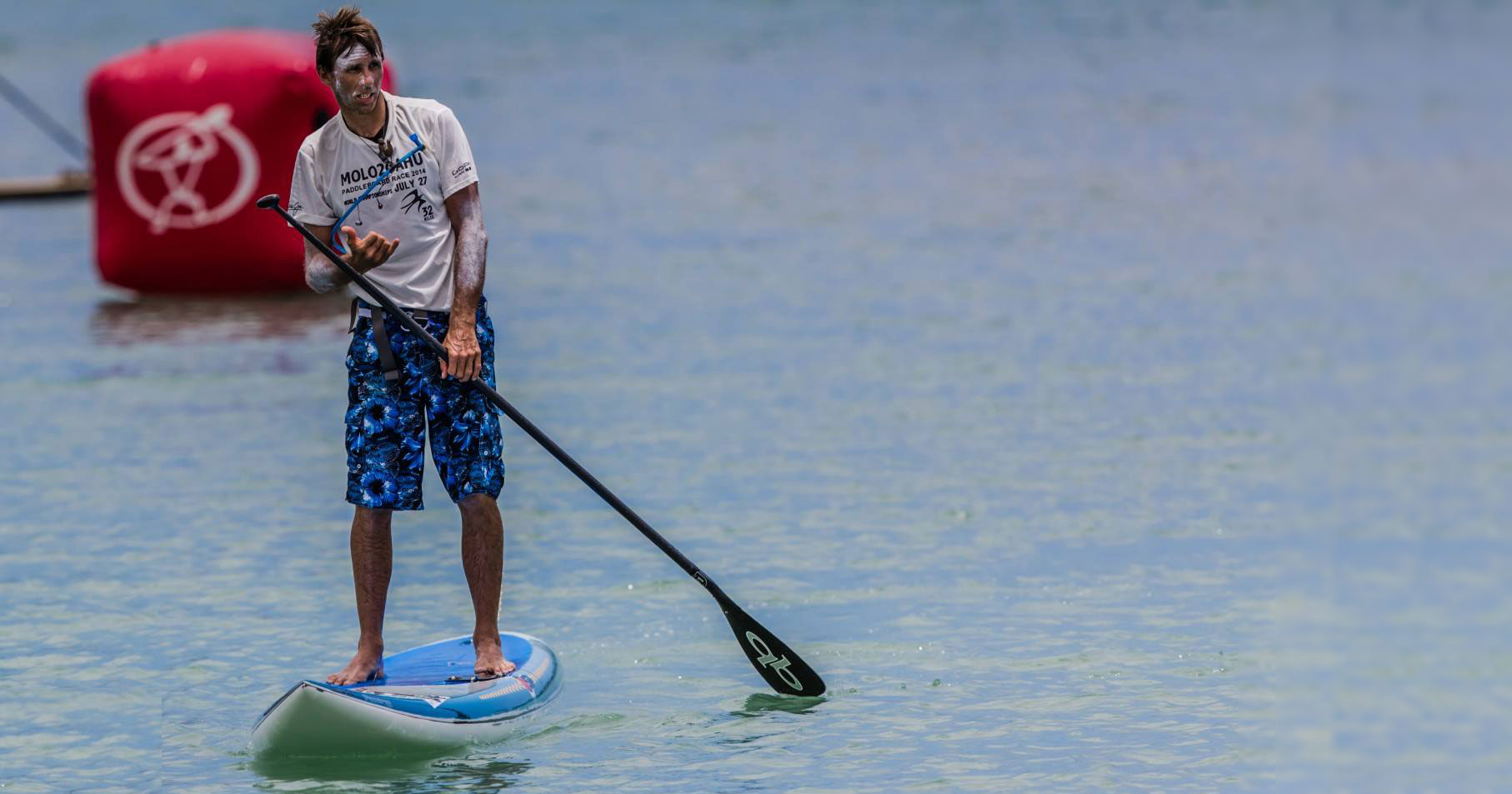 August 2, 2014
by Christopher Parker (@wheresbossman)
Celebrating Molokai: How SIC And Quickblade Dominated One Of The Biggest Races Of The Year

Who won the 2014 Molokai 2 Oahu Paddleboard World Championships? Connor Baxter and Sonni Hönscheid, right? (Plus Travis Baptiste with his insane performance in the stock class.) That's a pretty straightforward question and answer.
However there were two other winners at this year's Molokai that went a little unnoticed. And I'm not talking about paddlers, I'm talking about brands.
In the solo unlimited class, the most prestigious SUP division in one of the most prestigious SUP races in the world, two brands stood out: Quickblade Paddles and SIC boards. Actually they didn't just stand out, they downright dominated. QB and SIC were used by almost every single paddler that finished top 10, whether they were a team rider or not.
Though before I continue I just wanna make it clear: I don't have any problem with any paddler using any equipment from any brand. The men and women that paddle their hearts out in amazing races such as Molokai 2 Oahu deserve nothing but praise and respect.

But I do realise this whole thing about paddlers using equipment from other brands is a sensitive topic in our sport. We've always seen athletes use boards and paddles from brands they're not sponsored by, especially in Hawaii when the equipment becomes so specialised. But despite this being common practice, it's always been a little hushed up in the SUP community. Almost like it's a taboo or something.
But I don't think it should be a taboo, I think it should be a celebration.
A celebration of the best paddlers using the best equipment to compete in the best races.
I'm not sure how anyone could watch the epic duel between Connor Baxter and Travis Grant during the closing stages of this year's Molokai 2 Oahu and feel anything but pure admiration and respect for these two amazing ocean athletes.
I don't think there's anything wrong with these talented paddlers using whatever equipment they like, even if they're sponsored by another brand. At the same time, I see absolutely no problem with those brands (eg. SIC and Quickblade) claiming credit where its totally due. If you make a board or a paddle and the best athletes in the world go out of their way to use it (during one of the biggest races on the planet no less) then you'd be pretty stoked and you'd wanna let the whole world know about it.
So I don't see any problem at all here. The only real issue is when an athlete's primary sponsor claims the credit, despite their team rider having used a different board or paddle. Though on the flipside, those primary-sponsors support and pay for their athletes to get to the start line, which is all part of the winning equation. So it's a grey area.
But either way, let's not make it an argument, let's make it a celebration.
Best paddlers. Best equipment. Best races on the planet.

Celebration and respect is exactly what Jim Terrell from Quickblade had to offer, writing this very heartfelt message after seeing 8 of the top 10 guys in Molokai 2 Oahu using one of his Quickblade paddles (I believe Connor, Travis, Scott, Kai, Dave, Livio, Kaeo and Armie all chose to use QB last weekend).
Just like Mark Raaphorst from SIC, Jimmy is dedicated to creating the best paddles he can and takes it as a huge compliment that the world's fastest and most famous athletes choose to use his equipment, even if they're not officially team riders.
(Oh and on a random side note: It's kinda ironic that Dave Kalama was beaten by a couple of guys using the very paddle he helped create 😉
Here's Jim Terrell's message in full:
"I would like to share with you what drives me to continually make the best paddles I possibly can for myself and the QB Team. From the time I was a young boy I loved building with blocks and doing art projects with my two older sisters Susan and Judy. My mom, Gene, even recalls how I could be entertained for hours building my creations, before tearing them down and building a bigger or better one.

I was always a competitive kid and loved the spirit of competition. Even pumpkin carving at Halloween time became a contest between my sisters and I to see who could create the coolest jack-o-lantern. You could say I acquired most of my building skills from watching my dad, Ross, build all kinds of things when I was a boy. Everything from creating the five-sided garage that utilized every square foot of our odd shaped yard, to the wood stripped canoes and paddles that we raced with.

But more importantly than all this, what I learned was that it is more important to build a good character with honesty and integrity and to build friendships all around you along the way. My mom and dad instilled this in me by setting a good example. I was taught to win humbly and to be defeated graciously, to be thankful for our talents and give praise to others talents and accomplishments as well. I have been so fortunate to have met so many great role models along the way and to develop the best friendships a guy could have. I only wish I had more time to spend with each and every one of you.

On this day I am so very proud of all the competitors who used a Quickblade paddle in the Molokai 2 Oahu race. I can only hope that they chose a Quickblade because they thought it would give them the best equipment on the day. For those of you on the QB Team, I am more proud of how well you fought and how well you tried out there to do your very best. And I most importantly hope that you had fun doing it. I know it's a damn hard race out there and please know that I try damn hard to make you the best stuff I can, so that you can perform well. And I enjoy doing it.

It's days like today that make me want to get up early and get back to work, tearing it all down and starting over again to make better paddles for all of you to use in next year's Molokai. So congratulations to each of you, enjoy your accomplishment today and know that all of us at QB are very proud of you."

Likewise the crew at SIC were stoked to see so many of the top finishers competing on their custom or production unlimited boards. In the men's solo unlimited division, only Travis and Kai were using a different brand, while I believe 9 of the top 10 women were paddling an SIC.
Naturally the SIC guys were more than happy to tell the world about it (and rightfully so), sending out the below press release a couple of days ago. 
I get the feeling Mark Raaphorst has similar motivations to Jim Terrell: Trying to create the best stand up paddle equpiment he possibly can and taking it as a huge compliment when other team riders choose to paddle something he created.
This past Sunday was the Molokai to Oahu Paddle Board World Championships. The conditions were extremely challenging for the over 200 competitors in the stretch of water between Molokai and Oahu known as the "Channel of Bones." After 32 miles of paddling, it was an SIC Bullet 17 that came across the line first, with the time of 4:08:08. This broke the current record set on the exact same Bullet 17 three years prior.

"It is very flattering that the best paddlers in the world leave their sponsors boards to paddle SIC boards for all the open ocean and downwind races," said Braly Joy, SIC Director of Marketing. "To be at the pule' (Hawaiian Prayer) in the morning of a race like M2O and see that almost every competitor is on an SIC board at the most prestigious paddle event in the world, is something that all of us at SIC are all very proud of."

Along with the Bullet 17 setting the new world record, all but two of the top 10 men were on Bullet 17's. It was not just the men that were ahead of all the competition. All of the top finishing women were paddling on SIC Bullets; Sonni Honshied, Jenny Kalenbach and Penelope Strickland finished first, second and third respectively. The rest of the top 10 finishing women were also on SIC boards.
So there you go.
Best paddlers. Best equipment. Best races.
It's a celebration.
Because there's nothing quite like Molokai…