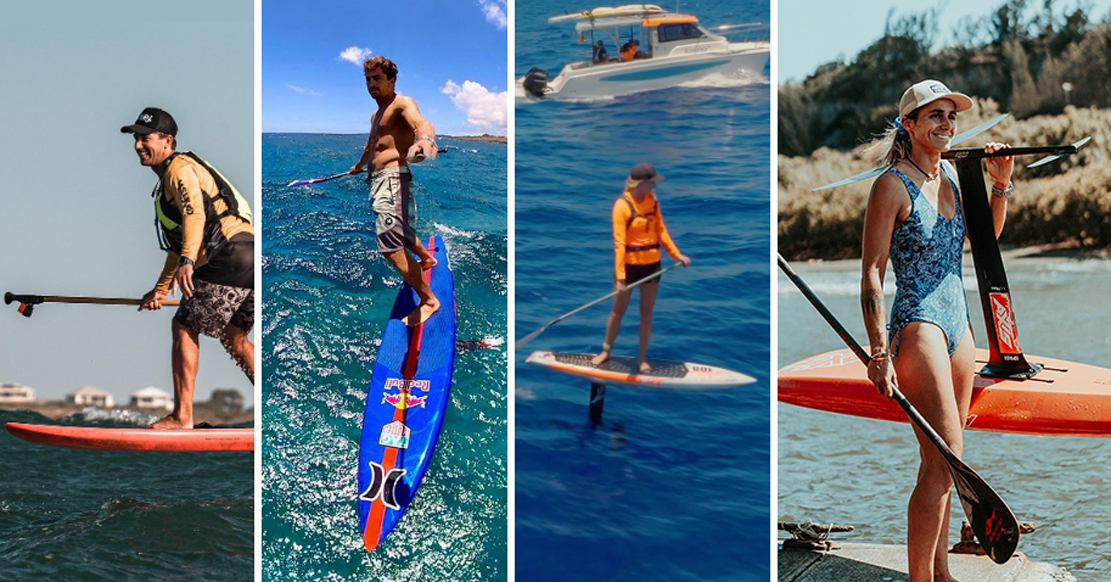 July 30, 2023
by Christopher Parker (@wheresbossman)
Molokai preview: The holiest day on the paddling calendar is back (and apparently it's a foil race now)
above: Jimmy, Kai, Annie and Olivia
And on the seventh day he paddled.
Over the years, no event has captured paddlers' imagination quite like Molokai 2 Oahu. The mythical, 32-mile crossing between these fabled Hawaiian islands holds a level of prestige bordering on the spiritual. The Ka'iwi Channel – the "Channel of Bones" – was already steeped in history before this event began in 1997 and has only grown in stature since.
There was Jamie Mitchell's unrivalled "Decade of Dominance," Dave Kalama's pioneering performances, the Connor/Kai rivalry, the humble Travis Grant trumping them all, Queen Sonni's reign, Terrene and the Aussies setting new standards, the battle between nations; the battle between manufacturers. The battle with the Channel itself. Molokai is truly an epic. Not even the sport-defining Battle of the Paddle could match its status as The One.
Then covid happened, M2O didn't run for three years and it began to be talked about in muted whispers like it might never happen again. But now it has arisen. Now, the holiest day on the paddling calendar is back. Though now it looks a little different…
While the M2O format is exactly the same – race from the west coast of Molokai to the eastern side of Oahu across a treacherous body of water – the mixture of divisions has been upended. Gone are the days when SUP – and before that prone – was the marquee division. Molokai is now a foil race. We were starting to see that four years ago but it's now blindingly obvious that foiling is the future.
Interestingly, the traditional prone paddleboarding division hasn't suffered in terms of numbers: more than half the 167 entires will be paddling laying down (or, if they're Aussies, on their knees). It's the SUP racing that's been gutted: just 22 entries or a mere 13% of the field. The remaining 57 entries will literally be flying from Molokai to Oahu as foiling continues to grow towards being the most-dominant form of human-powered ocean racing in the world.
So I guess you could say the hype is with foiling, the heart with prone and that there's very little left for SUP racing.
But despite this website being called "SUP Racer" I kind of like that foiling has killed SUP and not prone. Molokai is prone. It always was and hopefully always will be the backbone of this event. And foiling has long since killed SUP racing in Hawaii anyway, so this comes as no surprise. The old days of 17 footers gliding down the coast have long since been replaced with boards a third of that length that are almost twice as fast.
Interestingly, one of the biggest debates around Molokai is not between craft but within foiling itself: Wing foil vs SUP foil. Will the first foil across be the channel be considered the true winner or are the two divisions totally separate? SUP foiling seems closer to SUP racing whereas wing foiling feels like a byproduct of sailing & windsurfing. But which will actually be faster? On paper you'd think wing foils would have it but that's only true in flatter waters. When there's big ocean swells the SUP foilers usually have an advantage. And the fact most of the big foiling names are opting to hold a paddle instead of a wing probably give us the answer already…
The other big debate is around what size foil to use. Indeed, foiling has been something of an arms race in recent years as the sport has exploded and the dial of innovation turned up to 11. Top contenders have been known to quickly cover their foils after they finish a training run, not wanting wanting potential rivals even glimpsing their setup, while new brands are constantly popping up. It's almost like Formula 1 where the constructor will take nearly as much pride as the winning competitor.
The only thing I know for sure is that another chapter will be added to the grand history of this extraordinary race.
With that in mind, here are some of the names to watch out there tomorrow.
---
Molokai 2023: The Biggest, Fastest and Most Interesting Names
---
James Casey – SUP foil
The defending SUP racing champion (2019) has swapped his 17-footer for a 6-footer. Jimmy has been a pioneer of foiling at home in Australia and around the world and surely ranks as his country's finest flying paddler. He'll be aiming to join Kai Lenny as the only person to win both paddling and foiling, and he'll have to beat Kai to do it.
But he'll also have beat the young guns who are lighter, hungrier and, judging by recent results, quite simply faster. The sport of foil racing is only a few years old but we're already seeing a generational battle. It's exciting.
I highly recommend you follow @james__casey for Jimmy's rolling updates from Hawaii ("Stoked I beat Kai but the young guns beat both of us")
---
Kai Lenny – SUP foil
Arguably the best all-round surfer on the planet, Kai has come a long way from his humble days as a SUP prodigy. The big-wave hero and celebrity-befriender almost single-handedly started the foiling revolution when he chopped the end off his race board, attached an early prototype and flew down the coast of Maui for a video that went truly viral in April of 2016.
Kai will have his work cut out against the young guns but this guy has even more self-belief than he does Instagram followers. And he's got a million followers…
---
Kai and Jimmy talk Molokai…
---
The Foiling Young Guns
– Kane/Gibbons/Edo
Tellingly, Jimmy (4th place finish) and Kai (5th) were both bumped off the podium at the big M2O warm-up race, M2M (Maui 2 Molokai), two weeks ago. The young gun trio of Kane de Wilde, Andrew Gibbons and Edoardo Tanas stole the podium in a sign that this young sport is already seeing a second wave of talent begin to dominate.
And they'll all be racing again tomorrow.
I don't know a lot about these guys though I do know M2M is generally more foil-friendly than M2O, meaning results could easily differ. But man, that result sure feels ominous…
---
Olivia Piana – SUP foil
After Queen Annabel* ceded her throne half a decade ago, Olivia was one of the top challengers alongside the likes of Sonni and Fiona in the world of women's SUP racing. Indeed, Olivia was ranked #1 the last time I did a SUP Racer World Rankings — back in 2019, the same year Molokai was last held. And that's about the last time Olivia took SUP racing seriously, too. Since then, the Frenchwoman – like so many top SUP athletes – has fallen head over heels in love with foiling and never looked back. An early competitor on the European wing foiling scene, it looks like Olivia will be in the SUP foil division for Molokai. And I'm pretty sure she'll be a contender.
(*Annabel was actually slated to foil Molokai too but her name is no longer on the start list.)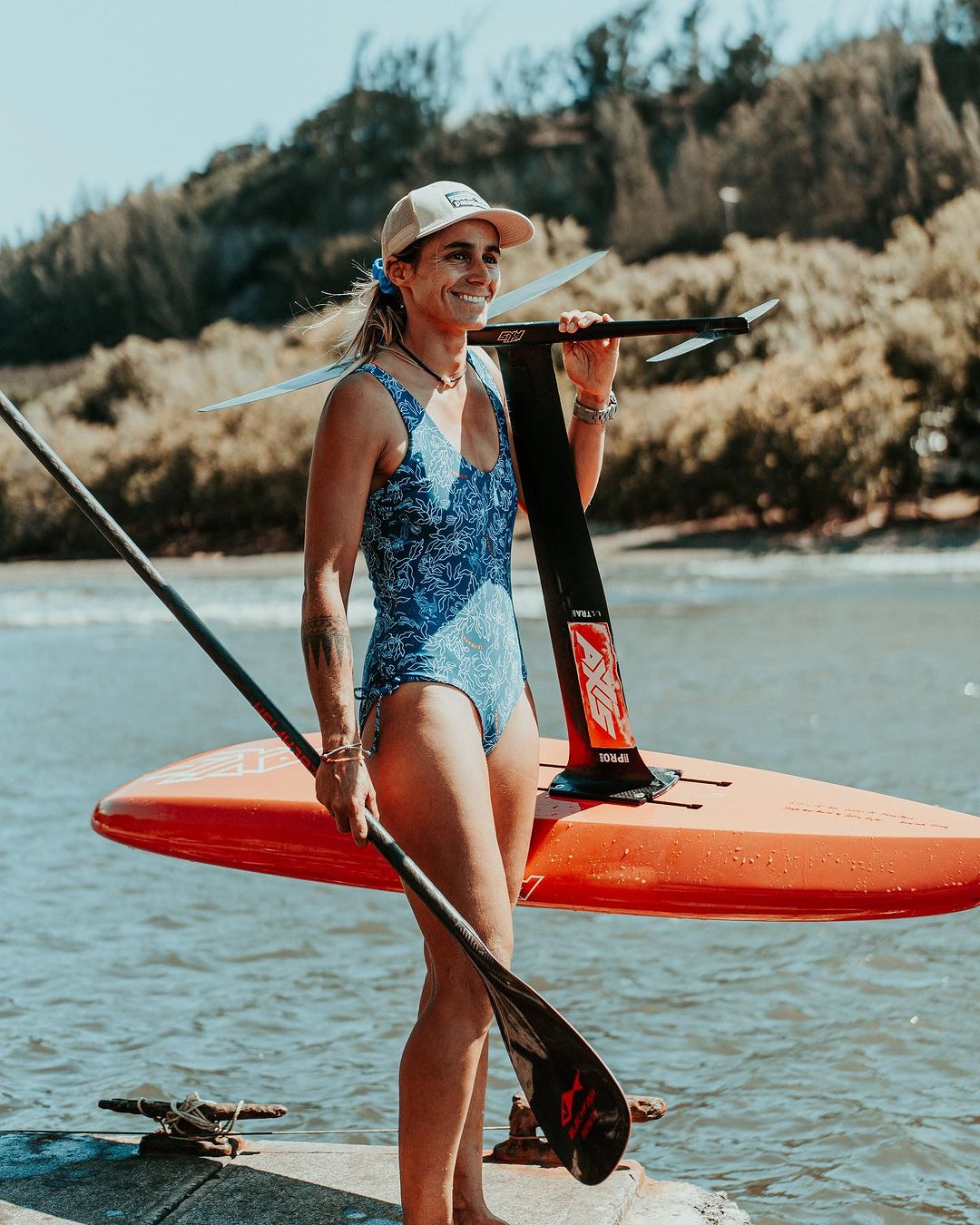 ---
Annie Reickert – SUP foil
Just don't call her the female Kai Lenny… Annie was a famous face in the SUP racing world five years back but went on to bigger things. Literally. She's become one of the premiere female big wave surfers while also helping pioneer the foil racing movement. Annie is a star, and she'll be hard to catch on Sunday.
---
Andrea Moller – SUP foil
One of the greatest paddlers of all-time, Andrea still holds the elite-level SUP racing winning-streak world record for her extraordinary seven-straight OluKai titles. She also won Molokai standing up in 2011, so the Brazilian-turned-Maui-local knows these waters well.
---
Matt Nottage – SUP foil
Few paddlers had the raw, unvarnished talent that the enigmatic Matt Nottage possessed. Over a couple of brief seasons circa 2017/2018, Nottage lit the sport on fire and enjoyed a meteoric rise that saw him on both Team Starboard and many an international podium. But as quickly as he arrived, he walked away and enjoyed the competition-free life. I've got no idea where he'll finish, but it makes me smile just to see Nottage standing on the start line again.
---
Dave Kissane – SUP foil
Australia's ocean paddling pioneer, Dave "Kissa" Kissane was one of the first international paddlers to race the traditional Hawaiian Downwind Month. When SUP Racer started in 2011, Kissa was one of the most-mentioned paddlers. He's pushing 50 but still got it.
---
Zane Schweitzer – wing foil
One of the original "Maui Boys" alongside the likes of Connor and Kai, Zane was a superstar in the early days of stand up paddling, both racing and surfing. In the past half a decade he's been one of the many OG athletes to go fully-fledged foil racer. Probably won't be able to keep up with the lightweight kids but will add plenty of flair at the very least.
(Is it just me or does Molokai 2023 feel like a reunion tour?)
---
Finn Spencer – wing foil
Jeffrey Spencer – SUP foil
A few years ago the Spencer boys seemed like the usurpers to Kai Lenny's foiling throne. They were younger, lighter and hungrier to win. Then covid happened and Molokai disappeared, robbing the brothers of a prime chance to claim the ultimate prize. But presuming they're even better than they were a few years ago they'll be worth keeping an eye on tomorrow.
---
Mo Freitas – SUP
I stood on the beach and watched Mo Freitas win gold at the ISA Worlds in Denmark six years ago when he was hungover. It was one of the most incredible performances I've seen in the 13 years I've been following this sport. Just 36 hours earlier he'd been partying in a World War II bunker but still had the agility to defeat Connor, Casper and pretty much all of the world's best in what was the last great of the ISA golden years circa 2015-2017. He also won the PPGs and the PRGs. Mo was a freak.
Mo has plenty of experience in the Ka'iwi Channel and will be a hot favourite to win the SUP division. But just like with Nottage, I'm simply happy to see this character back on the start line.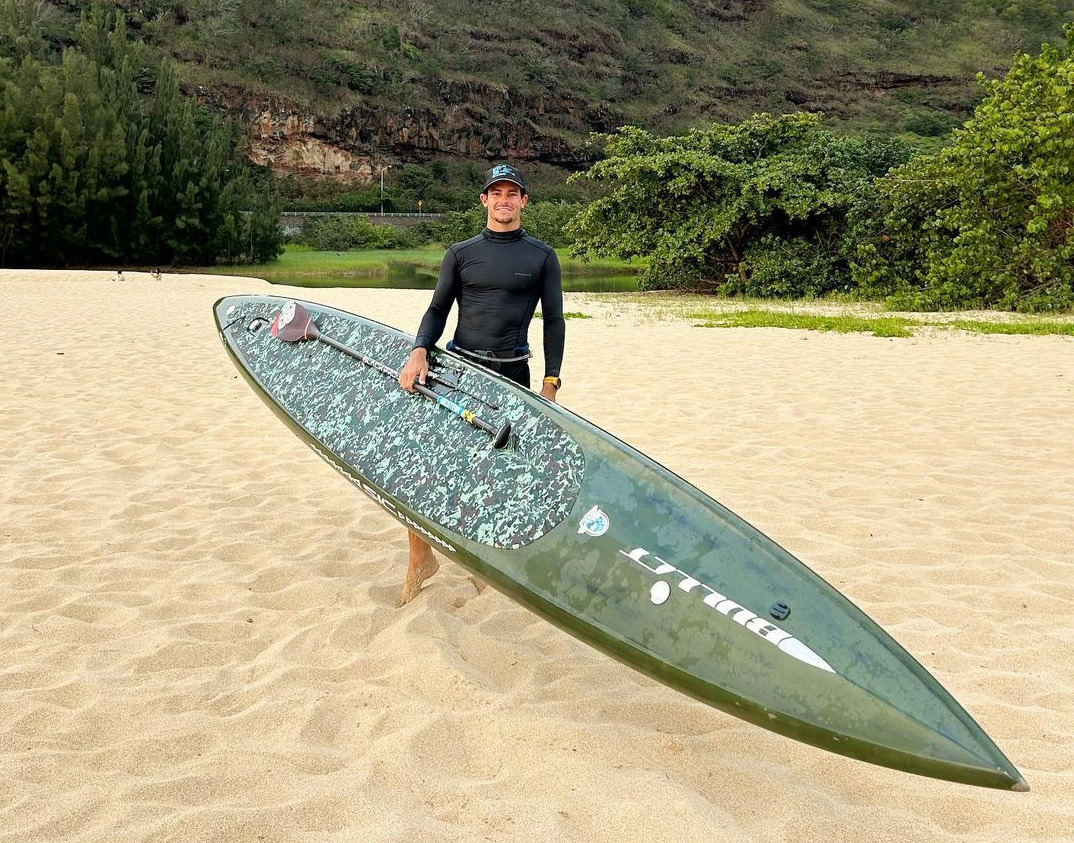 The 17 footers ain't dead yet! Mo ready for this year's crossing (via
@_mofreitas
)
---
Mick di Betta – prone
The very first winner of Molokai way back in 1997, Mick has been a pioneer of both prone and stand up paddling over the past few decades. He'll be competing in the 60+ age division but such is his ageless work ethic that Mick will be a genuine chance at the overall podium. Living history.
---
Jackson Maynard – prone
The Aussie may not be a famous name in the SUP world (though he has dabbled), but in the prone paddling community everyone knows Jacko. He's one of the top-performers in Australia — and prone is basically the national sport in Oz — and will start one of the hot favourites in this year's crossing.
For all the hype of foiling, prone paddleboarding is the traditional heart and soul of Molokai and winning it still carries a mountain of prestige.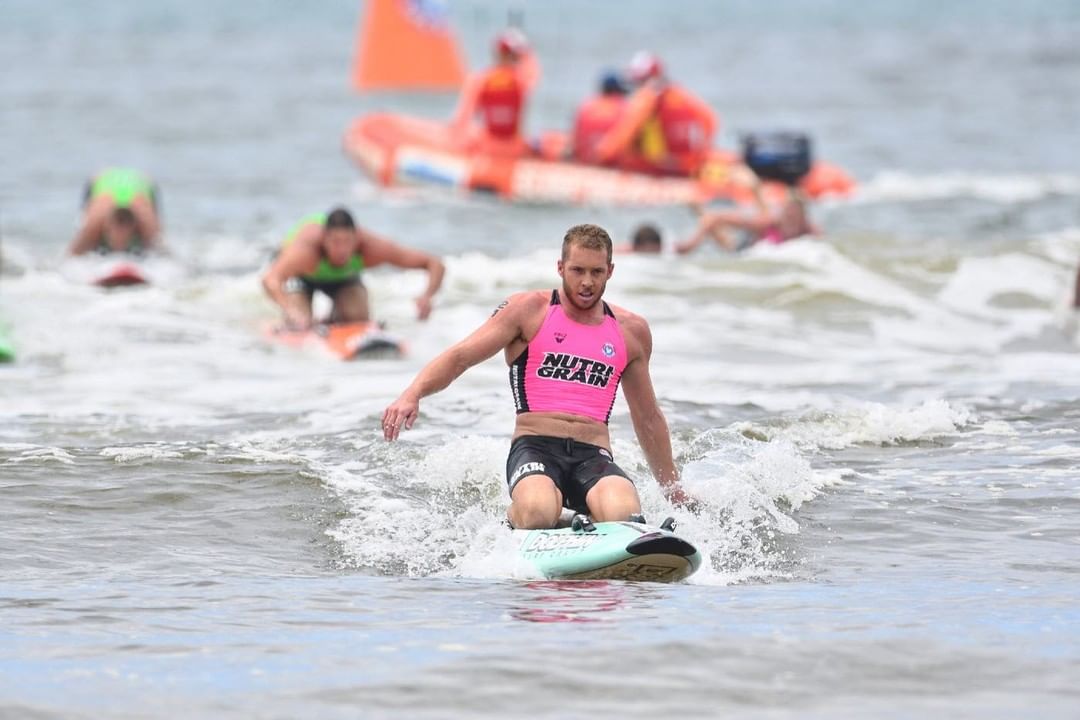 Australia looks set to continue its dominance of the traditional Molokai division (via
@jacksonmaynard
)
---
Team Kerbox – prone
Those who followed SUP Racer in the early days will remember Kody Kerbox. As one of the "Maui Boys" alongside Kai/Connor/Zane/etc that blazed a trail through the golden years of the sport, Kody is both a phenomenal paddler and surfer. His dad, Buzzy, was probably even more famous in his day – one of the pioneers of the most famous big wave spot in the world, Pe'ahi (Jaws), and a veteran of Molokai himself. They'll be joined by Kody's younger brother, Kyler, for a Sunday family outing.
---
Team Conlogue – prone
Courtney Conlogue is one of the best surfers the U.S. has ever produced. Twice a runner-up for the WSL surfing world title, Conlogue follows in the paddling footsteps of other famous surfing names such as Joel Parkinson in crossing the Ka'iwi Channel and adding a certain amount of media buzz to proceedings.
---
Kevin Horgan – SUP
A name you won't be familiar with unless you're a student of SUP history. Kevin Horgan won the first two official Molokai 2 Oahu SUP divisions in 2006 and 2007. I say first "official" winner because paddlers had been unofficially racing on SUPs since circa 2004, but Kevin is the one in the history books. Brings a smile to my face every time I see him enter the race again.
---
You can view the full Molokai start list here.
Molokai 2 Oahu begins early Sunday morning, July 30, Hawaii time. That's Sunday evening Europe, very early Monday morning Australia.
Follow the official @molokai2oahu insta for all the updates.
Also keep some tabs on our good friend Mike from @standupmagazin for on-the-spot updates all day tomorrow.
The New Book of Molokai. So good to see this race back.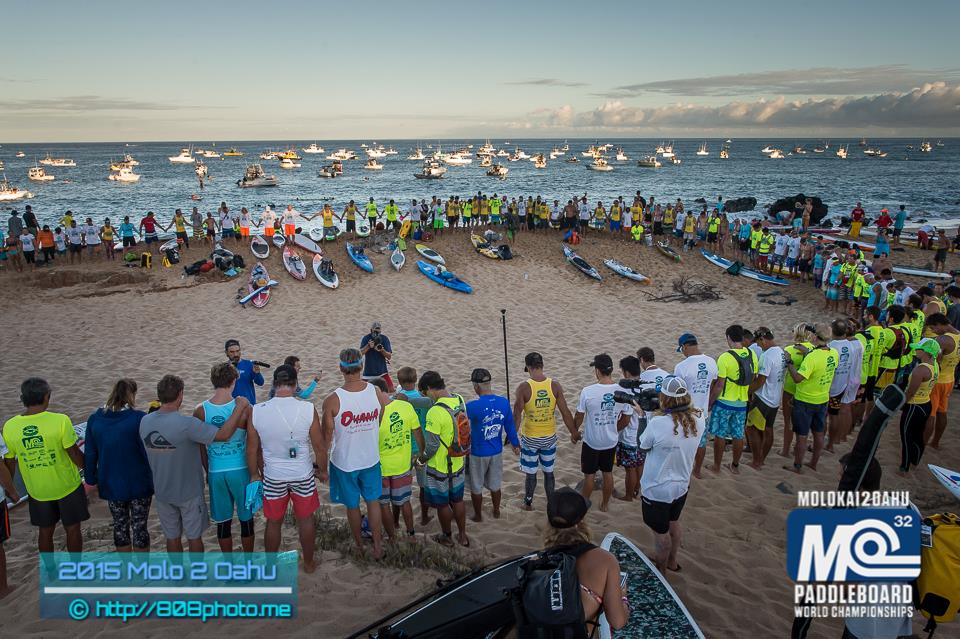 There's nothing quite like Molokai…