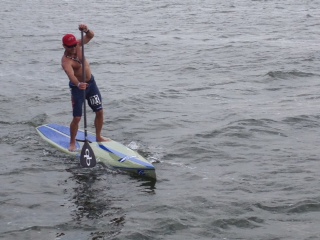 July 17, 2012
by Christopher Parker (@wheresbossman)
[RESULTS] Midwest Standup Paddle Festival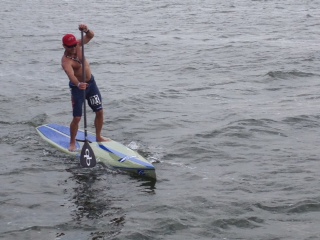 Results are in from the 2012 Midwest Standup Paddle Festival, held over the weekend in Madison, Wisconsin.
Despite being a long way from the ocean (and the traditional home of SUP racing), the event drew plenty of big names, including Jim Terrell and Dan Gavere, plus a whole bunch of local paddlers who were eager to race.
In a great sign for SUP racing in the Midwest, almost 100 competitors lined up for the Elite 6 mile, Open 6 mile and Recreational 2 mile races.
In the 6 miler it was Terrell who took the win on his 14′ board, two minutes ahead of Gavere, who was paddling in the 12'6″ class, with Ronnie Ayres in third. Meanwhile in the women's race Mary Radtke took line honours ahead of Vanina Walsh.
We'll have pics of the action in Wisconsin shortly, but in the meantime check out the full race results below…
*****
2012 Midwest Standup Paddle Festival


6 Mile Race RESULTS

Click "Class" or "Division" to sort results by Board Class, Gender and Age Division
Click "#" to reset the results

| # | Name | Time | Class | Class # | Division | Div # |
| --- | --- | --- | --- | --- | --- | --- |
| 1 | Jim TERRELL | 1:10:11 | 14' | 1 | Elite 49&U | 1 |
| 2 | Dan GAVERE | 1:12:03 | 12'6" | 1 | Elite 49&U | 1 |
| 3 | Ronnie AYRES | 1:12:06 | 14' | 2 | Elite 49&U | 2 |
| 4 | Nick BOWERS | 1:12:24 | 14' | 3 | Open 49&U | 1 |
| 5 | Matthew JOHNSON | 1:12:49 | 14' | 4 | Open 49&U | 2 |
| 6 | Robert PLANKENHORN | 1:13:33 | 14' | 5 | Open 50+ | 1 |
| 7 | Ron ST JOHN | 1:14:15 | 14' | 6 | Open 50+ | 2 |
| 8 | Rob PATTON | 1:14:21 | 14' | 7 | Open 49&U | 3 |
| 9 | Mike BENNETT | 1:14:52 | 14' | 8 | Open 49&U | 4 |
| 10 | Darian HILDRETH | 1:15:48 | 14' | 9 | Open 49&U | 5 |
| 11 | Ken LAMBRECHT | 1:15:54 | 14' | 10 | Open 50+ | 3 |
| 12 | John BECKER | 1:16:15 | 12'6" | 2 | Elite 50+ | 1 |
| 13 | Alex LINNELL | 1:16:36 | 14' | 11 | Elite 49&U | 3 |
| 14 | Matt REAUME | 1:17:11 | 14' | 12 | Open 49&U | 6 |
| 15 | Matt FRANKE | 1:17:32 | 14' | 13 | Open 49&U | 7 |
| 16 | Cody HUF | 1:20:46 | 12'6" | 3 | Elite 49&U | 2 |
| 17 | Danny MONGNO | 1:20:53 | 12'6" | 4 | Elite 49&U | 3 |
| 18 | Matt LENNERT | 1:21:05 | 14' | 14 | Elite 49&U | 4 |
| 19 | David SCHUSTER | 1:23:06 | 14' | 15 | Elite 49&U | 5 |
| 20 | Maurice ANTHON | 1:23:08 | 14' | 16 | Open 49&U | 8 |
| 21 | Scott PAULI | 1:24:22 | 14' | 17 | Open 49&U | 9 |
| 22 | Christoph HARTTUNG | 1:26:47 | 14' | 18 | Open 49&U | 10 |
| 23 | Zak WINKLER | 1:29:27 | 14' | 19 | Open 49&U | 11 |
| 24 | Steve HIRN | 1:31:11 | 14' | 20 | Open 49&U | 12 |
| 25 | Mark BUENZ | 1:31:33 | 12'6" | 5 | Open 50+ | 1 |
| 26 | Kip HOFFMAN | 1:31:40 | 14' | 21 | Open 49&U | 13 |
| 27 | Ed PIERCE | 1:32:47 | 14' | 22 | Elite 50+ | 1 |
| 28 | Chris BANK | 1:33:12 | 12'6" | 6 | Open 49&U | 1 |
| 29 | Dimitry BURUKHIN | 1:33:14 | 14' | 23 | Open 49&U | 14 |
| 30 | Jimmy BLAKENEY | 1:34:30 | 12'6" | 7 | Open 49&U | 2 |
| 31 | Michael BUGNI | 1:34:36 | 14' | 24 | Open 50+ | 4 |
| 32 | Philip RAMSTACK | 1:34:42 | 14' | 25 | Open 49&U | 15 |
| 33 | Mary RADTKE | 1:35:13 | F12'6" | 1 | Open 49&U | 1 |
| 34 | Bruce REEK | 1:35:36 | 14' | 26 | Open 50+ | 5 |
| 35 | Kevin PHILLIPS | 1:36:54 | 12'6" | 8 | Open 49&U | 3 |
| 36 | Michael CARPENTER | 1:38:10 | 14' | 27 | Elite 49&U | 6 |
| 37 | Bill LINSMEYER | 1:38:11 | 12'6" | 9 | Open 49&U | 4 |
| 38 | Vanina WALSH | 1:42:51 | F12'6" | 2 | Elite 49&U | 1 |
| 39 | Tyler HUF | 1:42:55 | 12'6" | 10 | Open 49&U | 5 |
| 40 | Karl EUGSTER | 1:43:56 | Surf | 1 | Open any | 1 |
| 41 | Mark GREINERT | 1:51:19 | 12'6" | 11 | Open 50+ | 2 |
| 42 | Nicholas HEIM | 1:59:29 | 12'6" | 12 | Elite 49&U | 4 |
| 43 | Suzen COOK | 2:01:39 | 12'6" | 13 | Open 50+ | 3 |
| 44 | Sohyun BOO | 2:02:09 | 14' | 28 | Open 49&U | 16 |
| 45 | Samantha CARLSON | 2:05:21 | F12'6" | 3 | Open 49&U | 2 |
| 46 | John AREND | 2:06:20 | 12'6" | 14 | Open 49&U | 6 |
| 47 | Robyn BUENZ | 2:06:35 | F12'6" | 4 | Open 49&U | 3 |
| 48 | Randy FAHRENKROG | 2:12:38 | 12'6" | 15 | Open 50+ | 4 |
| 49 | Mike GRAF | 2:26:48 | 12'6" | 16 | Open 50+ | 5 |
| 50 | Karen DUCHARME | 2:28:58 | 12'6" | 17 | Open 50+ | 6 |
| 51 | Leslie MACLIN | 2:31:00 | 12'6" | 18 | Open 50+ | 7 |
*****
2 Mile Race RESULTS
Click "Class" or "Division" to sort results by Board Class, Gender and Age Division
Click "#" to reset the results

| # | Name | Time | Class | Class # |
| --- | --- | --- | --- | --- |
| 1 | Maurice ANTHON | 0:29:33 | Men's Surfboard (any) | 1 |
| 2 | Evan STONE | 0:30:39 | Men's 12'6" (49&U) | 1 |
| 4 | John SWIATOWIEC | 0:31:29 | Men's 12'6" (49&U) | 2 |
| 3 | Carrie KIRKPATRICK | 0:31:29 | Women's 12'6" (49&U) | 1 |
| 5 | Ryan BAILEY | 0:31:33 | Men's Surfboard (any) | 2 |
| 6 | Erich RICHEY | 0:31:54 | Men's Surfboard (any) | 3 |
| 7 | Justin MCCLELLAN | 0:32:08 | Men's 12'6" (49&U) | 3 |
| 8 | Bill BECKER | 0:32:30 | Men's Surfboard (any) | 4 |
| 9 | Chris HUGHES | 0:32:38 | Men's 12'6" (49&U) | 4 |
| 10 | Leslie TAYLOR | 0:33:35 | Women's 12'6" (50+) | 1 |
| 11 | Jim MCCLELLAN | 0:33:47 | Men's 14' (49&U) | 1 |
| 12 | Tim MCKENNA | 0:33:48 | Men's 12'6" (49&U) | 5 |
| 13 | Adam KING | 0:33:50 | Men's 14' (49&U) | 2 |
| 14 | Christian BECK | 0:34:00 | Men's 14' (49&U) | 3 |
| 15 | Jonas SCOTT | 0:34:35 | n/a | n/a |
| 16 | Chad BOECKMAN | 0:35:42 | Men's 12'6" (49&U) | 6 |
| 17 | Bill GRUNOW | 0:36:46 | Men's Surfboard (any) | 5 |
| 18 | Andrew YEAGER | 0:37:15 | Men's 12'6" (49&U) | 7 |
| 19 | Bob DIEHL | 0:37:19 | n/a | n/a |
| 20 | Michal VANDYKE | 0:38:43 | Men's 12'6" (49&U) | 8 |
| 21 | Stan LINNELL | 0:39:43 | Men's Surfboard (any) | 6 |
| 22 | Natasha LUTES | 0:40:00 | Women's 12'6" (49&U) | 2 |
| 23 | Tom GRIST | 0:40:24 | Men's Surfboard (any) | 7 |
| 24 | Jenny RAY | 0:40:36 | Women's 12'6" (49&U) | 3 |
| 25 | Josh BOLL | 0:41:11 | Men's 12'6" (49&U) | 9 |
| 26 | Tanya QUINT | 0:41:38 | Women's Surfboard (any) | 1 |
| 27 | Jennifer MCCLELLAN | 0:42:39 | Women's 12'6" (49&U) | 4 |
| 28 | Jeff KLASMEIER | 0:42:48 | Men's 12'6" (49&U) | 10 |
| 29 | Tyler MCKENNA | 0:43:34 | n/a | n/a |
| 30 | Allen HUGHES | 0:43:47 | Men's Surfboard (any) | 8 |
| 31 | Susan LEE | 0:44:46 | Women's 12'6" (50+) | 2 |
| 32 | Becki KUCHENBERG | 0:44:50 | Women's 12'6" (49&U) | 5 |
| 33 | Stephanie RICHEY | 0:46:23 | Women's Surfboard (any) | 2 |
| 34 | Brittany WEINAND | 0:46:35 | Women's Surfboard (any) | 3 |
| 35 | Leslie BOLL | 0:49:08 | Women's 12'6" (49&U) | 6 |
| 36 | Katie MCKENNA | 0:50:42 | Women's Surfboard (any) | 4 |
| 37 | Tami ROBERTS | 0:51:00 | Women's 12'6" (50+) | 3 |
| 38 | John LOCKWOOD | 0:53:45 | Men's 12'6" (49&U) | 11 |
| 40 | Adam HAYES | 0:59:30 | Men's 12'6" (49&U) | 12 |
| 39 | Heather HAYES | 0:59:30 | Women's 12'6" (49&U) | 7 |
| 41 | James DAVIS | 2:10:22 | Men's 14' (49&U) | 4 |