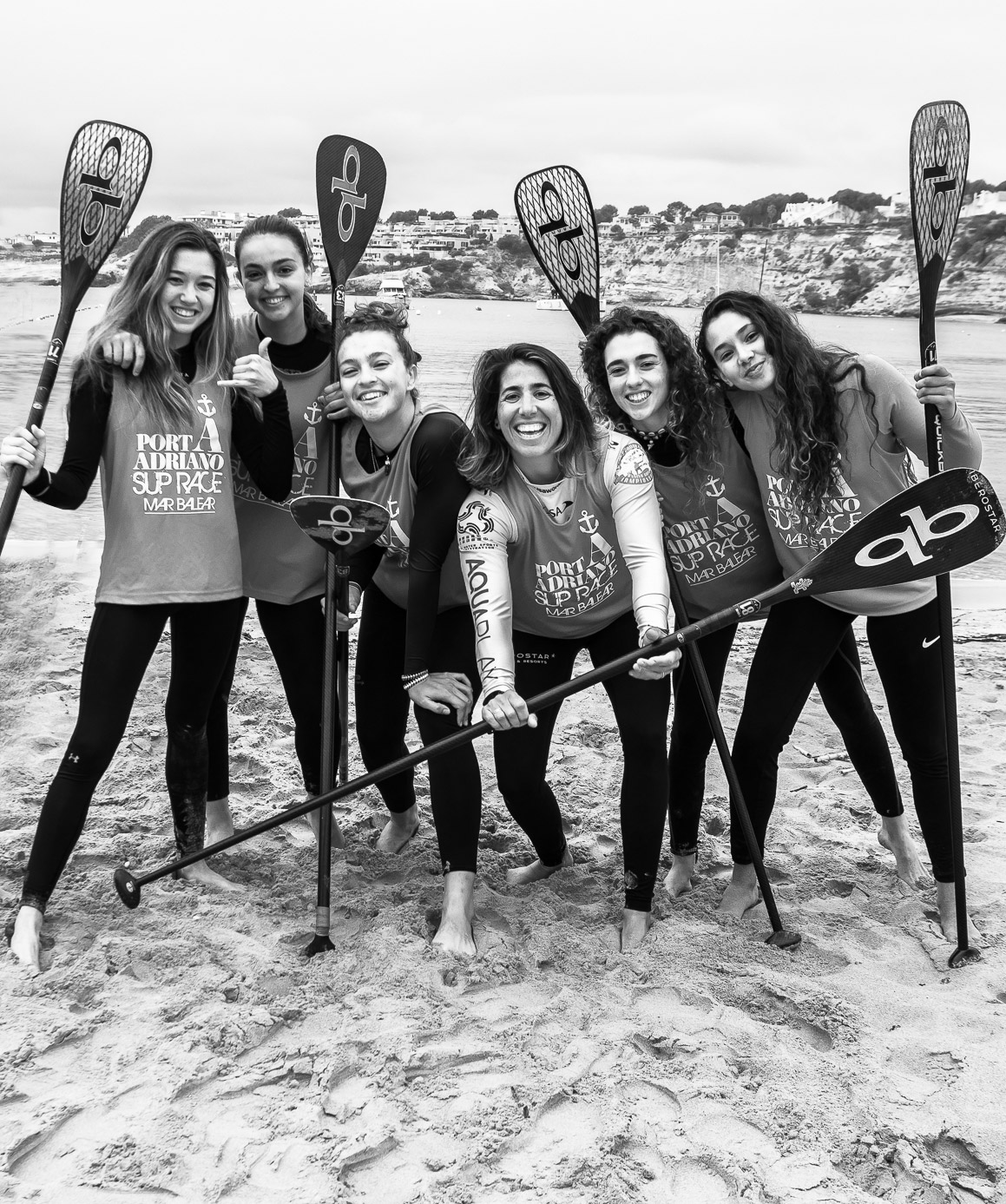 May 23, 2022
by Christopher Parker (@wheresbossman)
Mallorca's Mar Balear: The little club full of big hearts
I didn't know much about the Spanish island of Mallorca when I first arrived in 2013. I'd only booked my flight 24 hours earlier (typical), and all I'd heard was "Stay away from Magaluf," the wild British party town whose reputation preceded it. But flying in over a rocky outcrop in the Mediterranean, sitting in my obligatory window seat, I stared down in wonder at the beauty of a dramatic coastline. From the moment I saw Mallorca I knew it meant adventure, and I already sensed it would be the first trip of many to the island.
I visited Mallorca nine years ago this month for the inaugural Port Adriano SUP Race. I'm returning this week to livestream that same race as part of the Euro Tour, however I mainly just want to catch up with my friends from the Mar Balear SUP Club, hosts of the Port Adriano race and home to one of the best junior training squads in the world.
In pre-covid times, Mallorca was my second home in Europe, a place to escape for either physical adventure or mental refuge. Often both. I was there for a few weeks every year from 2013 til 2019. I explored all corners of the island but the one constant was Mar Balear, the little club full of big hearts. The prospect of returning after three years away warms my own.
Located in the luxury marina of Port Adriano and surrounded by ostentatious vessels that seem a world away from the humble nature of the club and its paddlers, Mar Balear has raised a group of incredible young athletes over the past decade.
Led by coaches Manuel 'Manolo' Simoncelli and Laura Quetglas (the reigning GlaGla champion), Mar Balear's "kids" (I guess can't say that anymore) have been a permanent fixture on the Euro Tour since it began. They pop up at events every few weeks with an entourage so large they could race amongst themselves and the turnout would still be solid.
(As an interesting aside, Port Adriano was actually the first ever race on the first official year of the Euro Tour that we kicked off way back in 2014.)
The niños y niñas have come a long way since my first visit. Those scrawny little groms are now literal world-beaters.
At the ICF Worlds in Hungary last year, the Mar Balear SUP Club won all six junior gold medals along with four silver and as many bronze. Mallorca's young women – Duna Gordillo, Aida Soberbio and Sonia Caimari – swept the podium not once but twice.
At the opening round of the Euro Tour in Italy last week, Duna made the leap from junior podium to open by taking out the main event and relegating her coach to third (though I don't think Laura would have cared one bit). The club also had stellar results at GlaGla earlier this season where Quique Hurtado and Aaron Sanchez finished within seconds of paddling giants Bruno Hasulyo and Titouan Puyo. Laura won the whole damn thing.
The finish line at GlaGla epitomised the Mallorcan spirit for me. Moments after claiming victory in the second-largest race on the planet, coach Laura quickly brushed aside post-race interview questions about her own performance to check how the boys did. She was happier for their performances than her own. And that's exactly why Mar Balear is so successful — the senior members of the club pour their hearts and souls into training and mentoring the kids.
There's something special about this place.
Mallorca is the center of the Balearic Islands, the Mediterranean archipelago that includes Ibiza to the south and Menorca to the north. And while it's true that Magaluf is an absolute shit-show on a Saturday night (any night, really), the natural beauty of the island is quite simply stunning.
Mallorca features a vast, dry interior and a wildly-beautiful, largely-inaccessible west coast that's just begging to be paddled. There are postcard-perfect beaches everywhere you look along with steep mountain peaks. It's one of the sunniest places in Europe and a tourist mecca in July and August, while the main city of Palma is a gastronomical delight.
The Port Adriano race takes in much of this splendour with the long distance course forming a sort of giant figure-eight around two rocky islets outside the marina. With the forecast calling for 30 degrees and blue skies, it should be a fantastic event next weekend — and hopefully a great little show to watch live on Facebook.
This will probably be SUP Racer's final livestream — or at least the final one using my old-school, non-ESPN, hanging-off-the-side-of-a-small-boat with phone-in-hand style that I so enjoy. The few events I plan to commentate after this weekend – including the World SUP Festival in Costa Blanca next week that forms the second half of the Spanish Euro Tour double-header – will be produced by someone else (with a much larger budget).
It feels rather fitting to have a farewell of sorts in Port Adriano — outside of Australia, Mallorca ranks as the most-visited SUP destination on my world map. And it's certainly one of the destinations closest to my heart.
I still hope to return to Mallorca and visit the Mar Balear crew in the future. But as most followers of this occasional blog know, my heart lies with the ultras these days. Quite lucky, then, that Mar Balear is also planning a round-the-island, multi-day ultra. They'll test-paddle the course in July before it hopefully becomes a permanent fixture next year.
It seems the adventure on Mallorca will continue…
You can watch the Port Adriano SUP Race live stream on Saturday morning (28 June) via SUP Racer's Facebook page; I'll also be taking over the @qbpaddles Instagram on Friday to go behind-the-scenes with the crew from Mar Balear