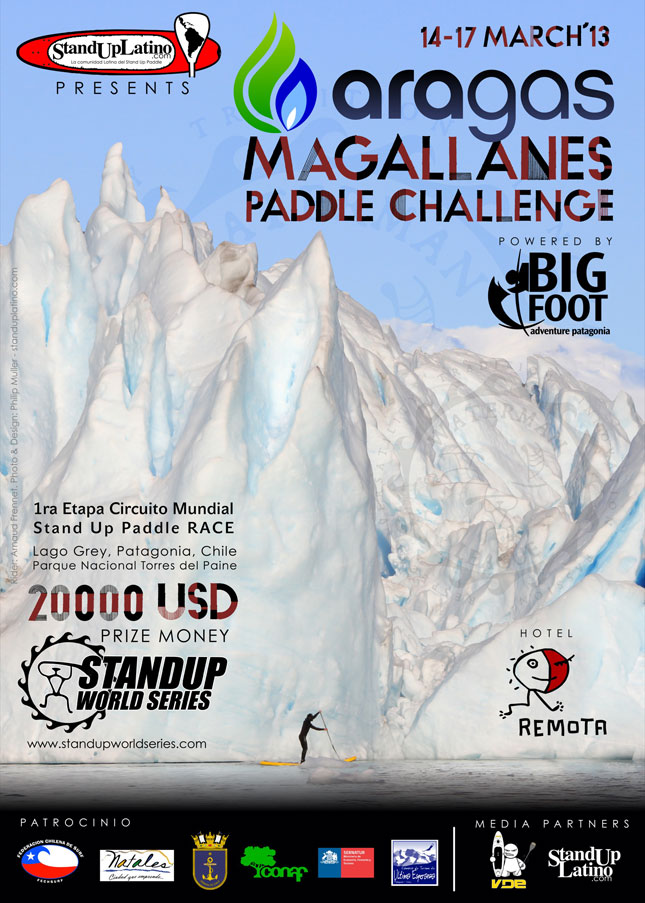 February 1, 2013
by Christopher Parker (@wheresbossman)
The Magallanes Paddle Challenge (aka Best SUP Race Poster Ever)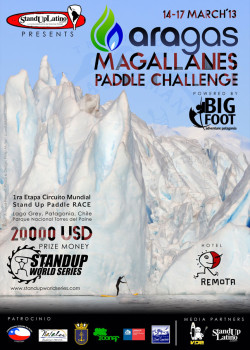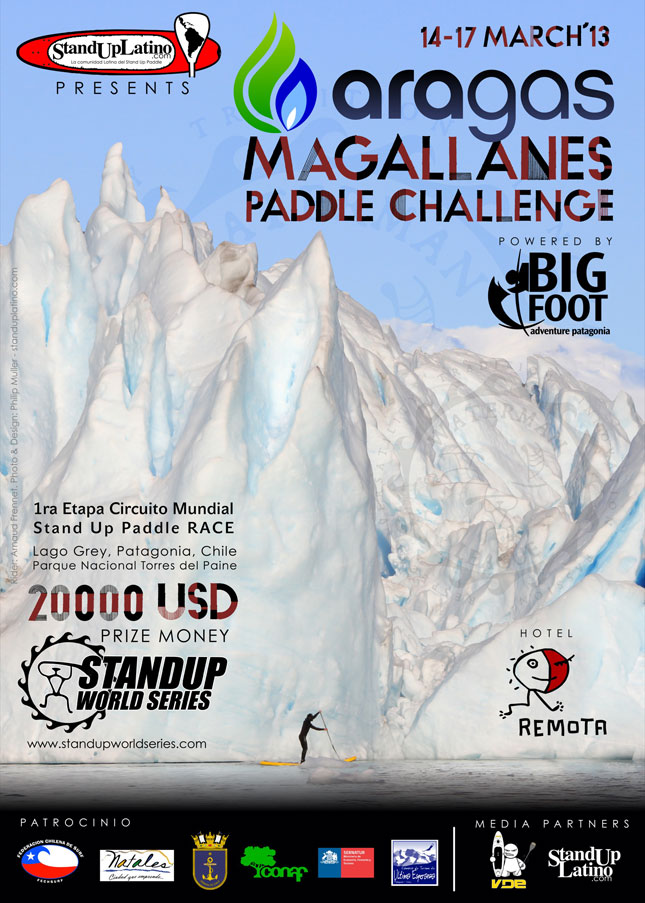 It's not often that an event poster on its own is news-worthy, but I reckon this promo piece for next month's Magallanes Paddle Challenge makes the cut. The event is happening March 14th-17th in Chile and will be the opening race of the 2013 Stand Up World Series.
While the World Series had more than its fair share of ups and downs in 2012, this year's schedule looks promising, and as the first event of the year, the $20,000 Magallanes Paddle Challenge will go a long way towards setting the tone for the rest of the season. Hopefully it's a success and builds momentum for the remainder of 2013, because one thing the World Series is definitely doing is pushing the boundaries of SUP racing. This poster sums it up perfectly…
Just look at it: A giant iceberg sitting in a lake. A Stand Up Paddler that looks like an ant in comparison. All happening in the wilds of Patagonia. It's not your average flat water SUP race…
Oh and take note of the sponsors on there. Apart from the media partners, there's no SUP brands involved. The Stand Up World Series is funding this $20,000-prize-money event with outside companies, which is exactly what our sport needs to grow.
This certainly isn't an event that's trying to break records for most number of paddlers. It's in the middle of nowhere. The venue is "Lago Grey" aka Grey Lake, which is part of the Torres del Paine National Park near the Argentinian border. You don't just rock up to this race if there's nothing else to do on the weekend, so my guess is it'll be reserved for the elite, sponsored paddlers and maybe a bunch of adventure nuts. But one thing's for sure, there's gonna be some very cool (no pun intended) photos come out of this race.
Check out the full sized version below and keep your eye out for more Magallanes race info in the next couple of days.