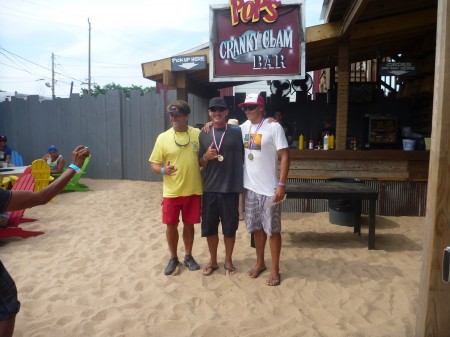 July 16, 2012
by Christopher Parker (@wheresbossman)
[RESULTS] Jamie Mitchell Wins @ Long Beach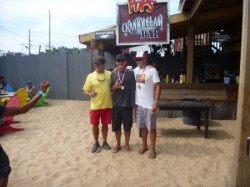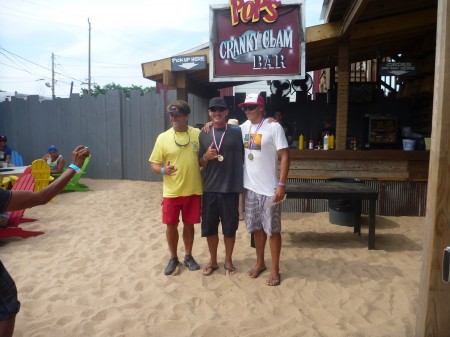 Jamie Mitchell has taken out the 2012 Long Beach 10 Miler SUP race, hosted by NY/NJ Paddle on Saturday.
The 10x World Champ won the Elite 14′ class ahead of local Mark Temme with J.P. Foschi taking out the 12'6″ class. Meanwhile in the women's race Stephanie Shideler dominated, beating home not just the other girls but also three quarters of the men as well.
Check out the full race results below and get a complete race report over @ NYNJPaddle.com.

*****
2012 Long Beach 10 Miler RESULTS
Click "Class" to sort results by Board Class/Gender
Click "#" to reset the results

| Overall # | | | Name | Time | Class | Class # |
| --- | --- | --- | --- | --- | --- | --- |
| 1 | Jamie | Mitchell | Jamie MITCHELL | 1:48:04 | Men's 14' | 1 |
| 2 | Thomas | O'Neill | Thomas O'NEILL | 1:49:57 | Prone | 1 |
| 3 | Michael | Connor | Michael CONNOR | 1:52:21 | Prone | 2 |
| 4 | Mark | Temme | Mark TEMME | 1:55:47 | Men's 14' | 2 |
| 5 | Scott | Bradley | Scott BRADLEY | 1:58:29 | Men's 14' | 3 |
| 6 | Ryan | Oliver | Ryan OLIVER | 1:59:00 | Men's 14' | 4 |
| 7 | Sean | Duffey | Sean DUFFEY | 1:59:22 | Men's 14' | 5 |
| 8 | Justin | Schwartz | Justin SCHWARTZ | 2:01:44 | Prone | 3 |
| 9 | John | Kutner | John KUTNER | 2:01:58 | Men's 14' | 6 |
| 10 | Matt | Caines | Matt CAINES | 2:03:07 | Men's 14' | 7 |
| 11 | Paul | Giunta | Paul GIUNTA | 2:05:59 | Men's 14' | 8 |
| 12 | Taylor | Resnick | Taylor RESNICK | 2:06:14 | Men's 14' | 9 |
| 13 | Sean | Perry | Sean PERRY | 2:06:50 | Prone | 4 |
| 14 | Michael | Moran | Michael MORAN | 2:07:22 | Prone | 5 |
| 15 | Stephanie | Shideler | Stephanie SHIDELER | 2:08:55 | Women's 14' | 1 |
| 16 | Mike | Mignone | Mike MIGNONE | 2:09:53 | Men's 14' | 10 |
| 17 | J.P. | Foschi | J.P. FOSCHI | 2:10:29 | Men's 12'6" | 1 |
| 18 | Brian | O'Neill | Brian O'NEILL | 2:11:22 | Prone | 6 |
| 19 | Gary | Francis | Gary FRANCIS | 2:11:25 | Men's 14' | 11 |
| 20 | Taylor | Jones | Taylor JONES | 2:13:04 | Men's 12'6" | 2 |
| 21 | J.M. | Kostallas | J.M. KOSTALLAS | 2:16:50 | Men's 12'6" | 3 |
| 22 | Aaron | Bickford | Aaron BICKFORD | 2:16:55 | Men's 12'6" | 4 |
| 23 | Armann | Gretarsson | Armann GRETARSSON | 2:17:34 | Men's 12'6" | 5 |
| 24 | Michael | Rusoff | Michael RUSOFF | 2:18:29 | Men's 12'6" | 6 |
| 25 | Gary | Clayton | Gary CLAYTON | 2:19:53 | Men's 12'6" | 7 |
| 26 | Joe | Leavy | Joe LEAVY | 2:22:08 | Men's 14' | 12 |
| 27 | Reid | Zachofsky | Reid ZACHOFSKY | 2:23:17 | Men's 14' | 13 |
| 28 | John | O'Connor | John O'CONNOR | 2:23:34 | Men's 12'6" | 8 |
| 29 | Mary | Scheerer | Mary SCHEERER | 2:23:59 | Women's 14' | 2 |
| 30 | Grant | Morrow | Grant MORROW | 2:25:52 | Men's 14' | 14 |
| 31 | Michael | Redpath | Michael REDPATH | 2:26:33 | Men's 14' | 15 |
| 32 | Edward | Okinsky | Edward OKINSKY | 2:26:43 | Men's 12'6" | 9 |
| 33 | James | Gregorio | James GREGORIO | 2:26:51 | Men's 14' | 16 |
| 34 | Jscott | Klossner | Jscott KLOSSNER | 2:27:51 | Men's 14' | 17 |
| 35 | Jonathan | Alarcon | Jonathan ALARCON | 2:29:01 | Men's 12'6" | 10 |
| 36 | Chris | Mensch | Chris MENSCH | 2:29:37 | Men's 14' | 18 |
| 37 | Douglas | Jones | Douglas JONES | 2:30:22 | Men's 12'6" | 11 |
| 38 | Ken | Liss | Ken LISS | 2:31:25 | Men's 12'6" | 12 |
| 39 | Kevin | Blagys | Kevin BLAGYS | 2:33:03 | Men's 14' | 19 |
| 40 | Fred | Neinast | Fred NEINAST | 2:35:05 | Men's 12'6" | 13 |
| 41 | Robert | Cancro | Robert CANCRO | 2:36:51 | Men's 12'6" | 14 |
| 42 | Christian | Driggs | Christian DRIGGS | 2:38:18 | Men's 12'6" | 15 |
| 43 | Dennis | Farrell | Dennis FARRELL | 2:38:58 | Men's 14' | 20 |
| 44 | Sean | Byrne | Sean BYRNE | 2:39:28 | Prone | 7 |
| 45 | Joseph | Connolly | Joseph CONNOLLY | 2:42:28 | Men's 14' | 21 |
| 46 | Anthony | Vanatta | Anthony VANATTA | 2:42:29 | Men's 12'6" | 16 |
| 47 | Brian | Hopkins | Brian HOPKINS | 2:43:45 | Men's 12'6" | 17 |
| 48 | Brian | Pues | Brian PUES | 2:44:26 | Men's 12'6" | 18 |
| 49 | Timothy | Walter | Timothy WALTER | 2:47:34 | Men's 12'6" | 19 |
| 50 | Alfred | Aversa | Alfred AVERSA | 2:47:56 | Men's 12'6" | 20 |
| 51 | Donna | Vedrin | Donna VEDRIN | 2:48:04 | Women's 14' | 3 |
| 52 | Gene | Vassel | Gene VASSEL | 2:54:30 | Men's 12'6" | 21 |
| 53 | George | Oneill | George ONEILL | 2:57:01 | Men's 12'6" | 22 |
| 54 | Christopher | Lindsey | Christopher LINDSEY | 3:02:00 | Men's 12'6" | 23 |
| 55 | Frank | Carfaro | Frank CARFARO | 3:02:19 | Men's 14' | 22 |
| 56 | Dan | Scandiffio | Dan SCANDIFFIO | 3:03:33 | Men's 12'6" | 24 |
| 57 | John | Jansing | John JANSING | 3:04:56 | Men's 12'6" | 25 |
| 58 | Matthew | Scully | Matthew SCULLY | 3:05:46 | Men's 12'6" | 26 |
| 59 | Randall | DiGiuseppe | Randall DIGIUSEPPE | 3:08:38 | Men's 12'6" | 27 |