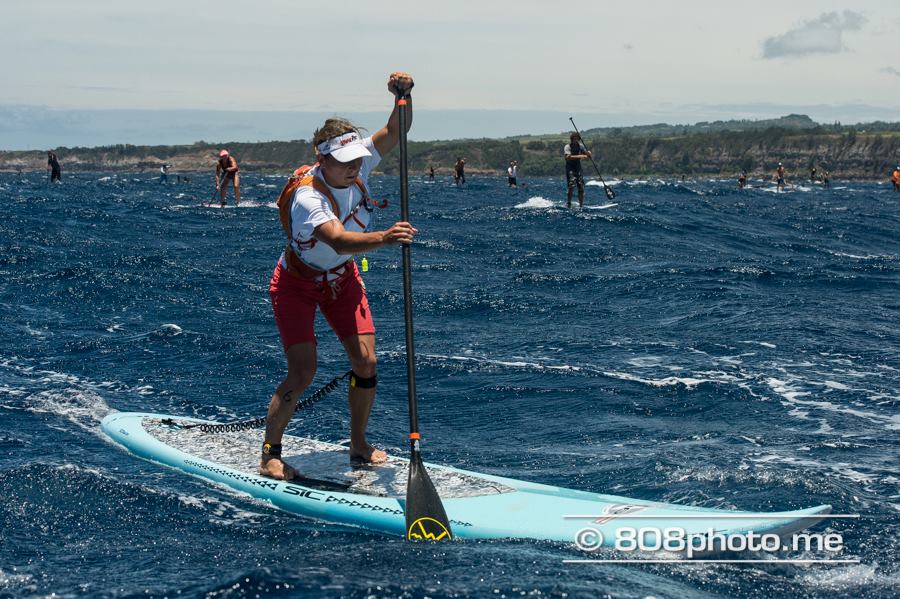 December 25, 2013
by Christopher Parker (@wheresbossman)
One Of The Names To Watch In 2014: Canada's Lina Augaitis Joins Team SIC
Lina Augaitis, one of the rising stars of the women's SUP racing scene, has officially signed with SIC.
Still a name that flies under the radar to some degree, I'm predicting 2014 will be a breakout year for Lina and that SIC's signing will prove to be a very smart move. The new deal caps off a big few months for the Canadian champion, who recently went all in – quitting her comfy teaching job and giving herself 12 months to make it as a professional stand up paddler. That's a bold move in a sport as fledgling as SUP racing, where even the top guys, let alone top girls, struggle to earn a solid wage. However if her current form is anything to go by, I think we'll see Lina's cheerful smile on plenty of podiums in the next 12 months.
I first saw Lina in action at the Tahoe Nalu earlier this year, where she blitzed the field in the 10 miler and turned quite a few heads (including the SIC crew, who were out in full force at that event). Fast forward six weeks to the Battle of the Paddle California and that's where Lina really made her mark, coming home third (just seconds behind the runner-up) in the Elite Distance Race. That result surprised many, including Lina herself, and helped kickstart her move towards becoming a full-time paddler.
I chatted with Lina again in Puerto Rico a couple of weeks back (where she won Paddle Royal) and got a first hand account of what the recent changes meant to her. There were equal parts excitement and trepidation about the new direction she was taking, though underlying it all was a clear desire to be successful and rise through the ranks of SUP racing. In person, Lina comes across as one of the nicest, sweetest paddlers you'll ever meet. Always smiling and genuinely just happy just to be doing something she loves. However on the water it's a different story, with a determined, focused gaze filling Lina's eyes and highlighting just how competitive she really is.
At Paddle Royal Lina was still riding for the North American Starboard team, though I know of at least four other brands that had made her an offer (and there are probably more that wished they did) since she'd decided to commit to the sport.
In the end though it was SIC who got her signature.
As part of the new Team SIC, Lina will be hitting up a lot of the big races in 2014, including Abu Dhabi, Carolina, Nicaragua and the Lost Mills. Those events will suit Lina's style well – she excels in the flat but is still finding her feet in the ocean and waves – and I wouldn't be surprised to see the Canadian take out a couple of the big ones next year.
(Lina is also on the new SUP Athletes Association board of directors, so you can expect to hear even more from her in 2014 via that channel)
Lina's rise through the ranks also comes at a time of change in women's SUP racing in general. While the men's scene has enjoyed plenty of depth and multiple big-race winners over the past few years, the women's scene has been dominated by the likes of Candice Appleby, Jenny Kalmbach and more recently Annabel Anderson (plus Andrea Moller when it comes to downwinders). In 2014 I see Lina as being one of the new wave of female paddlers who will have a crack at the established champs. The Canadian, along with names such as young gun Fiona Wylde and Aussie duo Karla Gilbert and Terrene Black will likely enjoy a large presence on the podiums next season.
Yes, it's going to take an absolutely monumental effort for anyone to knock off the all-conquering Annabel Anderson anytime soon. But no matter where she ranks in twelve months time, I'm predicting Lina to be one of the biggest movers in 2014.
Speaking of rising through the ranks, it's also been a meteoric rise for the SIC brand since founder Mark Raaphorst sold his boutique Maui operation to Flow Sports, Inc. in 2012. What was once a pure-downwind affair, SIC is now pushing hard into the much larger flatwater market and is building a solid race team to help expand their reach. In fact the team now probably has the single most elite roster of women in the world: Lina will be joining the likes of Downwind Queeen Andrea Moller, former Molokai champ Talia Gangini and the super strong German Sonni Honscheid. I'd count at least three of those names in the top 10 in the world right now, something I doubt any other brand can boast of. Throw in some very big performers on the men's side (Georges Cronsteadt, Jeremy Riggs, Livio Menelau) and you've got a very solid racing team that may soon be able to compete with the Starboards and Naishs of the world.
So look for the name Lina Augaitis to appear often in the results pages of SUPracer.com next year. Until the season kicks off though, the new SIC rider will be home in chilly Canada getting plenty of off-water training done. If the pics below are anything to go by, the former adventure racer, backcountry skiier and crossfit junkie is going to be in pretty good shape…