Travis Grant, Annabel Anderson Win King Of The Harbour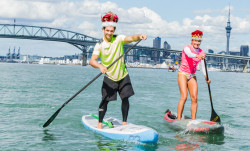 Travis Grant has continued his 2013 winning streak, taking out New Zealand's 25km King Of The Harbour SUP race on the weekend ahead of Beau O'Brian. Meanwhile reigning BoP Champion Annabel Anderson was just 12 minutes behind after two and a half hours, despite paddling a 12'6 vs the 14 footers of the men.
Check out the results below then scroll down for some great pics of the action.
Full race recap coming shortly…
2013 King Of The Harbour SUP Race RESULTS
| # | Name | Time | Division | Div # |
| --- | --- | --- | --- | --- |
| 1st | Travis Grant | 2:17:12 | Men's 14' | 1 |
| 2nd | Beau O'Brian | 2:18:44 | Men's 14' | 2 |
| 3rd | Jake Jensen | 2:21:11 | Men's 14' | 3 |
| 4th | Armie Armstrong | 2:21:34 | Men's 14' | 4 |
| 5th | JP Tobin | 2:24:25 | Men's 14' | 5 |
| 6th | Annabel Anderson | 2:29:51 | Women's 12'6 | 1 |
| 7th | Josh Nixon | 2:31:18 | Men's 14' | 6 |
| 8th | Jeremy Stephenson | 2:32:18 | Men's 14' | 7 |
| 9th | Paul Davis | 2:32:34 | Men's 14' | 8 |
| 10th | Greg Barfoot | 2:32:36 | Men's 14' | 9 |
| 11th | Anthony Willis | 2:33:12 | Men's 12'6 | 1 |
| 12th | Andrew Brown | 2:35:32 | Men's 14' | 10 |
| 13th | Dale Chapman | 2:36:15 | Men's 14' | 11 |
| 14th | Jared Halligan | 2:36:39 | Men's 14' | 12 |
| 15th | Geoff Evison | 2:37:18 | Men's 14' | 13 |
| 16th | Felipe Dos Santos | 2:37:36 | Men's 14' | 14 |
| 17th | Mark Houghton | 2:38:26 | Men's 14' | 15 |
| 18th | Bruce Page | 2:38:38 | Men's 14' | 16 |
| 19th | Shane Murrell | 2:39:10 | Men's 14' | 17 |
| 20th | Jo Aleh | 2:42:00 | Women's 12'6 | 2 |
| 21st | Andrew Wilson | 2:45:27 | Men's 14' | 18 |
| 22nd | Scott Elliott | 2:45:35 | Men's 12'6 | 2 |
| 23rd | Glenn Simmonds | 2:49:23 | Men's 12'6 | 3 |
| 24th | Matt Fogarty | 2:49:54 | Men's 12'6 | 4 |
| 25th | Charlotte Spicer | 2:50:52 | Women's 12'6 | 3 |
| 26th | Penelope Strickland | 2:57:43 | Women's 12'6 | 4 |
| 27th | Bryan Evans | 3:16:25 | Men's 14' | 19 |