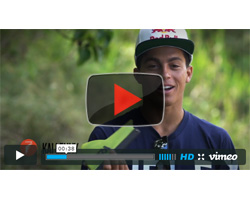 October 18, 2013
by Christopher Parker (@wheresbossman)
WATCH: First Look At Kai Lenny's New (And Very Weird) SUP Race Fin From Maui Fin Company…
Kai Lenny, fresh off his big wins at the Battle of the Paddle and Stand Up World Series in the past few weeks, isn't slowing down. Next week the star is off to France to further solidify his quest for a third SUP surfing crown, while in the meantime he's been busy polishing off some new SUP race fin for next year.
And what an interesting-looking fin it is…
Working with Pio Marasco from Maui-based MFC (Maui Fin Company), Kai has helped create a couple of weird-looking new SUP race fins called the "Sprint4" and "Sprint5". It looks like a regular fin that hit a rock and got snapped in half… but it clearly works. While a fin obviously doesn't make all the difference, we did see Kai use this when he won the Battle of the Paddle a few weeks ago (before following it up with a victory in the sprints @ the World Series Finals two week later).
Anyway watch the video above to see Kai explain what it's all about, why he thinks it works, as well as a bit of footage of the fin in action.
Kai Lenny's Sprint 4 and Sprint 5 SUP race fins will be available from Maui Fin Company on October 30…