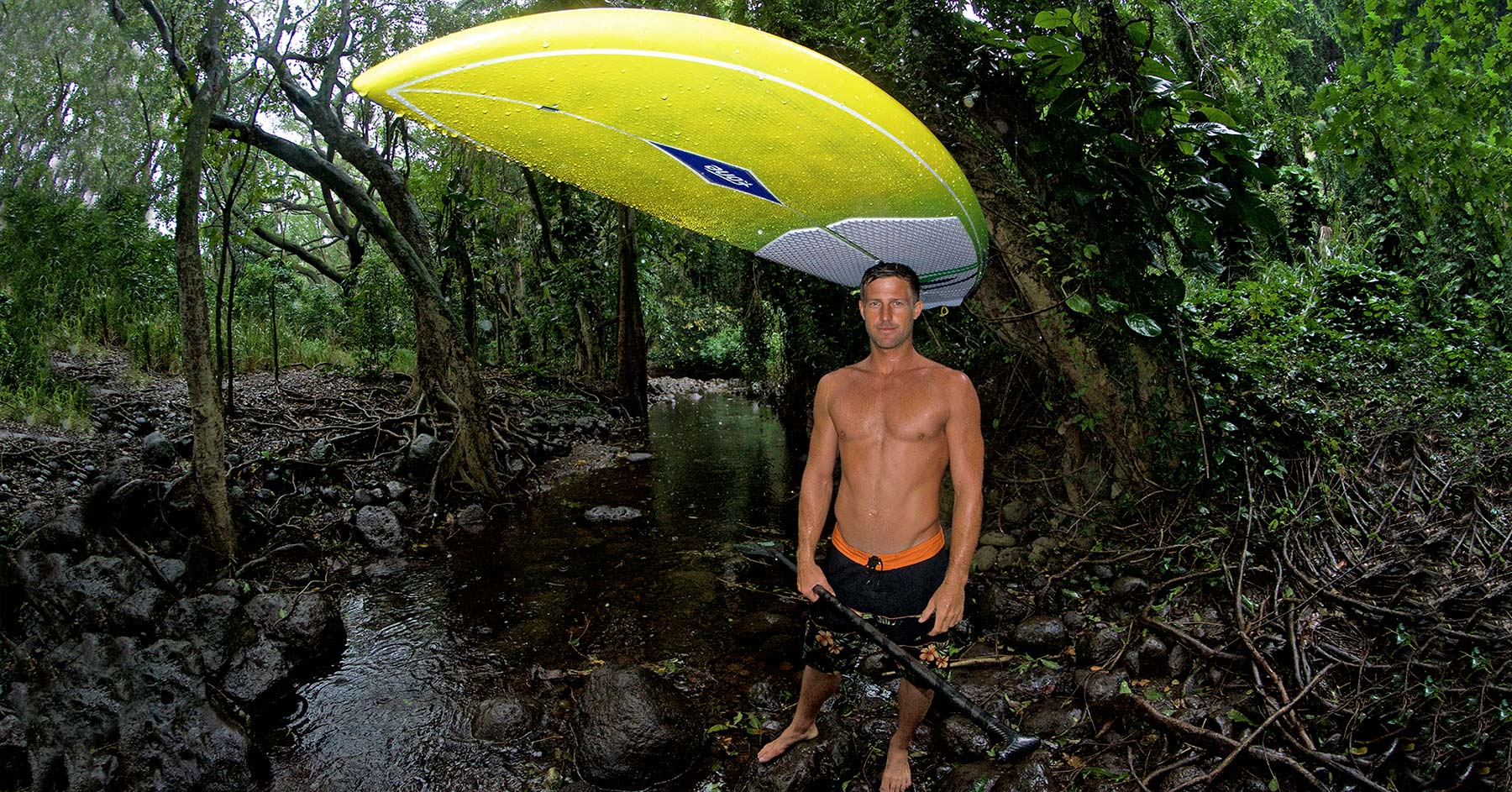 'Most Under-Rated Paddler' Josh Riccio Joins French Brand F-One for Season 2017
Josh Riccio, one of the most under-rated paddlers on the planet, has joined the F-One team for season 2017, as the French-based brand seeks to become more active in the racing scene to compliment its established presence in the SUP surfing world.
Based on Maui, Josh is one of the most talented guys on the water and mixes it with the best in all conditions. Still ranked top 30 in the world despite a light schedule last year, he excels in the open ocean and has won the stock Maui2Molokai race several times. Last year he also made it to the "Final 8" at the uber-competitive JM Survivor Race in Huntington.
Expect to see him competing at most of the big events in 2017.
Riccio is also pretty handy on a surfboard (as the slick little promo clip above shows), and he'll be throwing the new F-One shapes around at the Sunset Beach Pro this week.
Apart from being supremely talented, Riccio is one of the hardest working and nicest guys you'll meet. He's always smiling and happy for the chance to play in the ocean. I chatted with him last week and every second word was either "stoked" or "excited", while he had this to say about his change of teams:
"There are so many reasons why I'm stoked on my move to F-One SUP… All the boards are insane, and they make their own foils, but not only does everyone within F-One all share a common passion for the ocean, we all share a passion for making the best equipment as well for playing in the ocean as well."
Josh was previously part of Team Rogue. He grew up a surfer and has been paddling ever since he moved to Maui six years ago.
"Growing up as a surfer for most of my life I thought I was having the most fun possible in the water, but once I started SUP'ing it opened up the possibility to play in and have fun in all types of water and conditions. From paddling in freshwater lakes, whitewater in rivers, flatwater, downwinding, surfing, exploring, fishing, to chasing turtles, dolphins or whales, SUP to me is the most versatile and conducive for fun in the water."
While F-One doesn't have the same brand recognition in the racing world as the glamour teams, the French company has been around longer than most. It was founded way back in 1989 by former pro windsurfer Raphaël Salles and specialised in kitesurfing equipment for much of its life before moving into SUP half a decade ago.
The team is also home to the 2014 ISA World Champ Poenaiki Raioha from Tahiti, who will join Riccio at some of the big SUP surf contests this year.
(You might also recognise F-One from their beautiful promo videos – the crew seem to be in Tahiti every year for their annual photo shoot. )
F-One clearly takes a philosophical approach to the sport of stand up paddle boarding, with the following mantra posted on the official site:
"Stand up paddle boarding is more than just a sport; it is a way to see the world, a tool to travel and a great way to connect with nature. It is a state of mind and a lifestyle. It is knowing how to respect and appreciate the things that surround us."
I believe there will be some more announcements from the company in the next few weeks, so I'm sure you'll be seeing a lot more of F-One in season 2017. In the meantime, big congrats to Josh Riccio on the new home, and well done to F-One for picking up one of the most under-rated paddlers going round.
Follow @joshriccio on Instagram for more
https://www.instagram.com/p/BQQLGH4gDDD/