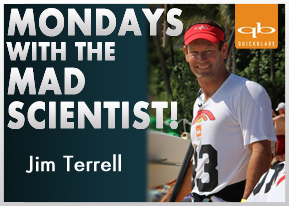 April 23, 2012
by Jim Terrell
Jim Terrell: "Win More Races With a Focused Training Plan"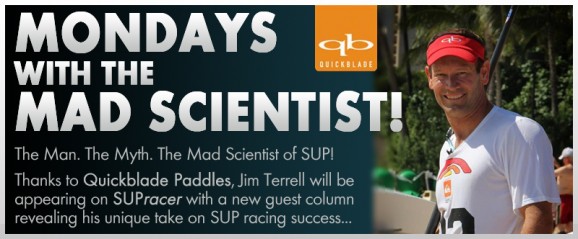 Boss Man's note: Welcome to Mondays With The Mad Scientist! Thanks to Quickblade Paddles, four-time Olympian and all-round kickass SUP racer, Jim Terrell, will be regularly sharing his unique insights into everything from paddle technique and training routines to his opinions on drafting and visions for the future of stand up paddle racing. Stay tuned!
*****
Winning More SUP Races With a Focused Training Plan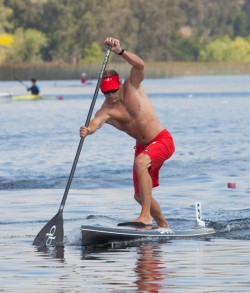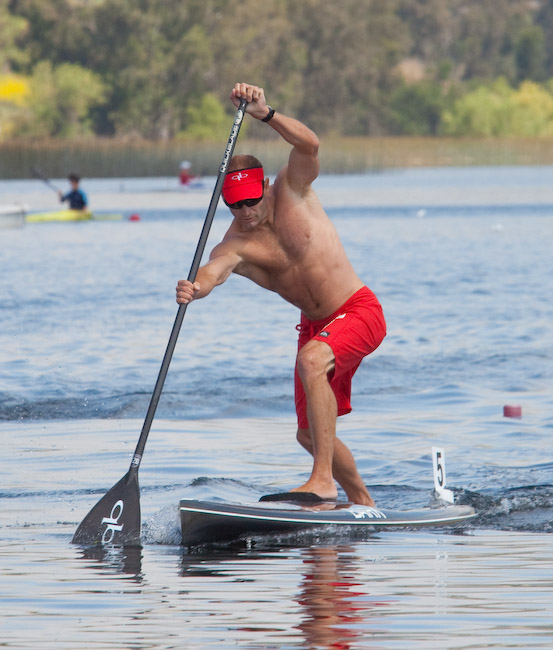 If you're anything like me, your goal is to paddle faster than everyone else every time you enter a race.
The only way to do that is obviously through a lot of training, but how focused is your routine? And are you really getting maximum benefits out of every SUP training session?
Simply just spending "more time on the water" is a great start, but unless you're using a set training routine to work towards an end goal, you're going to be wasting a LOT of the potential gains in paddling speed and fitness.
Stand up paddle racers spend so much time and energy preparing for events, but I see hardly any paddlers that use a set training plan (or even a set training goal).
In most other athletic racing sports, this type of training is well established. It might simply be because SUP racing is such a young sport that training methods such as these haven't been widely adopted.
But either way, it's pretty simple: You'll get a lot more about of your SUP training (and you'll perform better in races) if you have a specific goal and a set training plan.
Your goal is up to you. It could be aiming to win a certain race, completing an endurance event or just trying to beat your personal best race time.
So whether you're serious about racing in elite events, or if you just want to get more out of every hour of training, I highly encourage you get more focused with your SUP training.
If you want some direction in creating your own SUP training routine, below are five steps that I personally use to help myself and others train smarter and race faster. Every paddler will train differently, so this is more of a guide to creating your own plan rather than a set routine. But either way, the more focused you train, the faster you'll race.
See you on the water,
– Jim
*****
The focus of our stand up paddle training is going to be on reaching peak race conditioning at the right time of the year.
Some of that is going to be achieved through interval training, so if you're not already familiar with them, click here for a quick primer on "intervals".
STEP #1. Determine your individual "Speed Scales"
You'll use these scales to set the speed and intensity of your interval training sessions.
– Calculate your average speed over a 1,000 metre time trial
— eg. if you paddle 1,000m in 6 minutes your average speed is 10km/h or 6.2mph
— This will be used as your 100% effort level for all base work (aerobic foundation)
— Your intervals will be a % of this speed (eg. 90% effort = 9km/h or 5.6mph)
– Calculate your average speed over a 200 metre time trial
— eg. 60 seconds means an average speed of 12km/h or 7.5mph
— This will be used as your 100% effort level for all speed work (anaerobic foundation)
— Your intervals will be based on this speed (eg. 90% effort = 10.8km/h or 6.7mph)
These scales are entirely based on your own individual ability.
Don't get carried away trying to instantly catch up to paddlers that train faster than you (and don't get slowed down by your friends who are slower than you either).
Always tailor your program to your own skill level and personal goals.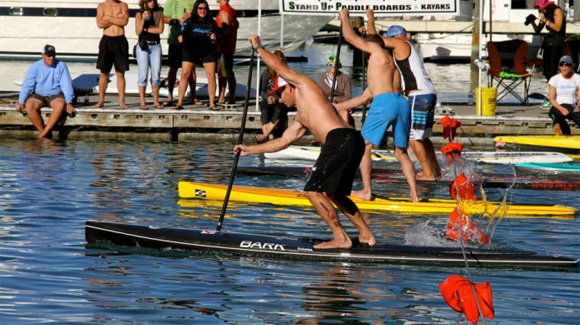 *****
STEP #2. Decide when you want to perform at your best
Choose a race during the year where you want to peak. It could be the BoP, World Champs, National Champs, or just your local beach race where you really want to beat your buddies.
*****
STEP #3. Work out how often you can train
Set out a timeline or calendar for the next 3, 6 or 12 months and include:
— Every race you want to compete in
— Which days/weeks you're unable to train (travel, work commitments, etc)
You want to mark out all the days you can and can't train, and then base your schedule around that.
Now plan backwards…
*****
STEP #4. Set a target goal of total minutes on the water
Again, this depends entirely on your skill level. The more experienced you are, the more you can train. You know your body better than anyone, but here's a rough guide.
(Just remember: rest & recovery are critical)
New paddlers: 5-8 hours per week
Intermediate paddlers: 8-12 hours per week plus 1-2 cross-training sessions
Experienced paddlers: 13-20 hours per week plus several cross-training sessions
You could increase your training load 20-50% per year for the first couple of years that you start paddling. After that, increase it another 10% per year until you reach as much as 13-20 hours per week. After 40, listen to your body and focus on quality over quantity.
*****
STEP #5. Determine your training intensity ratio of aerobic vs. anaerobic work
The ratio in most regular stand up paddle races is roughly 90% aerobic work to 10% anaerobic, but that can vary depending on the type of race.
If you're specializing in endurance events, there will be more aerobic work.
At the other end of the scale, you will have a much higher % of anaerobic work in sprint races, shorter races or high-intensity elite races.
*****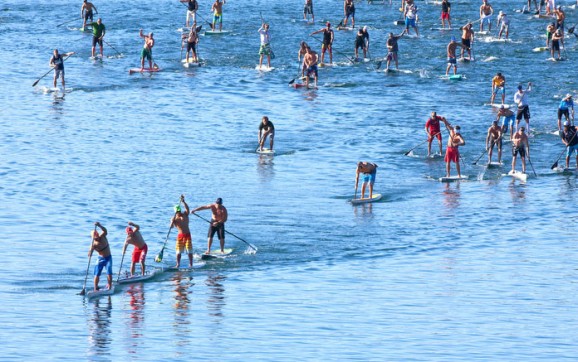 Ok, now you're ready to create your SUP training schedule.
Again, this depends entirely on your skill level, your fitness level, your age, your goals and what you're training for.
So while every paddler's training regime will look slightly different, here's an example of what you could use. Hopefully this gives you a better idea of how to apply the above ideas on the water.
*****
Sample interval training routines for base preparation phase
Aim for 60-90 minutes of total time on water per session. Always start with 5-10 minutes light paddling (warm-up) and finish with 5-10 minutes warm down.
Basic interval training sets (timed intervals can be swapped with a set distance)
– 6x 8 minutes @ 70-75% with 1 minute light paddling "rests" in between (~70 minutes)
– 8x 6 minutes @ 75-80% (~70 minutes)
– 10x 4 minutes @ 80-85% (~65 minutes)
Mixed interval training sets
– 3x 8 minutes + 3x 6 minutes + 3x 4 minutes @ 75-85% (~75 minutes)
"Lead change" interval training sets (need minimum 2 paddlers)
– 10x 3 minutes leading + 3 minutes riding tail wake (~85 minutes)
– 16x 2 minutes leading + 2 minutes riding tail wake (~90 minutes)
"Advanced lead change" interval training sets (need minimum 3 paddlers)
– 8x 3 minutes leading
– 8x 3 minutes riding side wake
– 8x 3 minutes riding tail wake
*****
Extra tips for creating your SUP training plan
There are several factors that will affect the volume of stand up paddle training work you should do:
– How long have you been paddling? The more experienced you are, the more training you should be able to handle
– How old are you? You will build volume incrementally as you mature (from youth to adulthood) and then plateau or decrease volume as you age (40+)
– How much time do you have to devote to your SUP training? Remember that rest & recovery are critical.
– What distance are the races you're training for? Tailor your training for specific races.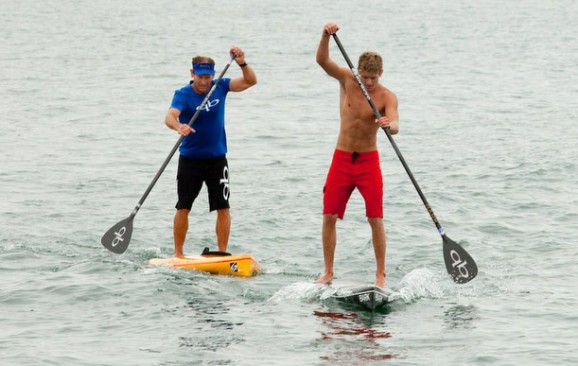 There are also a few general factors that will impact the volume of aerobic and anaerobic work you should do:
– If your goal is a shorter, sprint-style SUP race, you should focus more on your anaerobic speed work.
– What are your strengths? Your endurance or your speed?
– Vice versa if you're training for an endurance race (though even then, you'll need to use some speed paddling, so certainly don't leave that out of your training plan completely).
– Always adjust your training plan depending on the type of event you're aiming for.
*****
General Stand Up Paddle training tips:
– Train as often as possible in the same conditions that you'll be racing in. For example if you're aiming to compete in the Battle of the Paddle, train as much as you can by paddling in and out through small waves.
– Don't always look for smooth, flat water to train in. You'll often be racing in rough conditions.
– Don't always paddle downwind when you may be racing in no wind/side wind/head wind, etc
– ALWAYS train to your ability and always listen to your body; don't over/under train
– Monitor your progress. I always do one or two workouts per week over the same distance, so I can compare my times (I train with a GPS). Use a heart rate monitor to stay within your planned intensity level.
– Pay attention to your body. It's normal to feel a bit sore after you've been training hard. But if you're getting injured, chances are you're overdoing it.
*****
Got a topic you want the Mad Scientist to chat about?
Send us through your suggestions!
Also a big thanks to Quickblade Paddles – makers of some of the world's best SUP paddles – for giving the Mad Scientist time off to contribute to SUPracer.