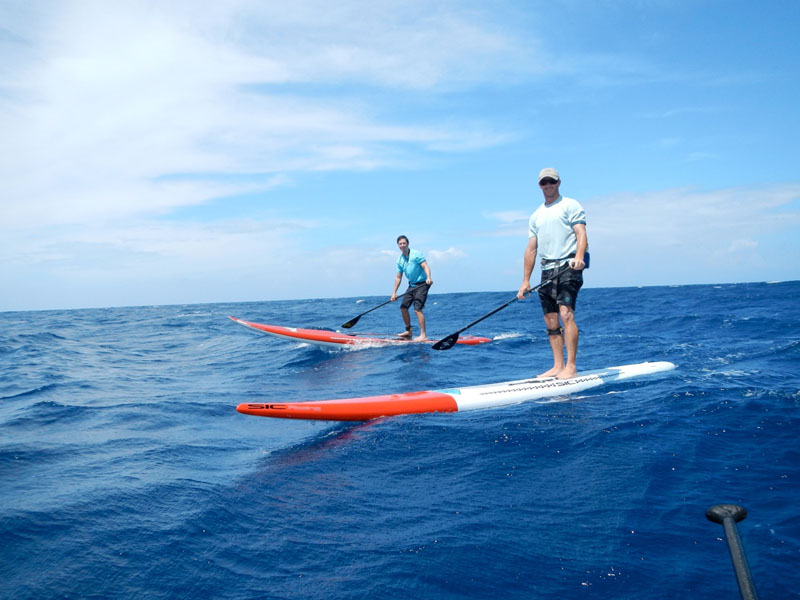 June 15, 2013
by Christopher Parker (@wheresbossman)
Endless Glides And Preaching The Love Of Downwinding: The Jeremy Riggs Interview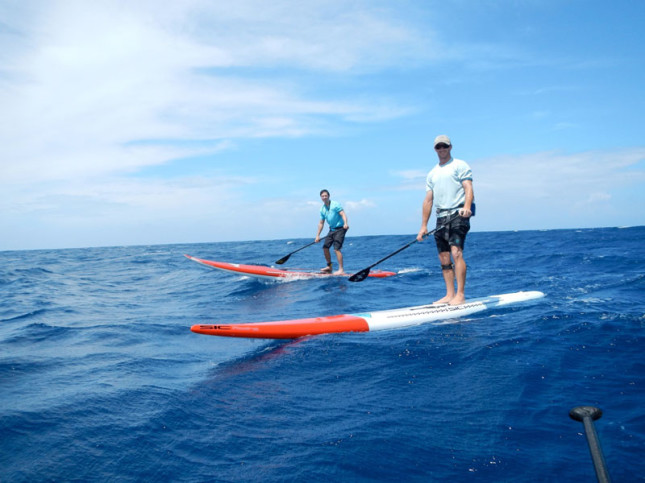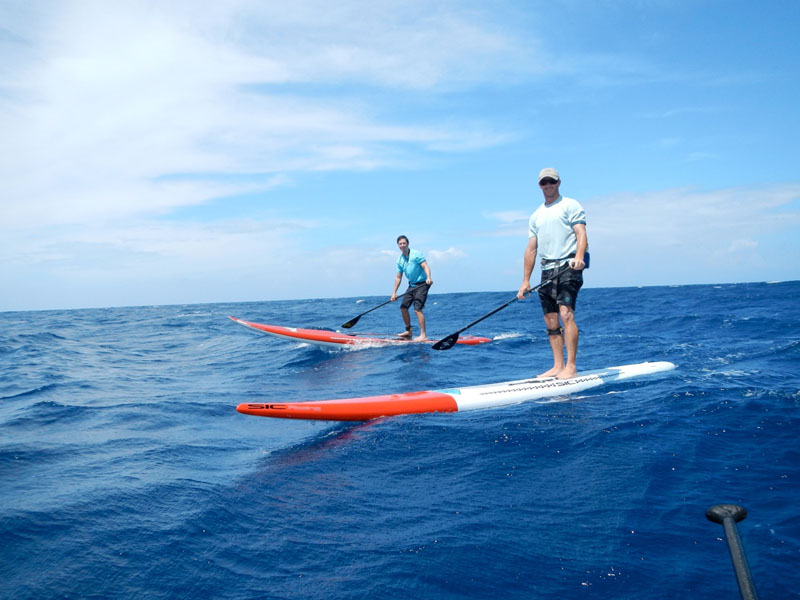 Boss Man's note: Jeremy Riggs is one of the most recognisable faces at one of the most recognisable paddling spots in the world; Maui's famed Maliko downwind run. He's one of the fastest guys out there, having won the Maui Paddleboard Champs (rudderless division) for seven straight years and last year claiming top spot in the Molokai-2-Oahu Teams division, alongside 15-year-old Travis Baptiste.
The SIC team rider has long been offering his Paddle With Riggs coaching services at home, but this year Jeremy has started hitting the road to offer the Jeremy Riggs/SIC Glide Camps around the U.S. Last month it was Wisconsin and this weekend it's off to Hood River, Oregon for another sold out clinic.
But even if you can't make it to one of the Glide Camps in person, check out a recent chat we had with the downwind specialist below to find out what makes Jeremy Riggs tick, why the Maliko run is so much fun and what the #1 mistake is among rookie downwind paddlers…
What's the 30 second life story of Jeremy Riggs?
I was born in Wilmington, NC and moved out to Maui, HI in 1997 to surf year round in warm water. My first experience riding waves was on the shorebreak at Carolina Beach on a canvas inflatable raft. I've been addicted to surfing ever since; and this passion is what took me to Maui.
When did you start Stand Up Paddling? And why..?
I started prone paddleboarding Maliko in 2001. I tried my first SUP in 2004. I lived next door to Dave Kalama and was fortunate enough to try one of his first SUPs, which was a 12 ft tandem board. At the time the paddle was made from a broken canoe paddle and fit together with a windsurf mast. What an amazing workout I had in a matter of 20 minutes! I had always wanted to stand up on my prone paddleboard while going downwind, so transitioning into going downwind on a SUP was a dream come true.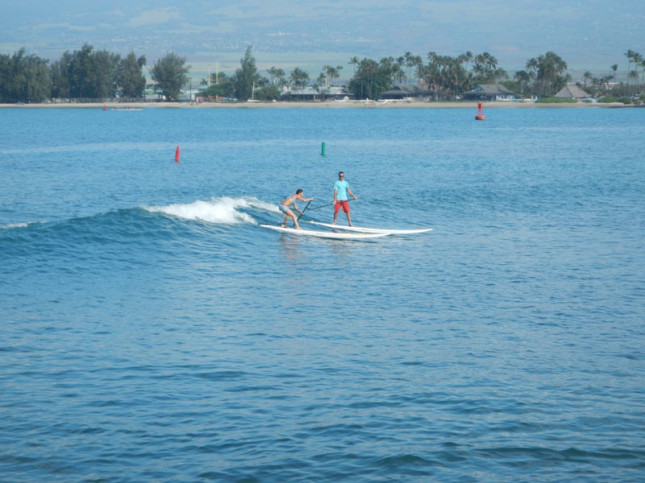 You're known as the downwind specialist; What do you love about downwinding?
The gliding and surfing part of downwinding is what makes it so much fun for me. Connecting the bumps and gliding for miles makes this sport one of a kind. I really enjoy sharing this experience with others and seeing the looks on their faces when they're done.
What's so special about the Maliko run?
The consistency of the tradewinds makes the Maliko Run one of the best in the world. If you're here for 5 days chances are you'll get 3 or more runs in with good winds.
My first experience on an SIC board was in 2007, training for the Molokai 2 Oahu. I teamed up with Nabil Vogel for my first channel crossing. It was a first generation F-16 with a steering system. They are built for downwinding, and shaped by a world-class downwind paddler, Mark Raaphorst.
Tell us more about the new Glide Camps you're running with SIC. Why should paddlers check them out?
It's a great way to share my knowledge from my paddling experience on Maui with people that are interested in expanding on their own experiences. I cover topics for all different levels of paddlers, and then if permitting we hit the water to practice and have some fun.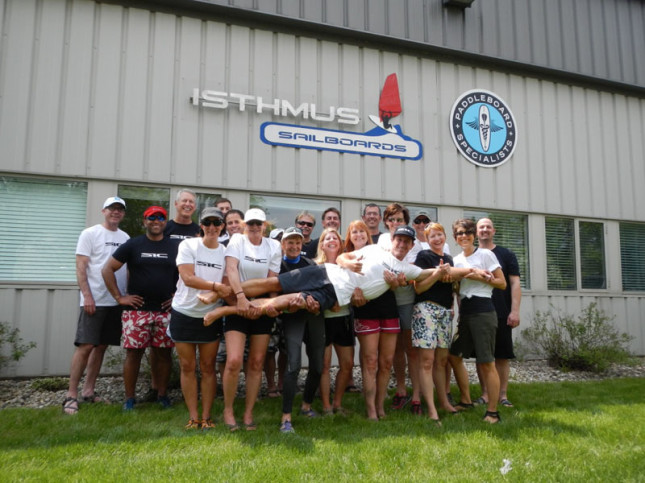 How has paddling changed your life? 
Big time…. I used to work 40 hours a week at a granite shop. I would often come home sore from all the lifting. One of the best things of stand up paddling is the core strengthening it provides, while having a lot of fun. I felt a lot stronger at work with less back pain.
Paddling has now provided me with a new career opportunity, allowing me to introduce others to this great sport.
I've got several beginner downwind boards for those wanting to learn the sport, some intermediate SIC 14' Bullets, a custom SIC 22" wide 17' Bullet, some custom SUP surfboards, several prone shortboards and longboards, a plethora of QB paddles, and some new SIC Nano Blades.
Plus lots of pool noodles for stacking boards…
Have you ever had any scary encounters during a Maui downwinder? Sharks? Giant waves? Anything sketchy like that?
The scariest moment is when you look back and don't see someone that is a part of your group. I've found that bright colored hats are a real benefit when paddling with a group in high seas.
I have seen sharks, but we went opposite directions and I didn't feel threatened. Big waves are common, and knowing the reef and breaks are a real advantage.
Can you share one magic tip for being a better downwind paddler?
Concentrate on the smaller bumps that are moving at a slower speed, making them easier to catch. The momentum from the smaller bumps will allow you catch the larger swells easier.
What's the BIGGEST mistake that most rookie downwind paddlers make?
The biggest mistake I've seen from inexperienced downwind paddlers is underestimating the conditions and Mother Nature. Paddling in rough water is very different than flat water. An experienced flat-water paddler can have a difficult time on an average downwind run.